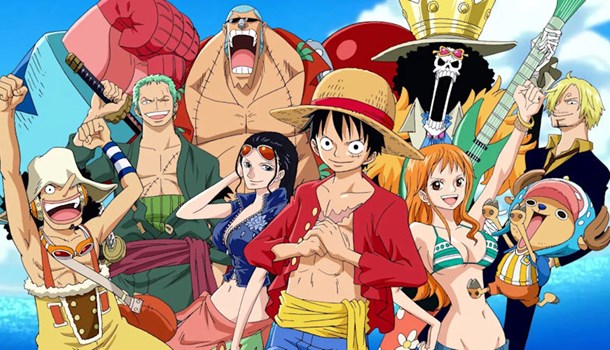 One Piece: All 14 Films Ranked from Worst to Best
Written by Jamie Morris on 09 Nov 2022
---
With over a thousand episodes and counting, you'd be forgiven for thinking that watching a further fourteen One Piece feature films would be overkill – but the worldwide success of the series' latest theatrical release has demonstrated that this series' fans have an insatiable appetite for adventure. So, how does One Piece Film: Red stack up against the franchise's previous movies? From the smaller-scale early entries to the more ambitious later films, we took a look at them all…
14. Mega Mecha Soldier of Karakuri Castle (2006)
There are a number of reasons why this film sits at the bottom of the One Piece movie pile, from its unimposing villain to the squandered potential of the mecha theme. Chief among these, however, is unique to audiences outside of Japan – with the plot revolving around riddles, much of the wordplay is lost on international audiences, resulting in a slightly confusing and largely unrewarding watch.
13. Adventure of Spiral Island (2001)
Being only the second film in the franchise, this film's main drawback is that the sandbox is much smaller than it would become for later entries. Set before the Straw Hats arrive on the Grand Line, there's nothing particularly exciting about the setting, plot or antagonists. Still, there's nostalgic value to be found in its smaller scale, and some entertaining running gags throughout.
12. Chopper's Kingdom in the Strange Animal Island (2002)
Chopper's Kingdom is an interesting entry in the franchise in that it appears to draw inspiration from the full-colour artwork that periodically precedes chapters of the manga. These colour pages are usually light-hearted illustrations of the Straw Hats going on adventures with different species of animals, as a break from the drama of the main story – and that's exactly what you'll find in this easygoing yet fairly insubstantial 56-minute film.
11. The Cursed Holy Sword (2004)
This is one of the more ambitious early movies, with a storyline focused on an old friend of Zoro's who becomes corrupted by a cursed blade. However, this interesting concept is let down by sluggish pacing and the usually fiercely loyal Zoro acting out of character by betraying the Straw Hats for much of the film's running time. It's worth a watch, but only for One Piece completionists.
10. One Piece: The Movie (2000)
While growing pains are evident among most of the early One Piece movies, the very first one holds up surprisingly well. It takes the core concept of the series – searching for a legendary pirate's treasure – and boils it down into a self-contained, 50-minute narrative that captures its tone perfectly. Plus, with very little violence, it makes a solid entry-point for younger fans.
9. The Adventure of Dead End (2003)
This is the first movie to really capture the excitement of the Grand Line, by depicting a gathering of powerful pirates facing off in a race at sea – a premise that would later be improved on by 2020's Stampede. The main villain, Gasparde, is a shameless riff on Sir Crocodile, but he nonetheless makes for an impressive antagonist that pushes Luffy to his limits in the film's thrilling final battle.
8. Episode of Alabasta: The Pirates and the Princess of the Desert (2007)
While The Adventure of Dead End draws heavily from the main series' Alabasta Arc, this film is the real deal, remaking it for the big screen. By condensing 39 episodes worth of plot into 90 minutes, it feels somewhat rushed and is likely hard to follow for anyone unfamiliar with the source material – but whichever way you cut it, Alabasta's key moments will always be pure anime excellence.
7. Episode of Chopper Plus: The Miracle Winter Cherry Blossom (2008)
This movie also adapts an existing story arc, albeit taking some creative liberties by placing it later in the series' timeline so as to not exclude newer members of the Straw Hat crew from a big-screen outing. Continuity woes aside, this is a faithful and well-paced reimagining of the Drum Island Arc that justifies its additions to the story with wonderfully-animated fight scenes.
6. Red (2022)
The latest film in the franchise is also its most commercially successful, and it's easy to see why fans have flocked to see it on the big screen. Centring around Uta, Luffy's childhood friend turned world-famous diva, Red is packed with colourful action sequences, anthemic songs and beloved returning characters. That said, you can have too much of a good thing, and the movie struggles a little to arrange its many constituent parts into a cohesive symphony.
5. Gold (2016)
Gold is a prime example of what a One Piece movie can achieve. Set on a lawless casino island ruled by the filthy rich Gild Tesoro, it feels like it could be an actual arc from the manga or anime, written to snugly fit a two-hour running time. Tesoro's domain is an intriguing setting with well-thought-out connections to established series lore, making this one of the best films the franchise has to offer.
4. Strong World (2009)
Written by none other than Eiichiro Oda himself, Strong World holds a singular prestige within the One Piece film library. Oda uses the movie to expand on the character of Golden Lion Shiki, an infamous pirate who is mentioned throughout the main canon but has never crossed paths with Luffy and his crew – until the events of the film, that is. The result is a story as authentic as One Piece movies get, raising the bar for all future instalments.
3. Stampede (2019)
In Stampede, plot is secondary and spectacle is everything. Featuring a cast of fan-favourite characters competing to win a compass that leads directly to the One Piece itself, this film is a vehicle for dream team-ups and breathtaking animation. Despite the story being so streamlined, it's endlessly exciting and its emotional beats still land, making for an experience that subsequent films will have difficulty surpassing.
2. Baron Omatsuri and the Secret Island (2005)
The sixth movie is an outlier in the franchise in that its connections to any existing One Piece media are almost non-existent. Other than the Straw Hats themselves – and a brief mention of Gol D. Roger – everything in this film is sprung entirely from the minds of writer Masahiro Ito and Oscar-nominated director Mamoru Hosoda (Mirai, Belle). Simultaneously one of the funniest and darkest entries in the franchise, this is a borderline avant-garde and ultimately stirring film that can be enjoyed by both One Piece diehards and anime fans in general.
1. Z (2012)
Film Z achieves what should be impossible in under two hours, telling a high-stakes story spanning multiple islands that almost rivals the best of what the main series has to offer. At its core is the titular 'Z', a vengeful former navy admiral who forms his own 'Neo Marines' faction to wipe out all pirates throughout the New World. Thanks to his compelling, fully-fleshed-out backstory, Z isn't just the best movie-original villain – he might just be the best One Piece antagonist, period. With superb animation and gloriously cinematic direction by Tatsuya Nagamine (Dragon Ball Super: Broly), this is a thoroughly gripping watch that's essential viewing for any One Piece fan.
One Piece: Film Red is in cinemas now

About Jamie Morris
---
Jamie is an avid fan of East Asian culture whose main areas of interest include kaiju movies, coming-of-age anime and sprawling adventure manga. His first exposure to anime was the original Pokémon series, before graduating to Naruto as a teen.
---