ABYstyle Studio are once again delving into the world of Hunter X Hunter, the supernatural Shonen series with a wealth of memorable characters. This time it's the main protagonist Gon Freecss that's making an entrance,
Gon sports his most iconic appearance, being a green jacket with orange details (which isn't always present in later arcs), green shorts and green boots. It's a relatively simple and uniform outfit, the only real details being the jacket highlights along the zipline and cuffs, dark green elements of the boots and laces. Safe to say that Gon's signature colour scheme is pretty well covered here, with the added detail of his Nen ability (transmutation I assume) with a clear orange spikey ball resembling a mace.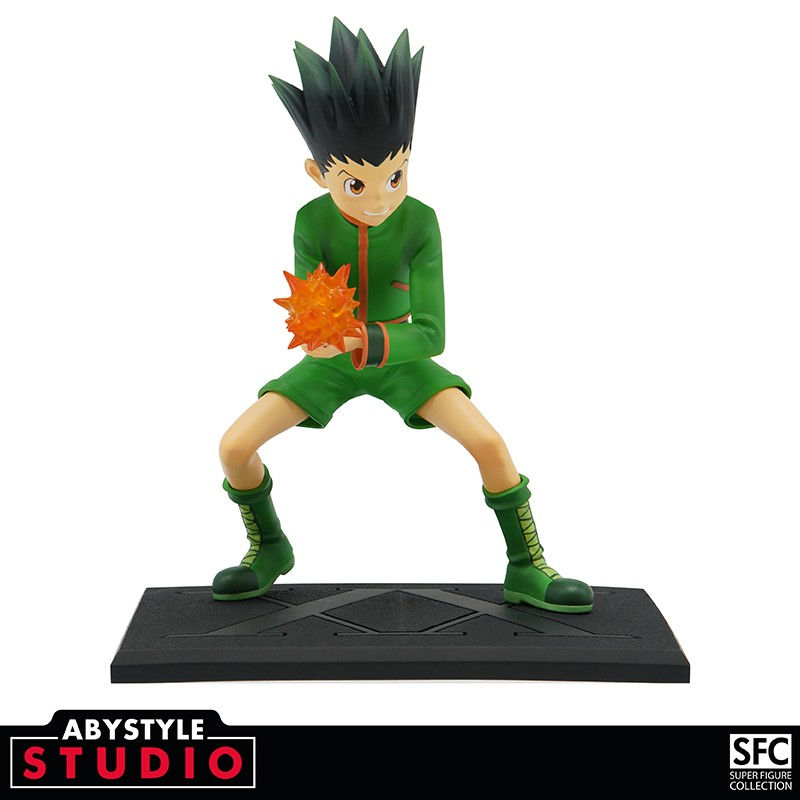 Gon's simple but memorable character design in a battle-ready stance
The sculpting fits in well with the other Hunter x Hunter figure, Hisoka. While Hisoka looks relaxed and devious, Gon's battle ready stance and determined look provide a perfect counter, almost as if they were facing off.
Paint on Gon is pretty minimal, save for a nice green tint to the tips of his hair. The rest of the detail on the sharp sculpt is left to shadow created by natural light, which works just fine for a figure based on an animated character. Detail has been added in the right places, but the design was always a pretty simple one, so there's little extra detail in terms of fabric textures or fine detail, as they simply weren't there in the first place.
We're also back to the signature ABYstyle Studio contrasting balck stand, with it's smooth and textured surfaces providing a match with Hisoka's display base. As always, I'm impressed by the clever and creative use of texture and sculpt for a single colour display stand, but I do feel a bit spoiled by the recent painted bases included with the Yu Yu Hakusho figures.
For fans of Hunter x Hunter, this is undoubtedly the hero figure you've been waiting for, a fine representation of the powerful and engaging Gon at the usual bargain price that belies the sharp details and excellent sculpting that you get for your pennies. It's not the most impressive of ABYstyle Studio's efforts, but they set their own high bar so that's on them!