Bandai Namco have annouced the release date for their upcoming Tales Of ARISE game, which will be hiting PS4, PS5, Xbox One, box Series X/S and PC. So you really can't miss it then.
Both Microsoft and Sony loyalists can upgrade their games to next-gen status:
The game marks a new entry in the Tales of series that has been building a legacy for more than 25 years and the next evolution for the JRPG franchise. Players who buy the game on PlayStation 4 will be able to upgrade for free to PlayStation 5. For Xbox players Tales of ARISE will be a Cross-Generation Double Pack that contains both Xbox One and Xbox Series X|S versions.*
Trailer:
The game will be available in 3 editions: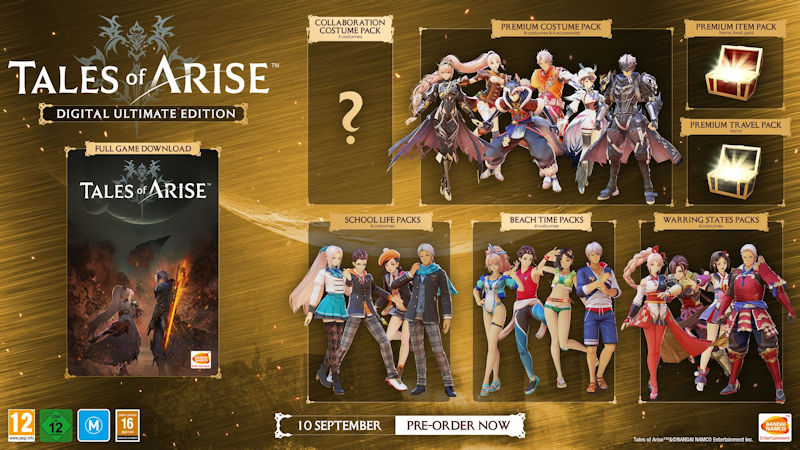 The Ultimate edition, will have the content from the Deluxe edition and new costumes for the characters as well as special costumes in collaboration with other BANDAI NAMCO games.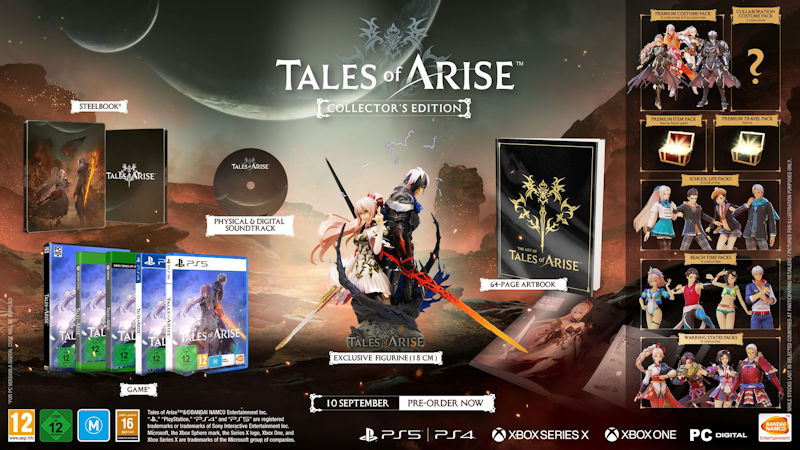 A physical Collector edition will be available and include the same content than the Ultimate edition, along with an exclusive figurine, a Steelbook, an Artbook as well as a Soundtrack for the game. This edition can be purchased at participating retailers and here.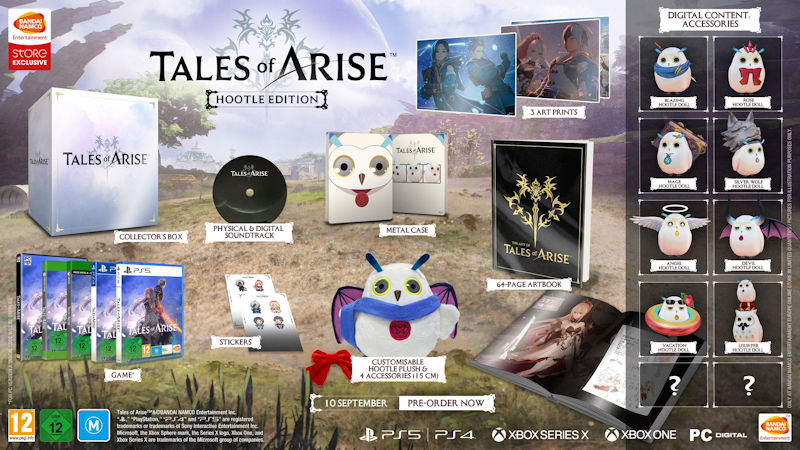 A special Hootle Edition will be available exclusively and in limited quantities on the BANDAI NAMCO Entertainment Europe store. This edition will include, in addition to the base game, a Metal case, an Artbook, a Soundtrack, a 15 cm Hootle plush along with its 4 accessories, a Hootle DLC for the game as well as stickers and 3 art prints.
From the Press Release:
Players will be immersed in the story of Rena, the star that has been ruling the Dahna planet with an iron fist for the past 300 years. Renans have been depleting Dahna of its natural resources, enslaving most the planet's population in order to do so. This tale follows the fight to free Dahnans of their fate and will be experienced through the eyes of Alphen, an iron-masked Dahnan fighting to free his people, and Shionne, a girl from Rena, who's on the run from her countrymen. They will be joined through their journey by various characters, such as Rinwell and Law, that will help them in their fight for freedom.
Tales of ARISE carries on the DNA of the franchise while pushing the envelope further using the BANDAI NAMCO Studios developed "Atmospheric Shader" adding a new touch to the graphics making them look like hand-drawn. This will enhance the players' immersion, along with a vivid new world where they will explore numerous biomes. Combat has also evolved adding more direct effects and attacks to provide a better sense of spectacle and more direct player feedback based upon their actions.
"We want Tales of ARISE to represent a new milestone for the Tales of franchise," said Yusuke Tomizawa, Producer on Tales of ARISE, BANDAI NAMCO Entertainment Inc. "The game has a new artistic direction, making the most out of the Unreal Engine and our newly developed "Atmospheric Shader" to push the graphics quality, and make players feel like they are in a painting. With a story that is more mature and hits on more essential themes than previous games we hope players will be fully immersed in Alphen and Shionne's journey. We can't wait for you to be able to play the game later this year."