More good news for 2024! Radiance has added to their already rather tasty Japanese cinematic delights by announcing a February release of Black Tight Killers (Yasuharu Hasebe. 1966) and By A Man's Face Shall You Know Him (Tai Kato, 1966). Both also promising a panoply of extras, so why not head over to Radiance's site and pre-order direct? You can guess where I'm going... these look like they are going to be very good indeed.
Synopses courtesy of, and shameless borrowed from, Radiance Films:
Black Tight Killers
After wooing stewardess Yoriko (Chieko Matsubara, Tokyo Drifter), war photographer Hondo (Akira Kobayashi, Battles Without Honor and Humanity) sees her kidnapped by a team of deadly female assassins who use vinyl records as weapons. Investigating her whereabouts, Hondo uncovers a conspiracy to steal a buried stash of WWII-era gold. Soon he must dodge go-go dancing ninjas and chewing-gum bullets to save Yoriko, whose family secret is tied to the hidden treasure. Every bit as stylish and inventive as the wildest works by his mentor Seijun Suzuki, Yasuharu Hasebe's spy spoof is a gaudy 1960s pop delight that ranks with the likes of Joseph Losey's Modesty Blaise and Mario Bava's Danger: Diabolik!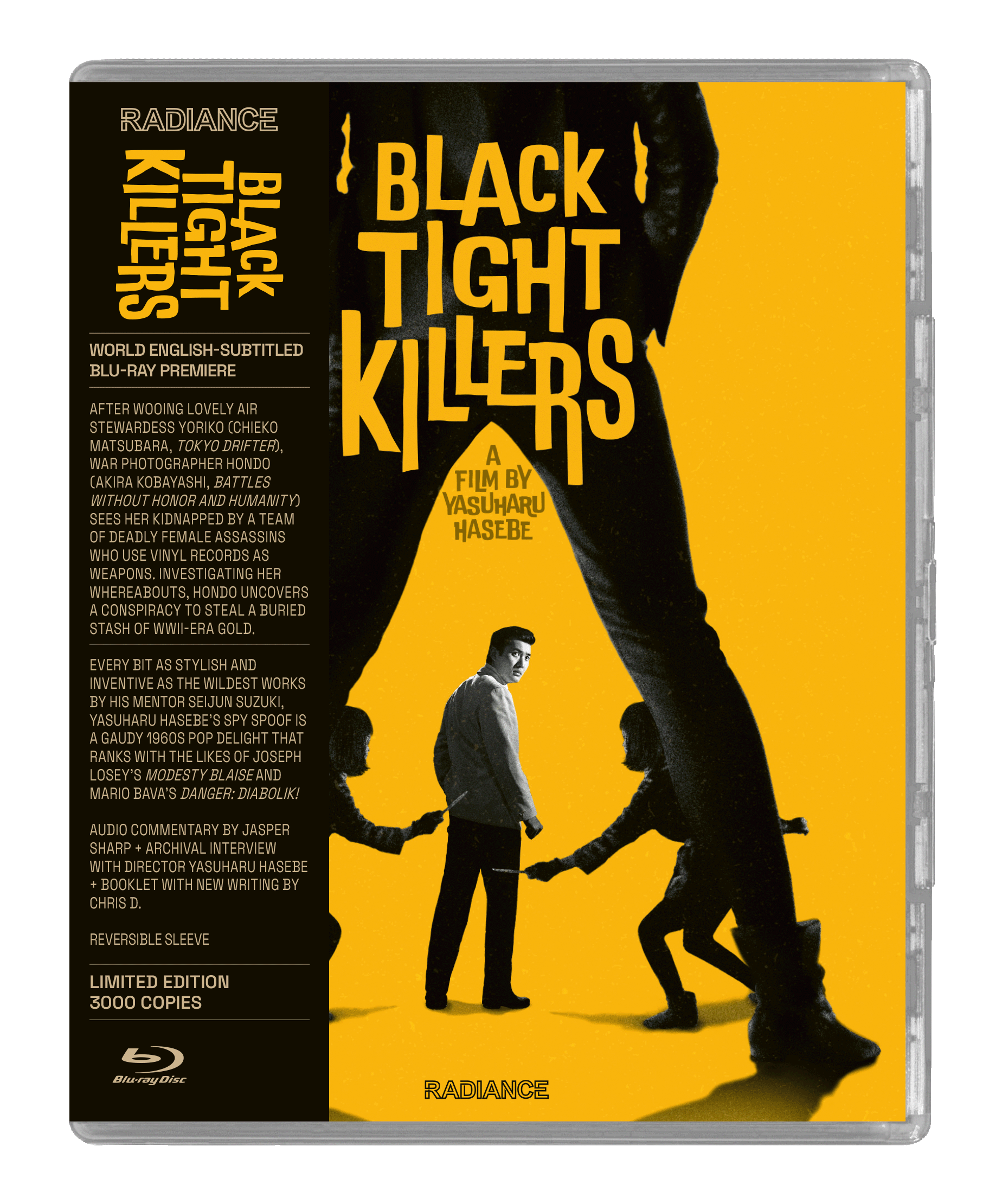 By A Man's Face Shall You Know Him
A community struggles against immigrant gangs in the ruins of postwar Tokyo. Only doctor Amamiya (real-life ex-yakuza Noboru Ando) can save them, but he had enough fighting in the war. His pacifism is severely tested by the gangs' increasingly outrageous taunts and when his neighbours decide to take matters into their own hands, Amamiya is forced to take action. The consequences prove to be much more far-reaching than he could ever foresee. With a story spread across three time periods, Tai Kato's ambitious revision of the yakuza movie was one of the first films to tackle the taboo subject of Japan's Korean nationals, greatly influencing later directors such as Kinji Fukasaku and Takashi Miike.