Publishing house PIE International, a company specialising in high-quality artbooks, will be releasing two new compilations in October from prominent Japanese artists.
KATSUYA TERADA REAL SIZE (12" x 6.9", 202 pages, bilingual)
An incredible collection of one-shot drawings by "Doodle King" Katsuya Takada. Featuring work created using nothing but a black marker, the book features his work at 16% the full size in order to appreciate the entire image, and then a full-scale sample showcasing the detail inherent in each piece.
From the Press Release:
This is the definitive collection of Katsuya Terada's black marker artworks, which have been displayed at his exhibitions both domestically and internationally, and of course including illustrations from his live drawing events. Containing over 150 illustrations, each work is displayed at 16% of the original to show the whole artwork, along with the original size (real size) showing part of the artwork but revealing the detail and sensitivity of Terada's work.
The variety and the scale of these works are overwhelming. One illustration was so huge it had to be put in a gate fold page in order to make sense of what the drawing might be showing. All the artworks were drawn with a black marker and in one shot without any rough drafts, an unbelievable fact that proves Terada's exceptional talent.
Detailed information for each illustration (artwork title, size, exhibition name, etc.) is listed at the back.
About the Artist:
Katsuya Terada, a.k.a. Rakugakingu (or "Doodle King") is a Japanese illustrator who is well known in the US from his work related to Ironman and Hellboy.
In 2014, he published a book Dragon Girl and Monkey King: The Art of Katsuya Terada from Dark Horse. He has done exhibitions at Giant Robot (GR2) in LA.
He likes to doodle a little everywhere he goes and has done many live drawing events where he absorbs himself in drawing on walls. What is amazing is that he does this without doing any rough drafts. Each of his drawings are done in one shot. His drawing style is heavily influenced by Moebius and Katsuhiro Otomo. Terada is a versatile genius who has worked in many fields ranging from manga and anime to live-action film and character design. His notable works in character design are Blood: The Last Vampire and Virtua Fighter.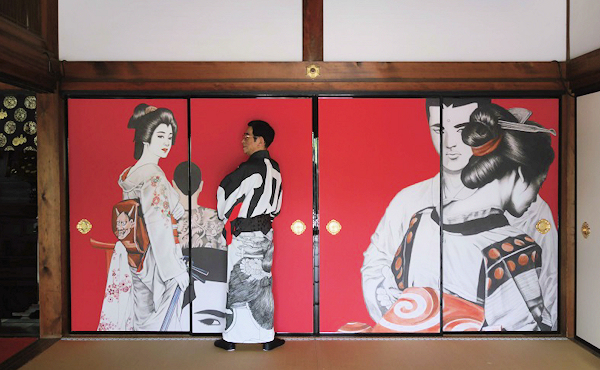 THE ART OF BARON YOSHIMOTO (11.6" 8.2", 184 pages, bilingual)
With a career spanning 60 years, this volume collects his seminal work from his 1980's period where he worked in the US.
From the Press Release:
From Baron Yoshimoto's vast collection of works from his 60-year career ranging from Gekiga (comics aimed at adult audiences with a dramatic and cinematic style and more mature themes) and illustrations to paintings on paper and canvas, this book introduces 120 artworks from his entire career.
For the first time ever, this book collects Yoshimoto's works from the 1980s, when he spent time in the US. Works from exhibitions under the name "Ryu Manji" in the 1990s and works from Yoshimoto's live drawing event done in collaboration with Katsuya Terada are showcased, as well. As a Gekiga illustrator and a painter, readers will enjoy Baron Yoshimoto's life and work from various aspects. A rare and important interview with Katsuya Terada is included as a special feature.
About the artist:
Born on November 11, 1940 , Baron Yoshimoto studied western art at Musashino Art University in Tokyo and then began his career as an illustrator for books. But soon he became obsessed with Gekiga art (comics aimed at adult audiences with a dramatic and cinematic style and more mature themes) and became a Gekiga artist working under the pseudonym Baron Yoshimoto. He was one of the leading players in the golden age of Gekiga movement which flourished in Japan from the 1960s to the 1970s.
In 1980 he went to the US and shifted his style from Gekiga to art painting, bringing himself into a whole new territory as an artist. He has done works for Marvel comics, such as the Savage Swords of Conan series (In the Desert of Dreams), and became close friends with Stan Lee. In the 2000s, he started to paint on canvas and his paintings got bigger and bigger.
He was invited to San Diego Comic Con in 2004 and 2006. In 2018, Yoshimoto published a graphic novel, which collected Gekiga works from his early years, titled Trouble Maker from Retrofit Comics in the US. He is invited to the 2020 Angouleme International Comics Festival.