With the COVID-19 pandemic still putting a stop to any sort of large social gathering, many events have been turning to alternative means to ensure 2020 isn't completely written off. The timing has been especially unfortunate for Wales' own Kotatsu Japanese Animation Festival, as this year marks its 10th anniversary. While it sadly means the weekend event can't take place in its usual homes of Cardiff and Aberystwyth, the team behind this brilliant event have instead put together a series of screenings, Q&As and activities to take place entirely via YouTube and Zoom for free on October 24th and 25th.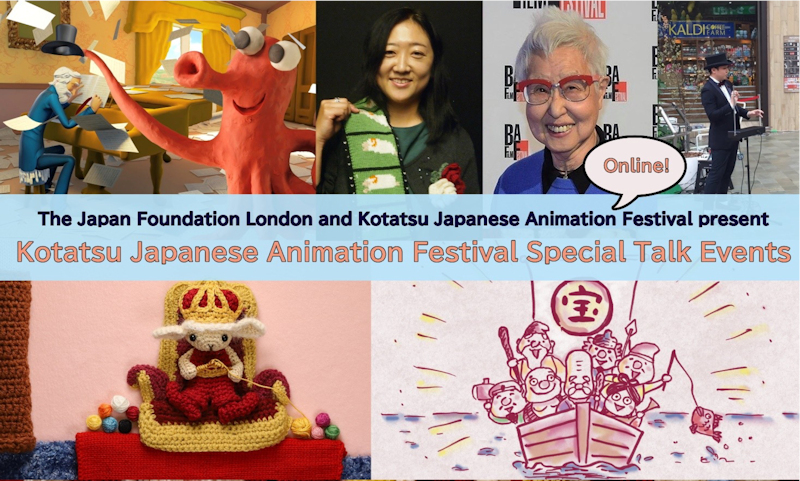 Launched in November 2010 at Chapter Arts Centre in Cardiff, UK, the festival screens the best in Japanese animation and culture to a wide audience. In 2020, the festival successfully registered as a charity in the UK. Kotatsu has always strived to not only bring some of the biggest anime films to Wales but also showcase the talent of animators themselves - ranging from 2D to stop-motion. The 2020 festival aims to be the biggest one yet in this regard - featuring 37 different films from award-winning animators and students from a total of five different Japanese universities. Additionally these works will all be introduced to the audience by the creators themselves, connecting us even in these troubled times.
These events have been arranged in partnership with both The Japan Foundation London and F-Rated, an organisation dedicated to supporting women in film by working with cinemas and film festivals to give moviegoers a way to identify films and events that fairly represent women on screen and behind the camera. Kotatsu have secured an F-Rating for our ongoing campaign to show the works of female film makers and also for this event where 75% of the films are directed by women.
The full line-up of events can be viewed below. Zoom events require prior booking but are still absolutely free.
24th October
11:00 YouTube Screening – Films by Koji Yamamura, Shin Hosokawa, Miho Yata, Chie Arai, Makiko Sukikara
13:00 Zoom Event - Miho Yata / Takeshi Yoda - Director & Musician Q&A
Who could have imagined that colourful wool threads could be transformed into a cute and fun animation with lots of sheep! YATA Miho, a Japanese animation creator, mesmerized viewers when her work was streamed as part of the Kotatsu Japanese Animation Festival special in July. Together with YODA Takeshi, composer and theremin player who performed the memorable music in The King of Amechau Country, they will talk about their creative processes and their sources of inspiration in this online talk. Their presentations will be followed by a conversation with Abigail Addison. Book Here.
18:00 YouTube Screening - Student Work (Part 1)
25th October
12:00 Zoom Event - Chie Arai Animation Workshop
ARAI Chie is the creator behind the twinkling and friendly mascot of the Kotatsu Japanese Animation Festival. She is also an animator who created the festival's opening animations and other short films. Her drawings are quite often seen in the form of flip books, and bring to mind a similarity to manga. In this workshop, she will explain where the idea for the cute character came from, illustrating step-by- step the process of her creation. Participants will be invited to join a brief session in which they can try and test their skill on paper to check their potential for being a future animator! Moderated by Shangomola, a London based manga artist. Book Here.
14:00 Zoom Event - Fusako Yusaki Director Q&A and Clay Animation Workshop
Having lived and worked in Italy, YUSAKI Fusako is an award-wining female creator and a pioneer of Japanese clay animation. Metamorphosing clay into a lively animation rich in colours defines her work and her philosophy: nothing remains the same. In this very special talk, in conversation with Robin Lyons – a producer of animation works and the Managing Director of Calon – YUSAKI will explore her long-standing career and how her life and work has changed shape like the ever- malleable materials she loves. This is a rare opportunity not to be missed. Book Here.
16:00 YouTube Screening - Student Work (Part 2)
18:00 YouTube Screening – Films by Koji Yamamura, Shin Hosokawa, Miho Yata, Chie Arai, Makiko Sukikara
The Kotatsu Japanese Animation Festival relies on sponsors and donors to help deliver screenings. If you would like to show your support, you can do so with a voluntary contribution at the festival's Patreon page. Alternatively you can support the festival without paying extra money by signing up to Easyfundrasing and choosing to support Kotatsu. When you shop via Easyfundrasing website, a percentage of your purchase will be automatically donated to the festival. If you are shy, you can choose a setting that allows you to be an anonymous supporter.