Outer space is closer than you realise – whenever you do something so seemingly minor and mundane as call an Uber or look up where the nearest takeaway is on your smartphone, satellites in orbit hundred of miles over your head are directly communicating with that little device in your hand.
Much of our economy and society are connected via space, but they are thin threads in a precarious balance. You might remember 2013's Oscar-winning cinematic visual spectacle Gravity, which explosively showed the consequences of Kessler Syndrome – when collisions between satellites set off a chain reaction of crashes, causing a catastrophic cascade of exponential disintegrations that eventually rings the planet in an orbit of shrapnel that makes space travel impossible. Flying at orbital speeds of thousands of miles per hour, even the tiniest piece of space debris can be fatal.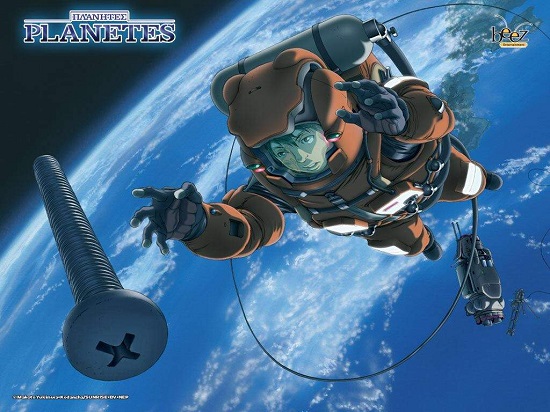 How to keep space safe then is not merely an esoteric theoretical irrelevance for nerdy eggheads to ruminate on, but it's a question that is very real and important to all of us. It's also a question that anime has sought to answer! One of the powers of speculative science fiction is to theorise about future development, and one of the most critically-renowned anime series to do so is 2003-4's Planetes. Based on a manga begun in 1999, Planetes is celebrated for its grounded, authentic, scientifically plausible vision of space exploration featuring the travails of a team of zero-gravity dustmen lumbered with the vital but unglamorous job of preventing collisions by clearing up space junk. You can read our 9/10 review of the series here on the UK Anime Network. While the UK DVD release of Planetes has unfortunately been out of print for a number of years, it's definitely one worth snatching up when a copy comes on sale - or if you can delay for a subsequent launch window, Anime Ltd. will be firing off a Blu-Ray Collector's Edition re-release of Planetes at the end of next month.
Even if Planetes is 'hard' sci-fi with a realistic foundation much of the scenario may still seem distant and unreachable – but now, science fiction is about to become science fact. Just as Planetes charted a course for space debris collection, a space mission has recently been launched to test just that!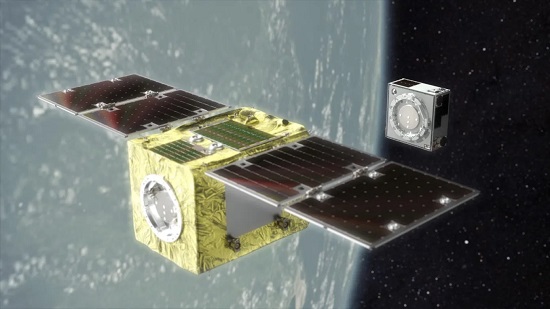 Artist's impression of ELSA-d in action. Image courtesy of Astroscale.
The space development company Astroscale successfully launched its "ELSA-d" satellite on board a Soyuz rocket from Kazakhstan early this Monday morning. The ELSA-d is a pioneering experiment in space debris collection and its mission is to conduct a series of tests to assess the capability of collecting decommissioned and defunct satellites for safe destruction and disposal, instead of leaving them to dangerously decay in orbit, by harnessing them with magnetic plates. Over the coming days, the system will be put through its paces in a variety of complex manoeuvres capturing test drones both static and tumbling, and if the demonstrations of the ELSA-d technique is successful then it will be a key step towards viable commercial space debris collection and making the world of Planetes a reality.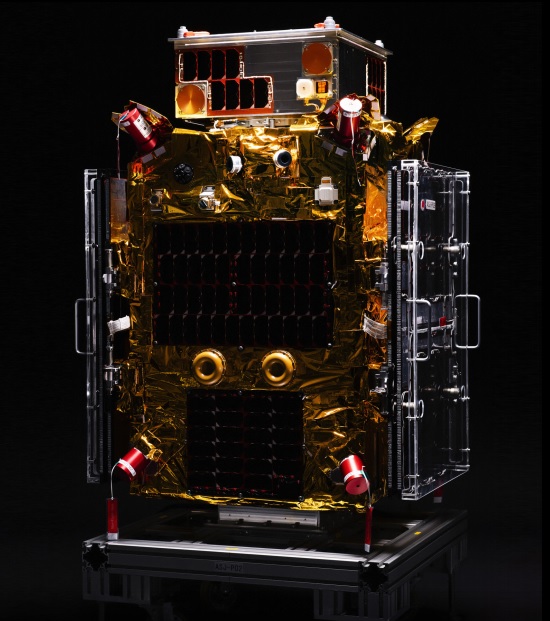 Close-up of the ELSA-d module. Image courtesy of Astroscale.
The experiment has more links to anime than just having a similar plot – Astroscale is a Japanese company, although the mission will actually be controlled from a British space centre, the In-Orbit Servicing Centre based in Harwell, Oxfordshire. It forms the latest in a series of space debris collection experiments: JAXA, Japan's national space agency, attempted an experiment in 2014 to deploy collection nets from the International Space Station, which unfortunately failed; while we were able to show off the best of British as it was a UK-based project from researchers from Surrey Satellite Technology that demonstrated the first successful test collection of debris with another collection net method, different from ELSA-d's magnet hooks, back in 2018. An upcoming experiment planned for 2025, Clearspace-1, is an international project which will use a claw to grab debris and also has a British team contributing to its design.
It's an exciting time to be both a fan of science, a fan of anime, and someone invested in the achievements of UK science and engineering. Follow the links below to learn more – and in the meantime, do your bit to keep the world tidy, an keep watching the skies!
Official Astroscale Press Release on ELSA-d launch
Astroscale Information Dossier on ELSA-d
More specialist comment and analysis on ELSA-d
Report on 2018 RemoveDebris project
UK Government Press Release on Clearspace-1
More UK Anime Network Planetes Reviews - Volumes 3&4 and Volumes 5&6.