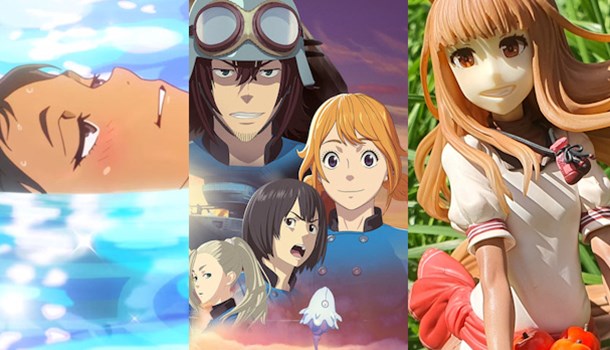 UKA End of Year Recommendations
Written by Ross Locksley on 31 Dec 2020
---
It's been a painful year, but if there's one place we can look for some comfort, i's in our entertainment. This year has seen a slew of quality releases, so here we look back at what's floated our proverbial boats and seen us through the hurly burly of 2020.
Ross:
One of my favourite series of the year came late in the day, with the tremendous manga, Not Your Idol. Aoi Makino has created a gripping thriller, completely above and beyond my expectations. It's a masterfully crafted and thoughtful look at trauma through the eyes of a young girl struggling to maintain any sense of self. If you're looking for a reason that manga now outsells Western comics, this is it.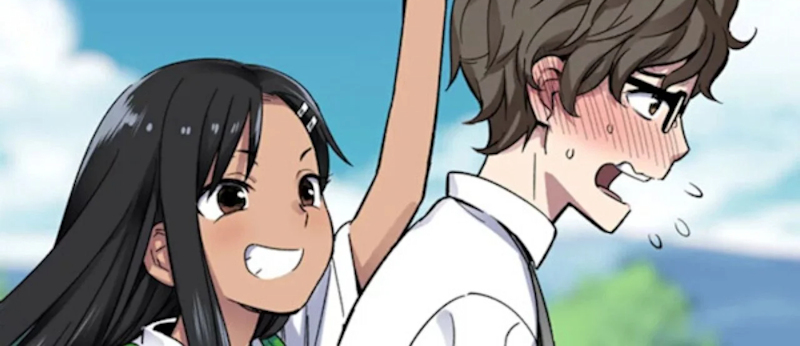 Don't Toy With Me Miss Nagatoro - A guilty pleasure for 2020
On the flipside of the manga spectrum, I'd also highly recommend Don't Toy With Me, Miss Nagatoro. What could be yet another tsundere manga series is elevated by the awkward romance that develops throughout the series. The art by Nanashi just has so much charm that you can't really dislike Nagatoro despite her incessant teasing. After a long day at work, I find this series one of my favourites to just re-read and unwind with. Now we know there's an anime coming, there'll be yet another way to enjoy this guilty pleasure.
I haven't watched a lot of anime, though I have a lot of box-sets to work through. I did get time to watch a few titles, and I suppose the most stand-out moment was discovering just how perverted Food Wars! is - just, wow.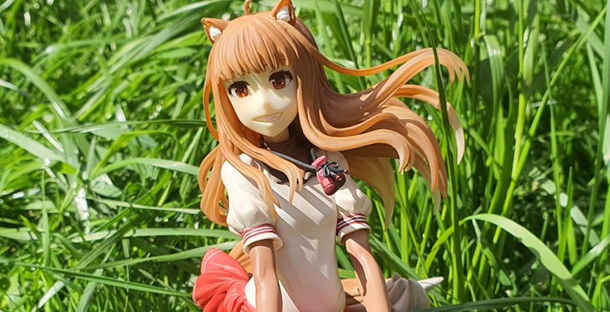 If ever there was a year you needed a good fortune on your side...
I've also had tremendous fun with toys and figures this year, improving my photography with natural elements. Figma's Raphtalia has been great to pose around the office (she's such a great character), but perhaps the one figure I'm most fond of is the Holo (Full Harvest Version) statue based on the glorious illustration by Jyuu Ayakura. In a year of such heart-breaking losses, it's been a comfort to have the Wisewolf enjoying the simpler things in life.
I'll let Dawfydd talk about just how amazing Transformers have been this year, but for my own part, what an expensive year!
Dawfydd:
I've been shockingly lax when it comes to keeping up to date on anime this year, but if I had to pick out one series that really grabbed me it would be Great Pretender, a real twisty-turny tale of con-artists scamming folks who really deserve it. If you've fond memories of the likes of Hustlers or Leverage you'll be right at home (be warned though that the second half/season 2 - thanks Netflix - does get a tad darker in tone). Props to the dub as well - I thought there was a problem at first as it was still in subtitled Japanese, then 5 minutes in it switches to English with a cheeky bit of text to let you know. Oh, and of course it looks and sounds fantastic (it has Freddie Mercury over the end credits, what's not to love?). Honourable mention goes to Brand New Animal, for being peak Studio Trigger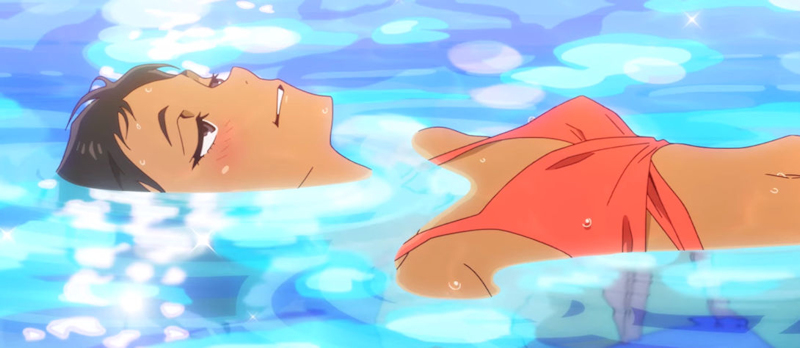 Great Pretender floated to the top of the pool for Dawfydd
If we're talking physical releases, then All The Anime's ongoing Gundam releases have been regular highlights over the course of the year - being able to buy official UK releases of Gundam Unicorn and Gundam 0083 was a blessed relief, both being quite nice packages in their own right. And whilst I've not indulged in their releases of Wing, 00 or Iron Blooded Orphans, I've heard nothing but good things about them. Just a shame that (completely out of their control) they have had to delay the Gundam NT and Gundam SEED Ultimate Collection releases into the new year. However ATA's release of Full Metal Panic! Invisible Victory arrived just before Christmas and rather blew me away.
Manga I've literally only brought a single book this year, the long awaited 11th volume of Black Lagoon - we are now firmly in waters beyond what was animated and the adventures of Rock, Revy, and the very, very dangerous inhabitants of Roanapur remain engaging slices of action, with lashings of moral uncertainty heaped onto the oh-so-distinctive art. I was hoping to have a volume of Battle Angel Alita: Mars Chronicle to add to this list, but sadly volumes 7 & 8 were pushed back into 2021.
Shifting to collectibles, this was a banner year for Gunpla, and my pile of shame grew ever taller, but the 1/144 High Grade Gundam: The Origin RX-78-02 has knocked my socks off in a year where the venerable grand-daddy mobile suit received SO. MANY. KITS, The Origin release hits the right balance between complexity without sacrificing posing abaility and stability. I can also recommend pretty much any of the Revive kits the year has seen, as all the ones I've handled have been excellent.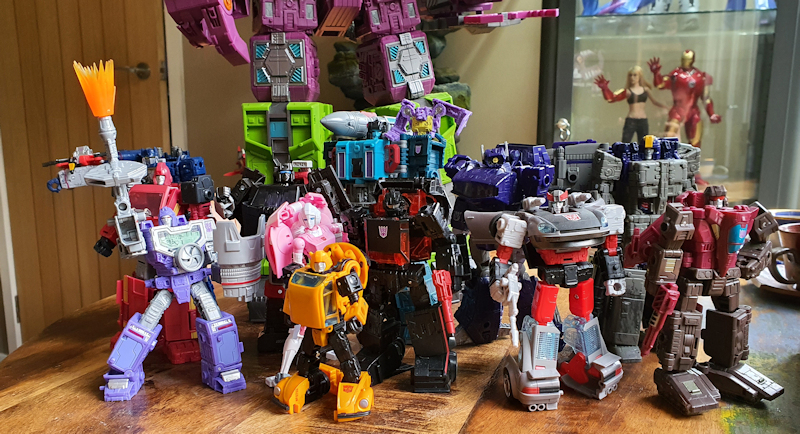 WHAT. A. YEAR.
And it would be remiss of me to not mention Transformers. 2020 has seen Hasbro-Takara navigate the waters of Covid-19 with a certain amount of aplomb, releasing some of the finest figures the franchise has ever seen. It's only mildly hyperbolic to say that a good portion of the War For Cybertron line blur the boundaries between the standard releases and the much pricier Masterpiece range. The only downside being the somewhat frustrating tactic of making characters many would consider essential store or site-specific exclusives, in turn making them more difficult for UK collectors to get in on. However the latter part of this year has shown a marked improvement with several independent retailers enjoying greater access to exclusives, and bigger players like Zavvi & Forbidden Planet providing improved distribution. If asked to pick one of the year's releases though I'd have to go with the just-released Kingdom Voyager-class Optimus Primal, a chunky munky that's light on hollow sections in favour of a slightly smaller, denser figure that's a joy to handle (Yes I did giggle at how they implemented his wrist cannons from the cartoon. Why do you ask?).
And on the tabletop gaming front, whilst Games Workshop drew the majority of attention with the release of the 9th Edition of Warhammer 40,000, Corvus Belli hit fans of Infinity with a one-two punch of the tripped down Code One system at the start of the year, followed in the summer with Infinity N4, a leaner, more refined update to the game of science fiction skirmish battles. Accompanied of course by their consistently stunning miniature releases (seriously, go check out the Mongol Blue Wolf Cavalry TAG - sublime, and the updated Team Equipe Mirage 5). And for a lucky few the first wave of the Defiance Kickstarter campaign began shipping. Whilst for those seeking something with a bit more flexibility, Battle Systems took to Kickstarter for a new Core Space box, First Born, that offers up a toolbox for playing narratively driven games that could easily be given an anime-flavour. Meanwhile Tabletop Systems successfully funded a model-agnostiic version of their MechaTop rules system, designed around playing games with GunPla kits (and even Mech action figures), and Catalyst Games shipped the first wave of the Battletech Clan Invasion, featuring a frankly stunning array of updated mechs, including redesigns of the majority of the legendary/infamous "Unseen" that remain recognisible yet distinctly not the classic Macross / Orguss chassis.
Robert Mullarkey
With 2020 being the rather chaotic and weird year that it was; looking back on my favourite anime I realised that I barely kept up with any titles, or finished the amount of series I've managed in previous years. Upon thinking about what new anime I watched this year and looking through lists of what aired I decided to go with Bofuri: I don't want to get hurt so I'll max out my Defence. This anime is from the start of the year and aired as part of the Winter season - because this felt so long ago I thought it aired in 2019! But no, I finished watching this just as the first Lockdown started. This show is one of those isekai light shows, where all the action takes places in a virtual world - think Sword Art Online but without the threat of death. Bofuri follows a novice player called Maple as she starts playing a new VR MMORPG at the recommendation of her friend.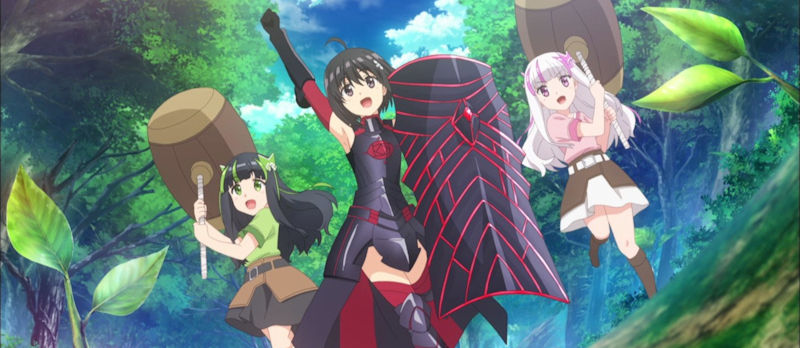 Not much need to defend the terrific Bofuri as Rob's anime of choice for 2020
Rather than creating a balanced character to start with in order to learn the game and then spec her character to fit how she plays; she immediately puts all her status points in defence and continues to level up this way. Leading the way into the unintended consequences of creating a character that surprises both Maple and the game's admin team. The show is filled with a lot of game and fantasy tropes, making fun of quests and gameplay conventions. Even going so far as to escalate the ridiculous things that happen to Maple and her party. The joy of this show is seeing what crazy thing Maple would accidentally do next and how far the show can push the idea of Maple accidentally being incredibly overpowered in the most game breaking way possible. On reflection I see this anime as the perfect thing to watch in 2020. In typical isekai hero anime, it is wish fulfilment fantasy with a very comedic tone. Its a show that transports you to another world just to have fun with the characters and enjoy all the nonsense that happens from playing a game in a unique style.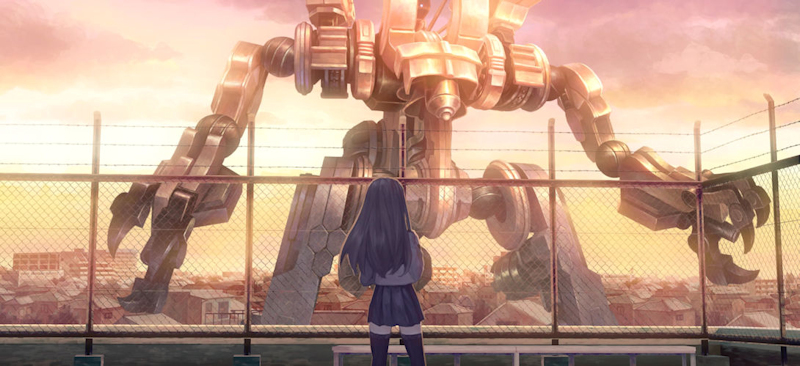 While FFVII May be Rob's best game for 2020, 13 Sentinels: Aegis Rim remains the most memorable
Speaking of Games. Whilst 2020 was an incredibly bleak year in terms of world events; for gaming it was an incredible year with the start of a new console generation and a ton of great games to play. While Final Fantasy VII Remake would be my game of the year, another I will continue to recommend is the terrific 13 Sentinels: Aegis Rim. This game is my biggest surprise of the year. I'm a fan of Vanillaware, but was a bit sceptical that they could bring the charm from their fantasy RPGs and transfer it to a Sci-fi Visual novel/Tower defence strategy game. However, they knocked it out the park! After finishing this game a few months back I'm still thinking about it. One of the most interesting stories I've seen in a video game with an clever narrative mechanic of jumping between 13 main characters, with the story for each spanning different timelines, events and perspectives. It's a truly remarkable sci-fi experience.
Robert Frazer
2020 is largely being regarded as a downbeat and unfortunate year, but I can't see why - a year that was distinguished by my return to the UK Anime Network after a too-long absence can only make this a glorious occasion to be immortalised in the annals of history, surely? (Cheers to that - Ed!)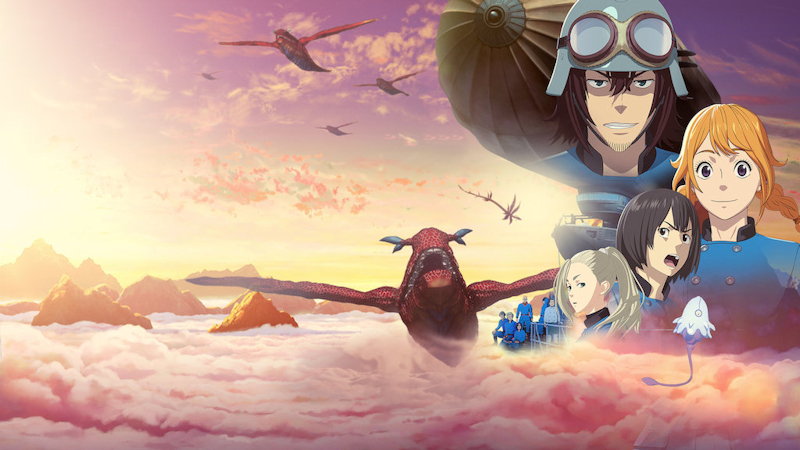 Distinctive and Memorable - Drifting Dragons on Netflix
In all seriousness, I want to thank everyone here, readers and staff alike, for welcoming me back home with such warm openness. While I've always preferred physical edition of anime, one of the themes of my reviews this year was discovering the hidden gems of anime on streaming services that might be overlooked given the capriciousness of the almighty recommendation algorithm, and one that jumped back out at me when looking back over my writings was Drifting Dragons. Even if my actual review didn't give it a 10/10, it's nonetheless one of the most distinctive and memorable new releases of 2020 - colourful, wistful and imaginative, it's one of the shows that highlights the unbounded potential of anime.
Amazon Prime may suffer from poor curation of its anime category but nonetheless it should be praised for its selection of classic anime titles, giving us the opportunity to access a selection of historic series that have long since fallen out of print and are now almost impossible to find in stores. My reviews of the year have mentioned titles like Cat's Eye and Lupin III, but even if we didn't quite get around to reviewing it formally I wanted to make a shout-out to 2020's Amazon Prime revival of Ghost Stories. A secret weapon in the endless war of sub-versus-dub, Ghost Stories is remembered for having a "joke dub", which was... free in its interpretation of the original Japanese and featured plenty of wisecracks of the cast cutting loose and having fun., while inviting us to come along for the ride. Ghost Stories is already well-known on YouTube supercuts of all the rude dialogue, but it might surprise you to discover that there is an actual solid show beyond the highlight reels.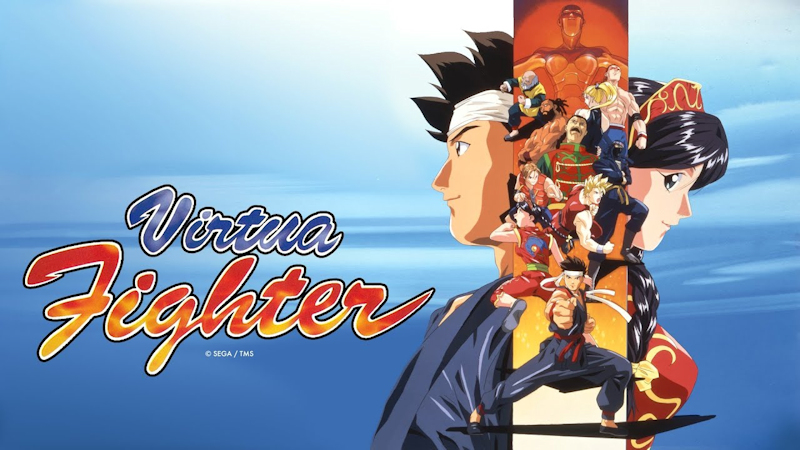 The Virtua Fighter anime, still worth a look 30 years on
Speaking of YouTube, I would like to use this platform to give some special thanks to the Official TMS Channel - in a year when lockdowns have caused everyone significant financial hardship they deserve praise for making a considerable amount of anime available for us to enjoy completely free, without any need even for a streaming service subscription. A personal favourite of mine among this year's uploads is Virtua Fighter - a quirky little beast indeed. Fighting game anime don't have a great reputation but Virtua Fighter bucks the trend with a bouncy take that distinguishes it from the plodding leaden seriousness of the official Street Fighter anime and even though it's almost thirty years old I still consider it to be the best in the genre.
I tend to review more manga than anime and my shelves have been groaning under the weight of so many new acquisitions this year that it's honestly hard to pick just one. I do want to give my appreciation to Dark Horse's dedication to the cause of literary manga, in particular their excellent release of Emanon accompanied by extensive footnotes and discussion that make the series an outright education! While it's disappointing that recent disruptions prevented the planned release of volume 4 of the series this year, I look forward to its return as we get back on track in 2021.
Seb Reid
2020 was a year which started really strong for me, but has all but seemed to slow down and stop. Its been a strange one that's for sure. I had thought that with lockdown and working from home, more of the never-ending backlog of Blu-Ray and new releases would have been enjoyed, but alas, it was not meant to be and with the arrival of Baby Reid in the next week or so, I foresee time dwindling further. Even with this limited time, it has been a good year to enjoy some anime, find time for reading and pick up a game or two as well.


Relaxation, thy name is Aria
At the start of lockdown 1, I turned to the calm and relaxing series, Aria (and all of the subsequent OVAs and Series) which was a kickstarter release from Nozomi Entertainment in the US. If ever an anti-depressant could be distilled into an animated form, Aria would be it, and it was wonderful to finally have my set arrive just after Christmas. Nothing is more relaxing than a fun, peaceful slice of live, on a Martian Venice. The Blu-Ray discs are expertly done, and they also released a fully translated artbook which is simply superb!
For domestic releases, my highlight has been Manga Entertainment's releases of Starblazers (Space Battleship Yamato) 2199 and 2022 on Blu-Ray. Gripping space opera, lovable and energetic characters and a true sense of life, death and despair all the way through, took the edge off the sense of impending doom in the real world!
Finally, the last highlight was MVM's release of Miss Kobayashi's Dragon Maid, and I have gone into enough detail on that series on here before, needless to say, worth a watch. It is only a pity that the second series was delayed, but given the tragedy of 2020, perfectly understandable.
Reading has been incredibly important this year, and alongside my staple diet of British Sci-fi masters such as Peter F Hamilton, Adrian Tchaikovsky and Alistair Reynolds, I have dived back into light novels such as Toradora, The Saga of Tanya the Evil and I finally got around to reading the somewhat disappointingly dry, True Tenchi Muyo books!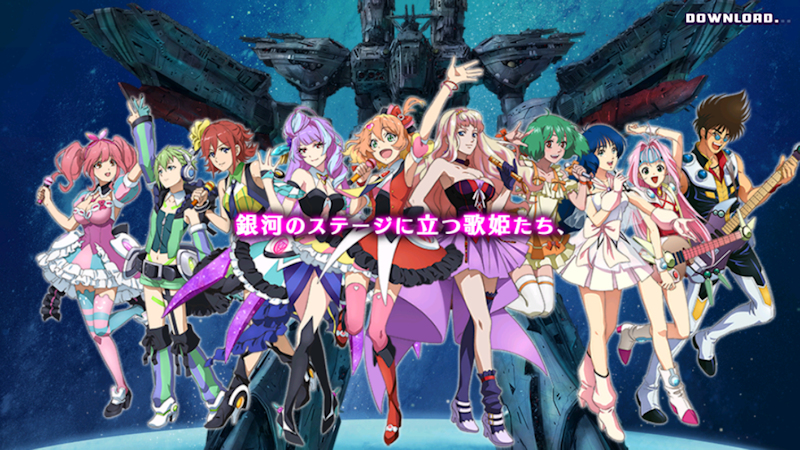 Uta Macross, Seb's perennial go-to...
With working so much, and other time constraints, gaming hasn't been a feature much this year. The new Nekopara Vol 4 sits on my steam account, gathering dust as I just haven't had time to dive in yet. Instead, I have relied on the dulcet tones and melodies of my old favourite Uta Macross: Smartphone deculture, a Macross musical rhythm game which is fast approaching its 4th year, and also the new expansion for Civilization 6 which has proved a godsend as turn-based games are all I seem to get away with at the moment.
So here is to 2021! Hopefully it will be a bit more varied than 2020 and this year I hope to get my other half into watching a bit more anime as well!
2021...
So we've seen off 2020, and hope some of our favourites were in your list too. However you've been coping in the last 12 months, the team here at the UK Anime Network wish you the very best for 2021!

About Ross Locksley
---
Ross founded the UK Anime Network waaay back in 1995 and works in and around the anime world in his spare time.
---