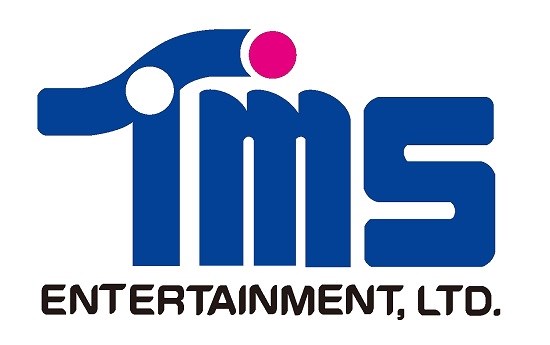 Topping up on TMS
Written by Robert Frazer on 11 Mar 2021
---
In our recent review for the online streaming version of Virtua Fighter, currently available to view for free on YouTube, we also dedicated some space to introducing the YouTube channel that hosts it – Anime! On TMS Official Channel. There are a bunch of other shows that also can be watched for free on this YouTube channel, and for readers whose curiosity has been piqued by the Virtua Fighter review and would like to enjoy more free anime after they have watched the free anime selection streaming on All 4, this article has been assembled to introduce you to the range.
TMS is one of the most well-established and well-known names in the anime industry. While it's not quite as venerable as the Grand Old Man of anime, Toei Animation, TMS nonetheless has a long history and a widespread impact. Interestingly, TMS as a company is actually older than Toei Animation – while Toei in its original incarnation as Japan Animated Films was founded in 1948, TMS originally came to be in 1946. However, TMS didn't actually get into animation until sometime later: even more obliquely than Nintendo's progress into electronics from printing playing cards, TMS's path into entertainment came from an outside direction altogether. TMS was originally a clothes manufacturer known as Asahi Gloves Manufacturing Co., and did not develop an animation studio until 1964. Its boss Yutaka Fujioka was someone with a background in puppetry: he had already been producing televised puppet shows since 1961 and his puppeteering troupe only moved into drawn animation with great reluctance and under extreme duress from their network TBS, after Osamu Tezuka's Astro Boy started competing in the same time slot as Fujioka's own puppet show and absolutely destroying it in the ratings! Despite going into animation precisely to challenge Tezuka, the first show TMS produced was an adaptation of a Tezuka title The Big X and one of Tezuka's employees Osamu Dezaki was even seconded out to be The Big X's director. The 'Godfather of Manga' was really being incredibly sporting!
Despite such bizarre beginnings the creation of Fujioka's "Tokyo Movie" (later becoming "Tokyo Movie Shinsha", TMS, in 1977) was well-timed to ride the wave of the first big boom of television anime in the early 1960s, and TMS is still making anime almost sixty years later. This has given it an extensive catalogue and a depth of influence that emerges in surprising places – for instance, a number of well-loved 'Western' cartoons have actually had the Japanese TMS behind them, most notably the fan-favourite Nineties animated noir Batman: The Animated Series. TMS has long had an international presence with overseas offices in Los Angeles and Paris (they helped to produce the Franco-Japanese Ulysses 31 as early as 1981). TMS have even dipped their toes into videogames, producing a variety of animated cinematic sequences, and the company's actually been owned by Sega since 2005. TMS has also lasted so long because it's not been afraid to experiment with genre – one of its earliest productions was 1965-67's Little Ghost Q-Taro, which was arguably anime's first dedicated comedy show. You can thus look forward to plenty of variety on its YouTube channel and no matter what part of anime interests you there'll probably be something in this selection that you'll enjoy, whether you focus on new shows or you're hunting for forgotten classics.
The Anime! On TMS Official Channel on YouTube separates its content into various playlists by series. A fault of the channel though is that they can be hard to navigate from the channel's home page, with titles confusingly grouped in a number of different categories such as "new episodes every week", "popular anime" and YouTube's default unnamed "saved playlists"! To gain access to the most complete selection in one convenient place I recommend that viewers bookmark the page "Created Playlists" which is accessed from the drop-down menu beneath the headings on its Playlists tab.
The channel also does quite freely mix up full series and sampler packs of shorter clips and highlights – for instance, there is a playlist for full episodes of Kenichi: the Mightiest Disciple and a separate one for the show's "Funniest Moments"; TMS is also the House of Lupin and there four different Lupin III playlists showing various bits and pieces. This article will be focusing on those which offer full episodes of their various shows for the most substantial content, and for ease of navigation there will also be a link to each individual playlist on their entry. Omitted from the list in the anime Zinba, which is region-locked from the UK in its entirety, but in the meantime you can also enjoy short promotional clips from a number of other shows such as the modern reproduction of Baki (currently streaming on Netflix), Knight Hunters Eternity (currently strreaming on Amazon Prime) and Dr. Stone (Currently streaming on Crunchyroll). There's no need to pay for those subscriptions though, because the YouTube channel still has lots here to enjoy for free. So, without further ado, let's find out what there is to watch:
Actually, I Am…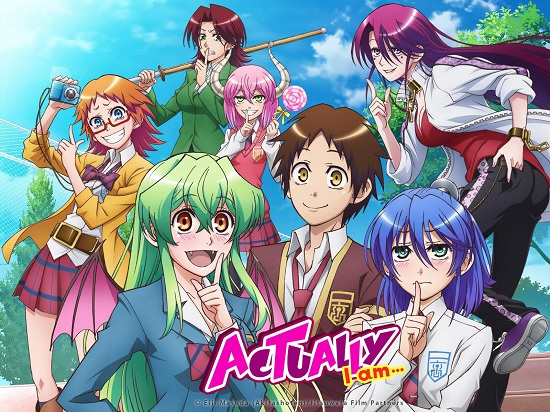 The manga version of this show is already available to read in English, published by Seven Seas Entertainment under the alternative title My Monster Secret. If you enjoy monstergirl rom-coms but found fanservice-heavy shows like Monster Musume and Monster Girl Doctor to be a bit too, erm, forthright, Actually, I Am… is a gentler and more accessible alternative that wears its romance with a lighter touch. It follows the misadventures of Asahi, a highschool boy who's notorious for being a helpless blabbermouth who just cannot hold back from blurting out whatever's told to him in confidence: so he's not the best person to discover that his classmate Youko is actually a vampire! Youko just wants to live an ordinary school life which will be jeopardised if her real nature comes out, so she swears Asahi to secrecy: but Asahi's very limited powers of discretion are going to be stretched to absolute breaking point when he finds out that Youko isn't the only monstergirl in his school.
Language: Japanese with English subtitles
Episodes Available: 13
Year Originally Broadcast: 2015
Anisava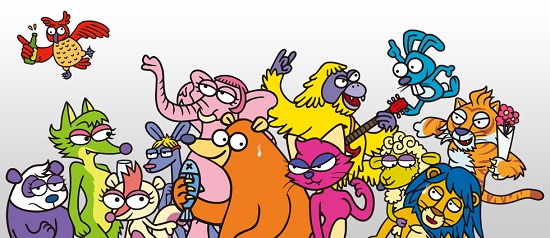 A web-series of quick and simple comedy shorts, produced in collaboration with the Japanese Flash animation specialists Dream Link Entertainment. Despite being a Japanese production, Anisava was intended from the outset to have overseas appeal, made with an English dub on first production, including English scriptwriter Sean McPhilips on the staff, and with character designs from Spanish outfit Kukuxumusu. Anisava features cartoony anthropomorphs who are discovering that the concrete jungle of the city is no less wild than the leafy one that they've left behind. While the animation is fairly basic, the set-up means that it's an ideal follow-up to anyone hankering for more observational humour of the human animal in the vein of Aggretsuko. The series is also on Crunchyroll but is region-locked on that service, making YouTube the best option for UK viewers.
Language: English
Episodes Available: 13
Year Originally Broadcast: 2014
Brave 10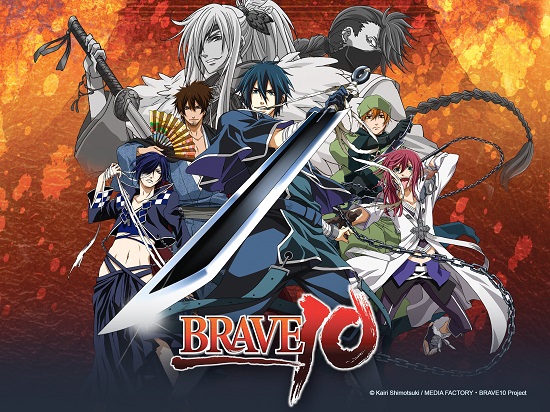 A fantasy-action take on the Warring States period of Japanese history, with a bishonen cast whose designs recall Sengoku Basara or Nobunaga The Fool. It shows the struggles of the ninja Saizou, who after rescuing the priestess Isanami finds something more to live for instead of a cruel career of killing. Isanami invites Saizou to join the "braves", a team of ninja being assembled to defeat the darkness that plagues the world – but does the darkness actually lie within them instead?
Language: Japanese with English subtitles
Episodes Available: 12
Year Originally Broadcast: 2012
B't X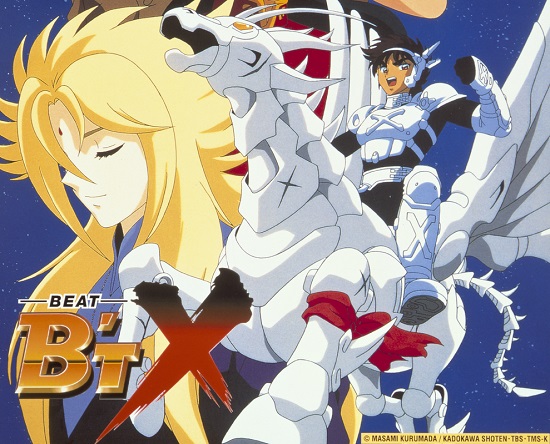 This is only a limited offering – there are 39 episodes of the original anime but only 3 are here on YouTube – but it's handy for a quick blast of old-school shonen action. When Teppei's scientist brother is kidnapped by the Machine Empire, he resolves to rescue him but cannot win against the empire's mastery of ultimate robots know as B't or "beats". Forming an unlikely alliance with the discarded B't X, Teppei resolves to topple the Machine Empire, rescue his family and save the day.
Language: English
Episodes Available: 3
Year Originally Broadcast: 1997
Cardfight!! Vanguard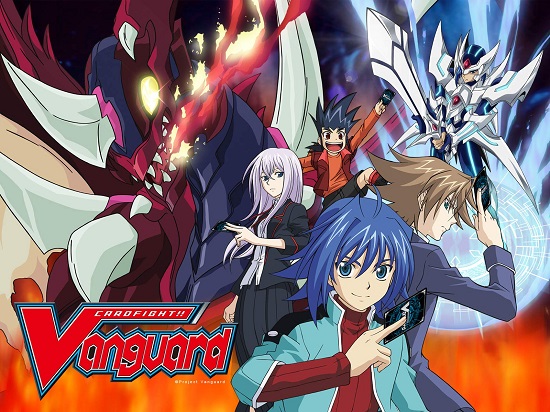 A tie-in anime that accompanies the Cardfight!! Vanguard trading card game – if you love the card duels of Yu-Gi-Oh, you'll love this! Curiously, although this anime is dubbed into English it's never actually been broadcast on a UK or US channel, and it was originally dubbed to make it territory-neutral for South-East Asian syndication. Even if you've never played the game, with a huge 70 episodes you'll have plenty of time to pick up the rules as you go.
Language: English
Episodes Available: 70
Year Originally Broadcast: 2011
Cat's Eye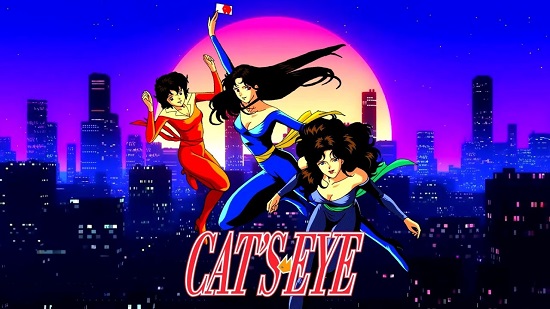 You can read more about Cat's Eye in our dedicated UK Anime Network review. Only an introductory three episodes are available to stream for free on YouTube but the full series is available on Amazon Prime. Subtitles are not hardsubbed in the actual video and must be turned on using YouTube's closed captions function under the playback progress bar in the viewing window.
Language: Japanese with English subtitles
Episodes Available: 3
Year Originally Broadcast: 1984
Cybersix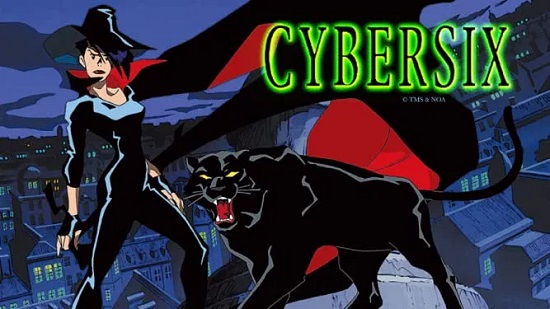 A fascinating title that offers an unusual glimpse away from routine, exploring animation elsewhere in the world and providing an example of TMS's international reach – this series is a veritable animation United Nations! It is an adaptation of an Argentine-Italian comic, and this animation follows-up on a live-action version which originally broadcast in Argentina in 1995, albeit in a much more family-friendly manner than the original darker comic book. The anime itself is a co-production with the Canadian studio NOA. It tells the story of the battle against Von Richter, an evil ex-Nazi scientist who has built the humanoid "Cybers" to serve him in his plot to rule the world – the female Cybersix has rebelled against Von Richter's control and now fights to thwart his plans across the rooftops of the city, while disguising herself as a male school teacher by day. Only a limited selection of episodes is provided on the YouTube channel but the full series is available on Amazon Prime.
Language: English
Episodes Available: 6
Year Originally Broadcast: 1999
God Mars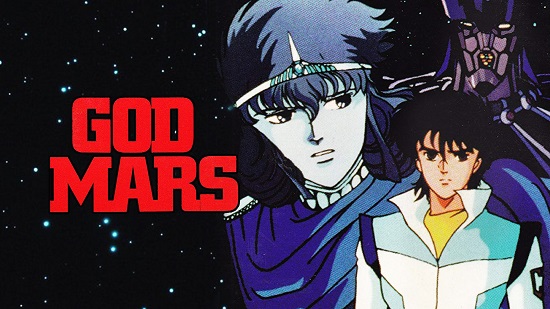 This one's a real blast from the past, a classic Super Robot mecha show of the style they definitely don't make any more – you might even recognise some shots from a few online memes. Also known by its full title of Six God Combination Godmars, it tells the story of Takeru: outwardly a Japanese boy but one who is hiding his real identity of Mars, a secret agent of the evil alien Emperor Xul. Takeru/Mars was ordered to infiltrate the Earth and destroy it from within but he's gone native, joining the Earth Defence Forces and piloting their transforming giant robot in their battle against Xul. This is a show which runs up into one of YouTube's limitations as a television streaming service – limited viewing permission. Strangely, the first episode of the series is blocked for viewing in the UK but all the others remain accessible.
Language: Japanese with English subtitles
Episodes Available: 25
Year Originally Broadcast: 1981
Go Nagai's The Devil Lady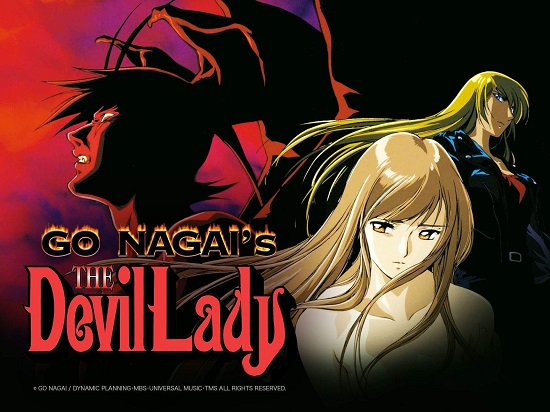 The Devil Lady is to Devilman what The Bionic Woman is to The Six Million Dollar Man, and it refills your tankard with Go Nagai's inimitable brew of erotic violence. Supermodel Jun Fudo awakens to the demonic blood coursing through her veins and uses her transformative powers to fight the other monsters that threaten the city. This release is a window to the past, with the selection of episodes made available here being a rip of ADV Films' 2003 licensed release of the anime during the growing years of the Western noughties anime boom - which is sadly not entirely a positive thing, as you must accommodate some censored cuts and a disappointingly fuzzy image transfer.
Language: English
Episodes Available: 5
Year Originally Broadcast: 1998
Itazura na Kiss (ItaKiss)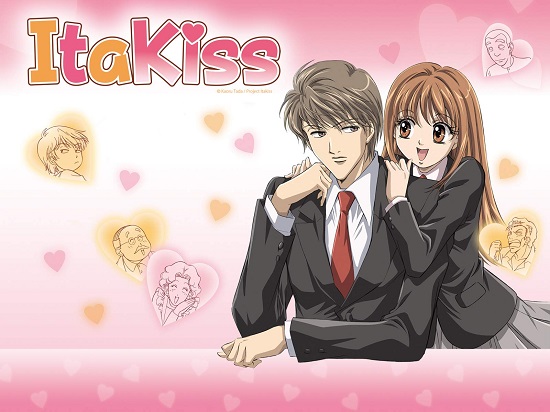 A simple shoujo traditional slow-burn high-school romance. The timid girl Kotoko has long pined for the cool dude Irie, but when she finally musters up the courage to confess to him Irie only cruelly and contemptuously dismisses her and refuses to even open her love letter. Yet the red string of fate is never cut so cleanly, and when Kotoko's house is destroyed in one of Japan's frequent earthquakes her family lodges in the home of one of her father's coworkers – whose son just happens to be Irie. Awkward! The anime stands out because the original manga was initially left incomplete after the death of the mangaka but it resumed and was extended under different writers, while the anime claims that it has gone back to the source and restored the originally-intended ending based off of the deceased mangaka's plot notes. This series shows another YouTube quirk because subtitles for this anime are arranged strangely: the first three episodes have no subtitles on the video itself, but can be turned on or off using YouTube's closed-caption function under the video playback progress bar on the viewing window. Subsequent episodes have hardsubs directly part of the video itself, and turning on closed-captions overlays Japanese subtitles instead. The yellow colour and jagged player-generated borders of the subtitles is an immediate tell for any anime veteran that these videos are straight playback rips of old DVDs! Discotek Media put out an English-language version of the anime in 2014.
Language: Japanese with English subtitles
Episodes Available: 25
Year Originally Broadcast: 2008
Kamisama Hajimemashita (Soy Una Diosa - Y Ahora Que?)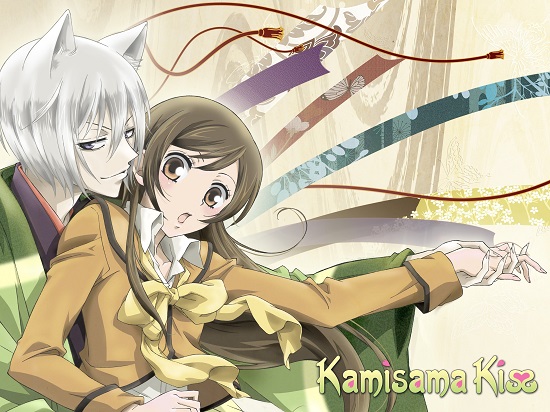 You might know this one already… the title may sound convoluted but it's just the Spanish-language version of the supernatural shoujo rom-com Kamisama Kiss (the Spanish alternative title is I'm a Goddess - Now What?), which is already available in the UK on DVD in English courtesy of MVM Films. Read our dedicated UK Anime Network review of the series to learn more about the show.
Language: Spanish
Episodes Available: 13
Year Originally Broadcast: 2012
Kenichi: The Mightiest Disciple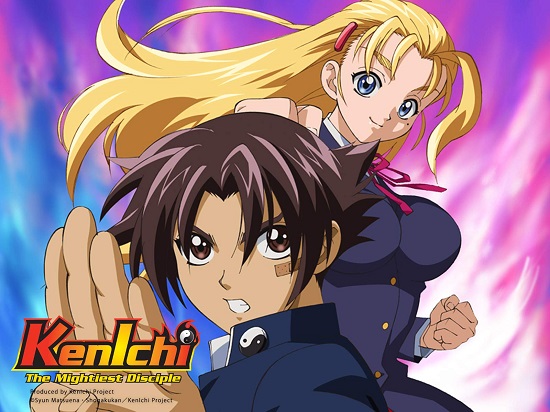 A straightforward shonen tournament battler, this is an anime that makes no bones about the values of friendship, some moderate fanservice and a healthy lashing of hard work and guts. Bullied high-schooler Kenichi overcomes his tormenters by making friends with the mysterious transfer student – who just so happens to be prodigy at a martial arts dojo! The series is updating week by week – at the time of writing 45 episodes were available to view but the remaining episodes will follow over the course of the next month.
Language: English
Episodes Available: 50
Year Originally Broadcast: 2006
Little Nemo: Adventures in Slumberland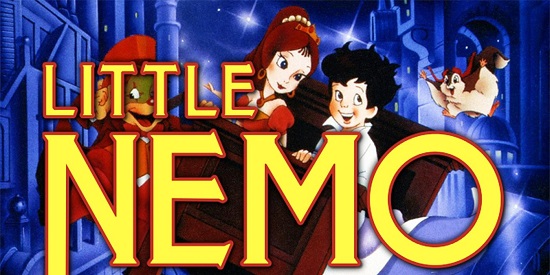 This is the anime movie adaptation of the classic pre-war American newspaper comic strip by Winsor McCay. Little Nemo: Adventures in Slumberland has a notorious history: part of a serious push to break into Hollywood, it was at various points attached to Western luminaries as diverse as George Lucas and Disney songwriters the Sherman Brothers, but it did not prove to be a supercalifragilisticexpialidocious success. Little Nemo was beset by production delays and revolving-door staff, and when it eventually came out it bombed at the box office so badly it drove TMS's founder Yutaka Fujioka to early retirement. Despite this theatrical flop Little Nemo: Adventures in Slumberland retains an enthusiastic cult following that is fuelled in part by a much more successful second life on home video, including a million-selling VHS edition. The full uncut movie is here for your consideration so you can see for yourself what made TMS confident that they had what it takes to go toe-to-toe with The Mouse.
Language: English
Episodes Available: Full Movie
Year Originally Broadcast: 1989
Monster Rancher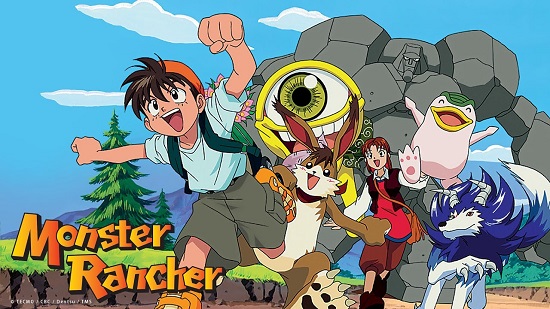 This children's cartoon is the animated tie-in to the Monster Rancher series of videogames developed by Tecmo – quite an unexpected shift of genre from the house of Dead or Alive and Ninja Gaiden! These days Monster Rancher is largely forgotten as an also-ran in the monster battling genre that was just left in the dust by the likes of Pokémon and Digimon, but it had a fairly unique gimmick to set it apart from its competitors: you could generate characters by inserting any sort of CD or DVD into your Playstation, which would then compute stats according to the type of data on the disc. Something like a console-friendly version of Barcode Battlers… if that comparison doesn't date me too badly!
Link To YouTube:
Language: English
Episodes Available: 73
Year Originally Broadcast: 1999
Remi Sans Famille (Nobody's Boy Remi)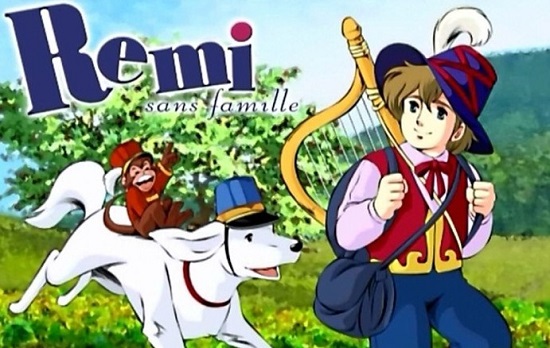 This Franco-Japanese production was never intended for the English-speaking market and no English-language dub for this series is provided, so watching it provides an opportunity to brush up on your GCSEs! An adaptation of the classic 19th-century French children's novel Sans Famille, featuring a young orphan boy travelling with a theatre troupe in the hope of rediscovering his lost foster family, this anime invites immediate comparisons to the famous World Masterpiece Theatre children's literature animations. While Remi Sans Famille was never actually part of the series, a later alternate take on the story which changed the sex of the protagonist, Nobody's Girl Remi, is notable for being the very final chapter of World Masterpiece Theatre before the block ended its original continuous 28-year run in 1997. The age of the video source for Remi Sans Famille is showing so be prepared for some scratchy audio.
Link To YouTube:
Language: Spanish and French
Episodes Available: 51
Year Originally Broadcast: 1977
Requiem From The Darkness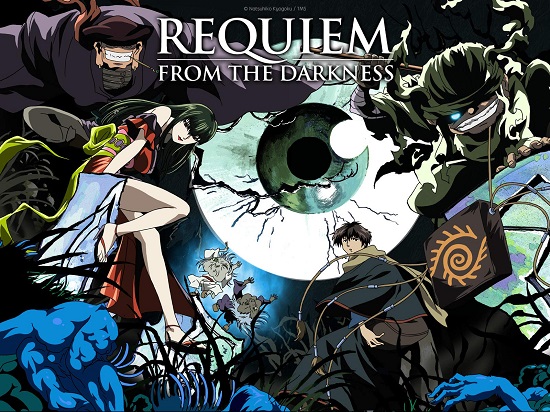 A horror anthology that could be regarded as a somewhat edgier and moodier take on Mushi-Shi. Set in the dying days of the Tokugawa shogunate, Requiem From The Darkness follows the travails of a young man as he travels around Japan researching materials for a book of ghost stories that he's writing. As he falls in with a group of strange travellers on his way, he discovers that the silly little fables he's penning notes on are all too real: his new companions are supernatural detectives, exacting vengeance on behalf of the unquiet dead! Unlike most of the other shows on this list, Requiem From The Darkness is not an adaptation but an original anime production. Only a small sampler of truncated half-episodes is available on YouTube, but all complete episodes can be viewed on Amazon Prime.
Language: English
Episodes Available: 3
Year Originally Broadcast: 2003
Sherlock Hound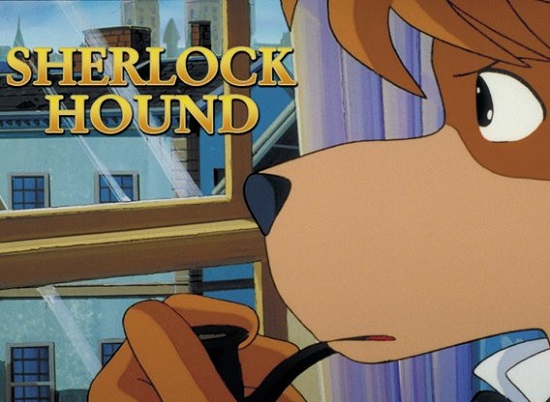 This child-friendly cartoon take on Sir Arthur Conan Doyle's world-renowned Consulting Detective is made in a style that would inform later anthropomorphic Victoriana like Willy Fogg or The Great Mouse Detective. It is best remembered today for having a Hayao Miyazaki connection – Sherlock Hound was Miyazaki's subsequent assignment after Lupin III: The Castle of Cagliostro. Miyazaki wrote and directed six episodes before a legal dispute with the Conan Doyle Estate suspended production for a time: Miyazaki kept himself busy during the enforced hiatus by starting the original manga for Nausicaa of the Valley of the Wind, which ultimately led to the creation of Studio Ghibli. Funny how things work out, isn't it? The Sherlock Hound episodes are listed on the YouTube playlist out of order, but as the series is episodic and each adventure is entirely self-contained that is no real obstacle – however, almost all of the episodes are currently region-locked except, strangely, for one: no. 25 in the playlist "Disturbance, the World Flight Championship" is currently still free to view. If you want to see the rest, the whole series is available in the UK on DVD from Manga Entertainment.
Language: English
Episodes Available: 26
Year Originally Broadcast: 1984
Sonic X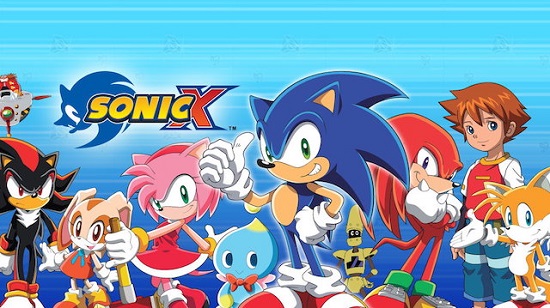 The Hedgehog With Attitude surely needs no introduction! Even if the quality of Sonic's videogames have been somewhat variable over the years he's reliably supplied energetic and adventurous all-ages television since his debut. Sonic X was the show that kept The Blue Blur bouncing for a new generation of kids throughout the Noughties, as Dr. Robotn--, sorry, Eggman warps his spikeball nemesis away from Mobius and over to Earth to fight new foes and make new friends. Season 3's playlist is described as only being available to stream "for a limited time" but as it's been open since June last year it does not appear that limitation will be reached anytime soon, so you can enjoy it with confidence.
Link To YouTube:
Language: English
Episodes Available: 78
Year Originally Broadcast : 2003
Treasure Island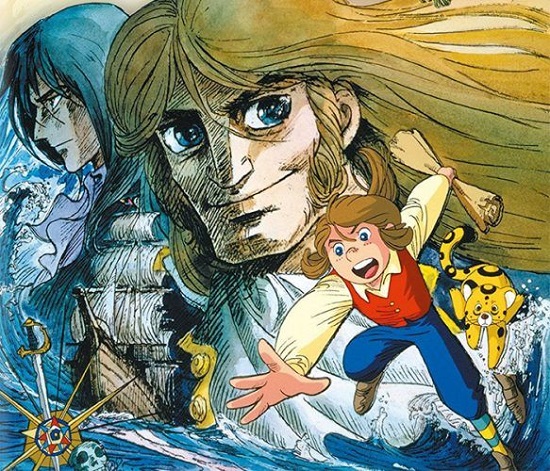 This cartoon is based on the Robert Louis Stevenson adventure story and, like Remi Sans Famille before it, Treasure Island may sound like it was designed for World Masterpiece Theatre but it was also an independent production. The version provided on YouTube is not the first televised edition but rather the 1987 compilation movie that was made out of cuts of the original serial.
Language: English
Episodes Available: Full Movie
Year Originally Broadcast: 1978
Virtua Fighter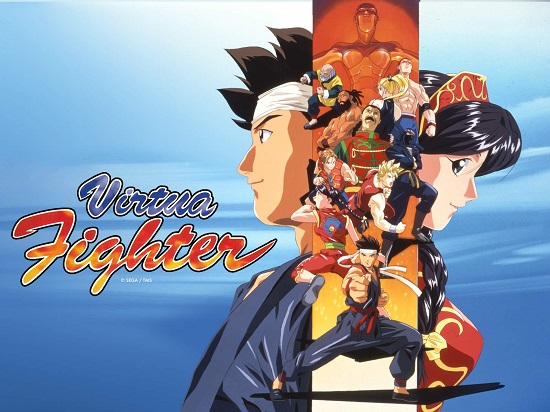 I still hold this videogame adaptation to be the best anime based on a beat-'em-up that's ever been made. Read our dedicated UK Anime Network review on this series to find out why!
Language: English
Episodes Available: 24
Year Originally Broadcast: 1995
We Rent Tsukumogami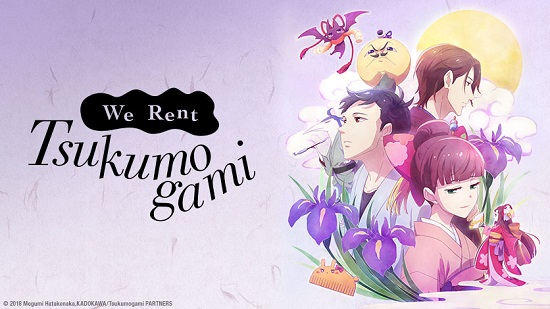 Our ramble through the TMS back-catalogue is neatly tied off with a pretty bright bow using this show, bringing us back around to the beginning again with reference to TMS's happiness to experiment that I mentioned back in this article's introductory paragraphs. We Rent Tsukumogami is quite unlike any of the other anime in this list, being a quiet, calm, sedate and off-beat recounting of Japanese folklore. Interestingly the series is not an adaptation of a manga but rather a proper full-length Japanese novel. Combining a more domestic and social sort of history with light magical realism, We Rent Tsukumogami follows the lives of siblings Oko and Seiji who run a rental shop hiring out jewellery, ornaments and other knick-knacks and bric-a-brac during Edo-period Japan. However, these items are not just temporary party decorations but "tsukumogami", which in Japanese legend are well-loved heirlooms which over the decades become ensouled with a life of their own. By eavesdropping on their tsukumogami chattering to each other about their experiences when they come back from their latest rent-out, Oko and Seiji actually become the gossip-masters of Edo! Fortunately for the harmony of the city, they use their knowledge of what's going on behind closed doors only for good!
Language: Japanese with English subtitles
Episodes Available: 12
Year Originally Broadcast: 2018

About Robert Frazer
---
Robert's life is one regularly on the move, but be it up hill or down dale giant robots and cute girls are a constant comfort - limited only by how many manga you can stuff into a bursting rucksack.
---