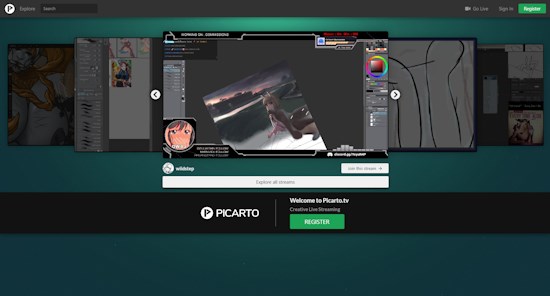 Picarto.TV - bringing live art to the masses
Written by Ross Locksley on 27 Sep 2019
---
Picarto.tv is a streaming service for artists looking to promote themselves and their creative endeavours. Established in 2013 by founders Özcan Dogan and Mehmet Karatas, it's now a creative hub with over a million users. With features allowing creators to make money from their accounts, it's a great way to fund the arts.
Personally I find it a great way to chill while coding - it's always nice to have creative company when you work in a quiet office!
As fans of all things arty, it was a natural draw, and recently we were lucky enough to get a chance to speak to the people behind this exciting service.
Who are the people behind Picarto.TV?
Özcan: Picarto.TV is a live streaming platform that puts the main focus on creativity, based near Frankfurt, Germany.
The company is being led by Mehmet and myself for almost 6 years now. Since we both have an extensive background in the IT business, we decided to use our know-how to create something different. Being familiar with internet culture and also having spent a lot of our time on websites like DeviantArt, helped us understand the important things about creating a livestreaming platform that's aimed towards artists. Together with our co-workers, who certainly know where the interests of our userbase lie, we aim to attract an even larger audience.
Tell us the background behind Picarto.TV's creation – was it a gap in the market, a love of art, a Eureka moment or something else?
Mehmet: All of the above in a way. As I mentioned above, we from Picarto came in contact with internet culture, and some us have been active as artists in the past. However, we noticed that you never see the actual process of how an image is being created. Just the result. And we wanted to change that.
As livestreaming became more and more popular, we thought 'Why isn't there any livestreaming platform for artists to share their work?' and so the idea for Picarto was born. Through Picarto artists can learn from one another, while also providing entertainment for their audience. Our main goal is to unite artists from all over the world and have them connect with their fanbase, which we will most definitely continue to pursue.
How many artists is the platform hosting at the moment?
Özcan: This year we finally reached one million users and we're happy to have such an amazingly supportive userbase. Some of them have been with us since the beginning.
Who are your personal favourite artists on the platform right now?
Yvonne: I have quite a few, actually! AshleyZombie, for example. I just love the way she combines a really cute artstyle with gory and gothic elements. I've grown up with Tim Burton's movies , and while her style is anime-oriented, I somehow get similar vibes from her artworks, which is awesome.
I also really enjoy the work of eudetenis and Hyanna Natsu. They have a great mixture of fanarts and original artworks.
A small insider's tip, however, would be NikBackgroundArt, who, as the name suggests, specializes in background art. His works are just gorgeous to look at and I personally enjoy watching his streams. He's also been working as a freelance artist for anime and games for quite a while now.
What has the feedback been from the artist community? I've seen several favourable reviews (e.g Aywren.com) that cite the quality of audio/video and the ability to categorize streams as standout features. Were these initial offerings or added over time? What else sets you apart from the competition in your view?
Yvonne: I'm from the marketing department and from what I get through interacting with the userbase, the feedback has been been largely positive. Sure, we have some complaints here and there, but that's what every platform has to deal with. Overall, we have a very loving and honest community. We receive a lot of feedback from our userbase, which we always take seriously and have been doing our best to incorporate their requests and suggestions for improvement. They, as well as everybody else, are always welcome to reach out to us through our social media.
As for the features, Picarto has been around since 2013 and the majority have developed over time. Throughout those 6 years, the platform has gone through a lot of changes and major improvements with many more to come. Our focus will remain on creativity only and we're always listening to our community's needs.
What are the key features for artists looking to use the platform?
Mehmet: We have a lot of great features, but I guess the multistream is one of the options that sound the most interesting. Not only is it fun to watch up to four streamers at the same time, but since the chat is merged, people can interact with different fanbases, which has been nothing but a fantastic experience for the users so far. Streamers can also keep their stream completely private and only grant access to a certain people. These can be unlocked through purchasing our Premium package.
Of course, we also offer monetization options through subscriptions. By subscribing to a channel you show your support to the streamer and are also able use the emotes the streamer has set in every chat. We're planning to expand our monetization options in the future, so stick around and look forward to what we have in store!
Have there been any requests for features that have come from creators that have been implemented?
Mehmet: There were many requests from our users that went into consideration, but in general, the basic and premium packages you can find on our platform were created based on the wishes of our users.
Were there any teething problems with the platform that you've learned from?
Özcan: We would be lying if we were saying, that everything we've created for the platform went smoothly. Starting and also maintaining the platform itself, was definitely far from easy. In the course of time, we've learned to not stress ourselves too much, but still keep a straight schedule.
Are there any breakout stars on the platform?
Yvonne: I wouldn't say we have any breakout stars, but we do have some artists with a very large following, such as ScribbleNetty, who has done animations for PewDiePie and other big YouTube stars. We also feature some German mangaka on our platform, like Mikiko Ponczeck for example. She's still streaming regularly on our platform.
What are your plans for Picarto.tv over the next 12 months?
Mehmet: We have a lot of new features in the pipeline, such as an internal messaging system, a gallery system and a job exchange where suppliers and interested parties come together. We're really excited to be sharing these new features!
I'd like to personally thank Mehmet, Özcan and Yvonne for taking the time to talk with us, and if you'd like to watch some amazing art created before your very eyes, take a click on over to Picarto.tv.

About Ross Locksley
---
Ross founded the UK Anime Network waaay back in 1995 and works in and around the anime world in his spare time.
---