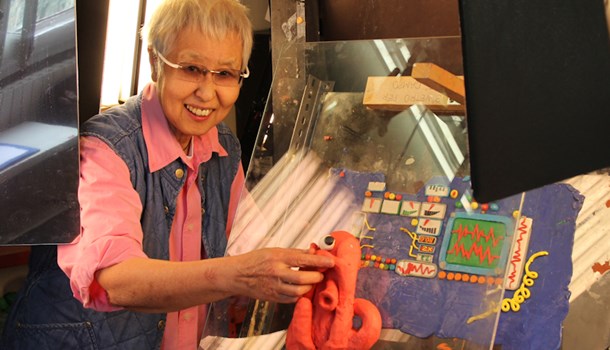 Kotatsu Festival 2020 Goes Online
Written by Alex Jones on 27 Oct 2020
---
The world has had to adjust to a very different kind of "normality" this year, and although animation fans aren't able to congregate in Cardiff's Chapter Arts Centre as they normally would that hasn't stopped the Kotatsu Japanese Animation Festival from celebrating its 10th anniversary in style. Originally launched in November 2010 by organiser Eiko Meredith, the festival has continued to bring the latest anime movies to Wales and showcase talent rarely seen outside of Japan in both Cardiff and Aberystwyth. With lockdown still firmly in place across the country this year's events (presented in partnership with The Japan Foundation London) were held digitally via YouTube and Zoom, but you could still find the same level of passion from both the organisers, guests and attendees across the weekend. Kotatsu even had a beautiful cake featuring the festival's mascots produced to mark the occasion - it's just a shame none of us could have a taste of it!
DAY 1
The first day of the festival kicked off with a YouTube double bill of works by acclaimed animator Koji Yamamura, immediately followed by a selection of short films curated for the event. Koji Yamamura is an independent animator who has produced a number of short films with wildly different animation techniques. Yamamura-san welcomed attendees to the digital event with a personalised greeting, as well as giving some brief thoughts on the five of his films selected for the event. These included;
Japanese-English Pictionary (1989): An animated depiction of the Japanese word-chain game combining both English and Japanese words, this logistically (as well as technically) impressive film sees words flow into each other and brought to life through a variety of different animation techniques. Originally shot in 1989 using 16mm film, Yamamura felt the film had many technical failures and was thus unwilling to show it to many people. However this year he restored the film in 4K, making a number of modifications along the way.
Mt. Head (2002): The story of a man who refuses to let anything go to waste (resulting in a cherry tree growing from his head after eating some cherry pits), this film is a modernisation of the traditional Rakugo story of the same name. The film was nominated for "Short Film (Animation)" Oscar at the 2003 Academy Awards, and although it sadly didn't win it did however win the "Best Animated Short Film" cristel at the Annecy International Animation Fest that same year.
Notes on Monstropedia (2017): An animated archive of imaginary monsters, written by a fictitious monsterologist in Medieval Europe. The monsters that appear in the film were inspired by the sketches Yamamura would often make in his pocketbook.
Water Dream (2017): A Japan-France co-production based on the evolution of underwater creatures, French pianist Catherine Verhelst commissioned the film and watched each of its sections before composing the accompanying music. Yamamura noted that it was an experimental animation using Washi, a technique using Japanese ink on traditional paper.
Dreams into Drawing (2019): An animation about the life of Kuwagata Keisai (born Masayoshi Kitao), an 18th century artist who created "Ways to Sketch" - a series of picture books illustrating both humans and animals. The film is animated mirroring the distinct art style of the Edo period.
The session then launched into the short film selection, showcasing the talents of animators from across Japan. The films here included;
The King of Amechau Country ~Mother Goose~ by Miho Yata (2020): The latest stop motion short featuring Yata's popular knitted character and kingdom, this catchy musical is a humorous take on the traditional English nursery rhyme "Sing a Song of Sixpence". Kotatsu Festival marks the short's world premiere.
Dreams by Chie Arie (2008): An embroidery-style animation depicting the dreams of a slumbering horse, this short won the Excellence Award for short film in the Animation department of the 12th annual Japan Media Arts Festival. Arie is also the mastermind behind Kotatsu Festival's logo!
Dino! by Shin Hosokawa (2020): A stop-motion epic that took 13 years to produce, this tale of adventure and treasure starring a boy and his half dinosaur, half boat (yes you read that right) immediately captured Kotatsu's audience with it's incredible visuals and powerful music. This was the film's European premiere.
Waltz by Mari Miyazawa (2020): A film whose message seems particularly relevant in current times, Waltz stars an anthropomorphic sausage who experiences the prejudice food can have in when he stumbles into the Pasta Kingdom.
Moving over to Zoom for the festival's second event, this was a live Q&A with director Miho Yata and composer Takeshi Yoda, both of whom worked on the King of Amechau Country shorts. Yata explained how Wallace & Gromit led her to to become interested in clay animation. She would create her own clay animations whilst working as an office worker, eventually quitting that job to work on a studio animation project. Eventually her interest shifted towards knitted animation, leading the creation of Amechau Country as well a repertoire of other works. Among these include the impressive Film Muffler series - where Yata makes stories and animates them on knitted scarves patterned in the style of film strips!
Meanwhile Takeshi Yoda is a composer who specialises in the theremin, an electronic musical instrument controlled without physical contact by the performer. Yoda has a long history in music but didn't start playing the theremin until he was 30 years old. He produces music for fashion shows, short films and art exhibitions - some of which were showcased during the Zoom session. Yoda also gave viewers a brief explanation (and accompanying powerpoint presentation) of just how a theremin works. Following their talks both guests indulged in a quick Q&A session, where it was revealed that Yata is produces her knitting works completely by hand and without the aid of a machine! One thing is for sure though - anyone who's watched an Amechau short won't be getting the chant of "Knitting! Knitting! Knitting! Yarn, yarn, yarn!" out of their heads any time soon.
The day's final event was a second YouTube screening of a variety of short films, this time produced by talented students from both Tokyo Zokei University and Tama Art University. These selections of films were introduced by Professor Masaaki Mori and research assistant Isaku Kaneko respectively, each representing said university. It was particularly special to see these short films, not only because these are films that will rarely (if ever) be seen outside of their native country but also as an opportunity to showcase the rising talent in Japanese animation. The students showed off an incredible range of moods and animation techniques in their films, ranging from blending various mediums and or/colours to humorous and heartwarming pieces. The full list of films screened at this session are:
Tokyo Zokei University:
Tashika' Strange Adventure by Airi Sato and Sakamoto Nao
Tiny World by Yuri Matsumoto
It is Love by Akiho Shimizu
Too Bee Continued by Aki Ezure
Radio Town by Keiko Matusda
Tama Art University:
The Girl by Hana Ozeki
Kinemacolor by Yutaro Sasaki
A Walrus of Handshake Event by Katomomo
Mubi by Tomoe Obayashi
Happy Zoo by Zhijie Wang
People at 3pm by Yuwei Wang
Yurayura Ki by Asami Tatsumoto
Half of an Apple by Zhou Xiaolin
The Balloon Catcher by Isaku Kaneko
DAY 2
Day two of the festival kicked off with another Zoom talk, this time with animator (and as previously mentioned, creator of the Kotatsu Festival mascot) Amie Chie. After graduating with a degree in Art from Northern Arizona University in 1994, Chie returned to Japan for a career in animation - working for Walt Disney Animation Japan between 1996 and 2002. Chie also worked for Bunka Gakuen University in 2015, and continues to work as a freelance animator and illustrator today. After briefly talking about her life and career, Chie gave the audience an in-depth look at the creation of the Kotatsu mascot "Kotatsu-chan", not only explaining how she came up with the idea for the character but also a look at her preliminary sketches, storyboards and individual frames for the sequence. The latter was particularly interesting, breaking down just how many frames were needed for each section of the animation. Following all this Chie proposed a bit of fun with viewers, encouraging them to create their own mascot characters using the prompts "Halloween" and "Japan" (hers for example was a Yukata Pumpkin). Several of these were shown off during the Zoom session, and can also be found on social media if you search the hashtag #Kotatsuhalloween.
The second Zoom talk of the day was with Yusaki Fusako, a Japanese stop-motion animator who moved to Italy in 1964 and founded her own independent studio - Studio Yusaki. In Italy Fusako is perhaps most well known for her advertisements for liqueur brand Fernet-Branca, with whom she worked with from 1968 to 1977 and won the Bagatto d'oro (the top prize for Italian advertisements) in 1971. She has also worked on a number of children's television series for both Italy and Japan, with her work being honoured this year when she was invited to join the Academy of Motion Picture Arts and Science. During the talk Fusako played a selection of her work, and discussed how she came to start working with Fernet-Branca despite having no animation credits to her name at the time. Fusako also gave a demonstration of the materials she works with in her animation, with the session finally being opened up to audience questions at the end.
Rounding off the day as well as the festival as a whole (other than a re-screening of yesterday's University shorts) was a second batch of animation student shorts - this time from Kyoko Seika University, Hiroshima City University and Kyoto University of the Arts. What was particularly notable about this selection of films was how they were all produced by women, and it was great to see Kotatsu championing this fact in their festival promotion and implementation of the F-Rated system. Many of these films also included personalised introductions from the students themselves as well explaining the creation process and/or meaning behind their work (some even joined us on the Festival chat!), and it was also remarkable to see the diversity among the students themselves as well. The full list of films screened included;
Kyoko Seika University:
City of Willden by Lin Junbun
Tofu into Space by Sadakazu Tanigaki
Magic Hour by Mizuho Tanaka
Battleline by Mine Shuri
With Me by Hatsumi Uegai and Terusa Toyoda
Hiroshima City University:
TapeA by Izumi Tanimura
Remind by Kanako Yamakido
Kyoto University of the Arts:
Umbrella by Haku Uno
Bad Night by Ding Kaixin
My Imaginary Friends by Mahzoun Maryam
Fear by Deng Xio
Goldfish Grave by Lyu Xinyang
Tam'rind by Michelle Annmarie Keane
Wolves by Moe Ikawa
While it wasn't the same as meeting up with like-minded fans at cinema screenings, it's reassuring to know that festivals like Kotatsu still have the ability to go ahead and thrive in completely online scenarios as well. Despite the distancing in some ways this actually felt like the closest Kotatsu of all, given how the sessions saw people signing in from all over the globe. While hopefully next year will see the festival (along with the rest of the world) return to how things once were, the ability to "attend" and celebrate Kotatsu's 10th anniversary was a nice bit of normality in these troubled times.
About Alex Jones
---
Alex has been writing for UK Anime Network since 2014, and has been raised on a nutritional diet of anime, giant robots and spandex-wearing superheroes.
---