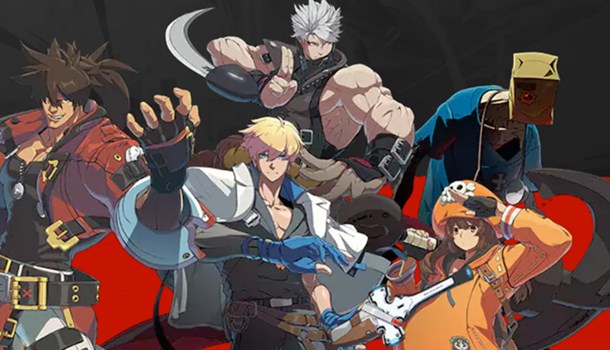 Guilty Gear Strive Open Beta
Written by Ross Locksley on 22 Feb 2021
---
Billed as something of a reboot for the franchise, Guilty Gear Strive will land on PS4, PS5 and Steam on April 6th. Last weekend, the Open Beta Test was unlcoked, and so we thought we'd test our mettle.
The early days of the beta were plagued with serious issues rendering the game unplayable, subsequently the beta is extended until February 23rd (so get in quick if you fancy a rumble!)
Strap the gloves on...
I began with the tutorial between Sol and Ky, which is barely a tutorial, just a chance to hit Ky around. Nevertheless once you have this out of the way, you have a number of options available to you. You can train in the dojo with missions (recommended for those new to the game), play against the computer, take on a second player locally or take it online. Menus are straightforward and everything is where it should be. But lets move beyond the functionary and look at the game itself.
Two things stand out about this release - firstly, the graphics are beautiful - bold, colourful, gorgeously conceived and smoothly animated, this is one of the best-looking anime fighters I've played in some time. Everything about the presentation is spot-on, from the animated intros to the splash victory screens, the team at Arc have done a wonderful job in bringing their passion project to the next level in Strive.
The second is the music - bloody hell it's good! Having met Toshimichi Mori and Daisuke Ishiwatari in Japan, and having he pleasure of watching their faces light up as I handed them a vinyl copy of Queen's "Jazz" LP, signed by all four band members, I know they love music probably even more than I do - the game has some banging rock riffs which crackle with hi-octane energy, putting you in the mood for some serious beatdown action - and that's exactly what you'll get.
The Cast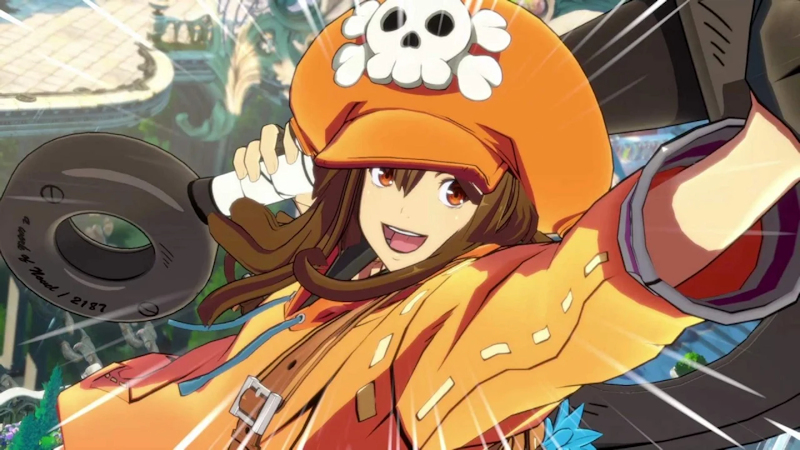 May remains a personal favourite - cute and deadly!
13 characters are available for the beta, which is a sizeable cast. The game currently offers Vs Computer and 2 Player matches, with occasional online bouts offered over network. I spent most of my time in the first mode, playing through each character and evaluating the feel of the game.
In combat, characters feel weighty, and there's real crunch behind each blow. My favourite, May, is in attendance with her mighty anchor and I had an absolute blast getting to play her and making use of her deadly combo of dashes and devastating blows.
Nagoriyuki, the demon Samurai, is a complete tank - no dash just muscle and a giant sword to keep enemies at bay, he's almost as dominating at Potemkin, the robotic Russian beefcake, but with a lot more charm.
Axel's long range moves remain a huge asset when fighting characters like Zato-1, the fighting master who can send his own shadow to attack you.
Sol Badguy and Ky Kiske return of course, along with Leo Whitefang and secret agent close-combat expert Giovanna. I struggled a bit with speed-ninja Chip Zanuff despite how fast he was, and I got my ass handed to me by the computer. More practice needed!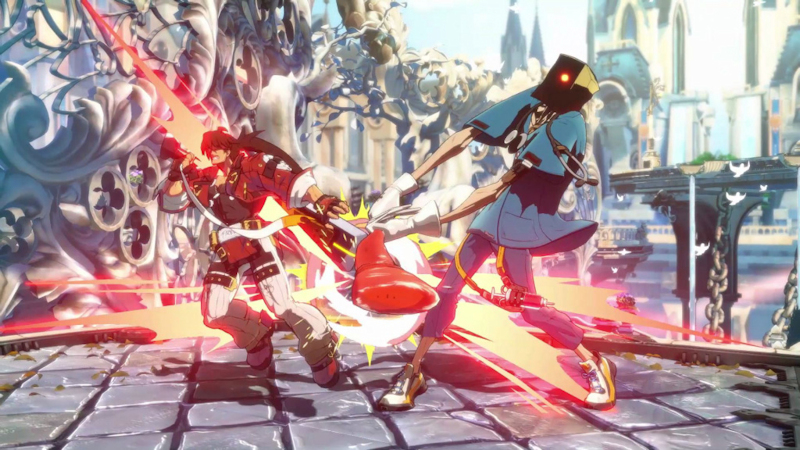 Faust - nightmare fuel!
Faust is a complete nightmare, his disturbing display of attacks completely overwhelmed my efforts with Millia and her hair-based fighting style. I love what a complete nut-job he is, and the attack with a wheelchair is mad as a bag of frogs. Losing to him repeatedly was actually amusing rather than frustrating.
So the roster is strong and varied, and they all get to fight on some lovingly rendered backgrounds. Honestly I got a bit distracted by the imaginative surroundings at times; they just "pop".
The action
Arc System Works are known, like Capcom, for polished, technical fighting games that are destined for tournament play. The pedigree is clearly in evidence here, with each character's moveset feeling rounded and coherent, as much a part of the personality as the character design and animation. Button-mashing won't get you far here, and, like Blazblue, it's a game that rewards research and experimentation. The real meat of the gameplay is those mechanics, and they're in fine fettle here. A few hours with Guilty Gear Strive and I feel like I've barely scratched the surface.
Your performance is evaluated at the end of each bout, showing you how much effort you put into defence, offence, heart and technique. This is a great way to get feedback about your play style, and I have to admit I was gratified for my first review to read "Master of offense and defense, a warrior of perfect balance".
Think they nailed me.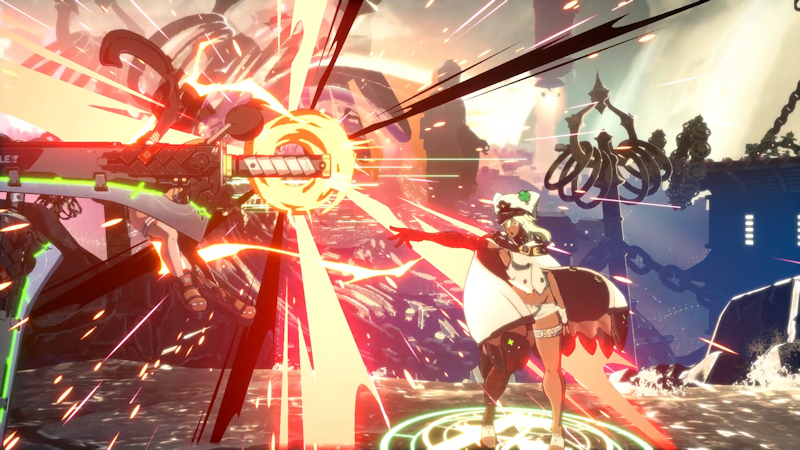 The action is bombastic
Taking your fight to the world
Other items of note include an avatar editing facility for online mode. I would have liked the ability to save avatars, but there was enough variety on offer to keep me entertained for 20 minutes messing with my pixel-art self. Once you're done, you'll enter the lobby, which is a tower that contains other players from around the world who you can battle in order to improve your skills and your ranking. You'll play a test match first so that the computer can rank your performance and place you with fighters at a similar skill level. I entered at level 6, which I thought was pretty decent!
First Impressions
So overall, this is shaping up to be yet another feather in the cap of Arc System Works, coming in with the assured swagger of Freddy Mercury at Live Aid, this is a slick, masterfully crafted game from a studio that's on top form. With the promise of further refinements, an Arcade mode and a bolstered line-up of fighters on the way, this is a game for fighting purists to lose themselves to. It's too early for a proper review, but early signs show strong vitals and fine form.
Guilty Gear Strive will be released on April 6th.

About Ross Locksley
---
Ross founded the UK Anime Network waaay back in 1995 and works in and around the anime world in his spare time.
---
OTHER STORIES:
---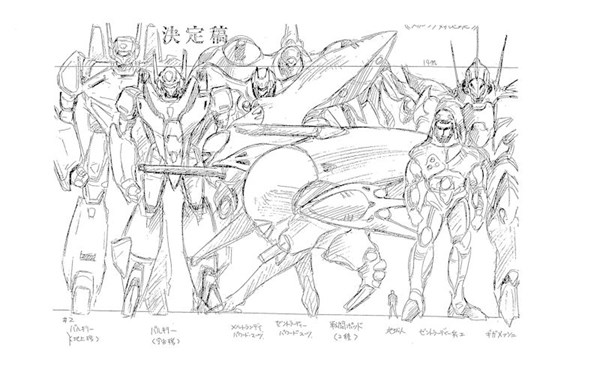 posted by Ross Liversidge on 24 Jul 2022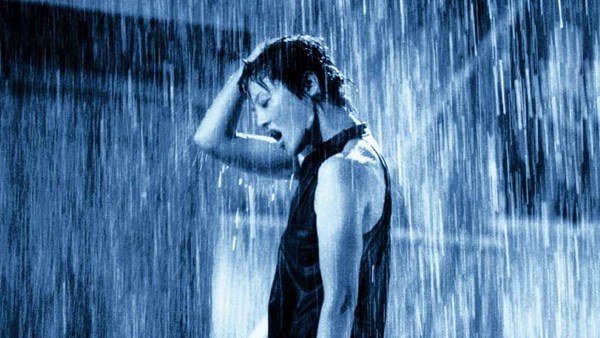 posted by Richard Durrance on 14 Jun 2022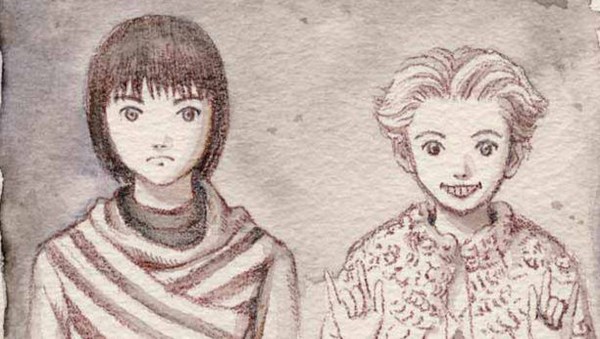 posted by Caitlyn C. Cooper on 30 May 2022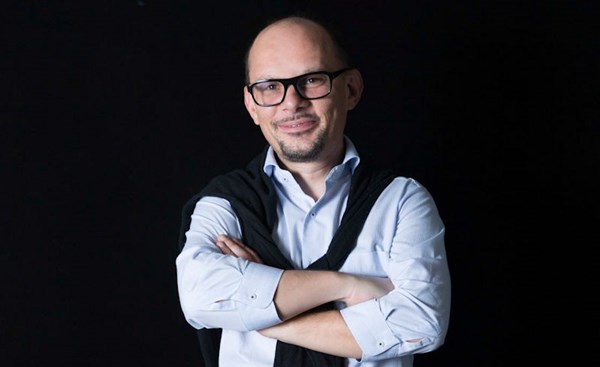 posted by Ross Liversidge on 03 May 2022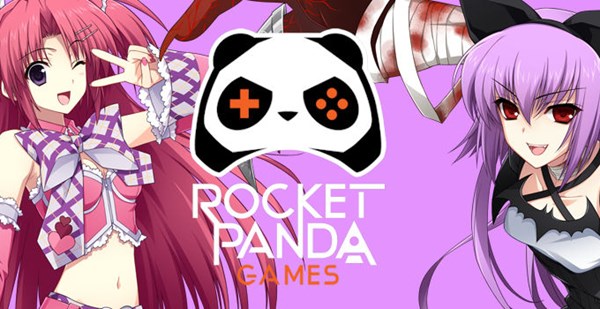 posted by Ross Liversidge on 15 Apr 2022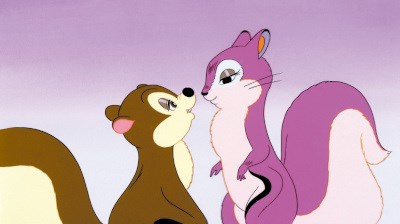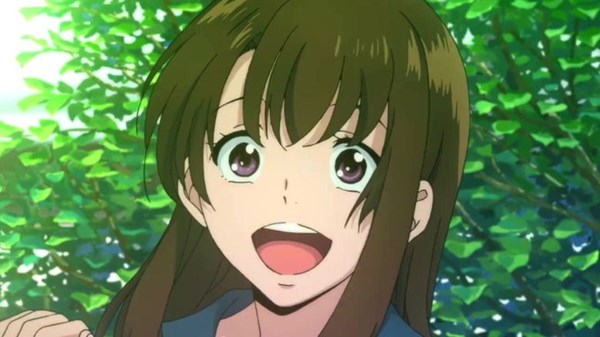 posted by Dan Barnett on 27 Jan 2022
---
VIEW ALL