The Play Arts series continues to baffle me. The figures are beautifully rendered, with sharp details and a cracking (mostly painted) finish. Their size, at approximately 12", allows for a huge number of joints - Jessie has a pretty practical uniform, so there's minimal interference with her posing. She has a lot of flexibility in her body, with joints in the neck, torso, hips and chest allowing for some very natural looking poses. The ponytail has it's own joint, which allows for some windswept looks, and she has double joints in her knees and elbows, which allow for an excellent range of motion.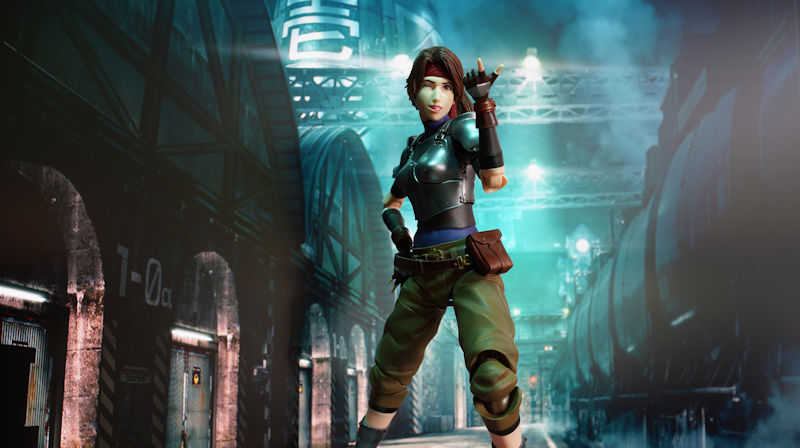 So why baffled? It's the tolerances. She may have ratchet joints in her ankles, but they have far too much give and aren't even close to bearing her weight, so much so that it makes the toe joints absolutely useless, which is a massive shame because Square insist on using ugly plastic stands with claws, so they're very visible and undesirable for a decent display. Unlike Aerith or Cloud, she has no long weapon to use for balance, and Tifa, whose tolerances are notably better, is able to balance even with a nudge to the display cabinet, and more so in conjunction with a clear Figma stand. Jessie just faceplants in the face of a slight breeze.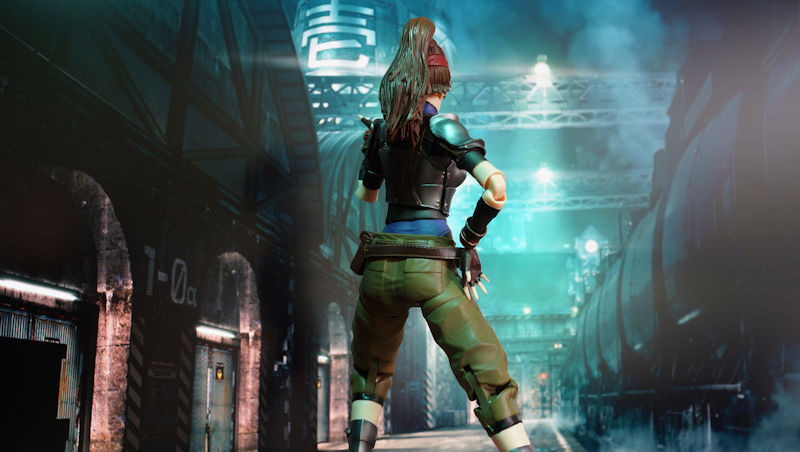 Not only is the figure completely unable to support itself securely (and I don't count precariously balancing on its own as supporting itself) but the joints look bad as well. The elbows are incredibly ugly, flared at the joint and containing misshapen elbow pieces, but the knees are lumps as well. The second you bend them, any illusion to the figure's cohesive look is obliterated. It's a crying shame when the details on her buckles, gloves, boots and armour are so well done. The texture on her chainmail is sublime, and for the first time Square Enix have given us three distinct faces, not just two very marginally different ones. Jessie has her stoic face, grin and playful winking face, all of which are very much in character and represent the her playful personality perfectly. Aerith, Tifa and Cloud have one good expression each, and there's no real life to them as there is with Jessie - as such, she really stands out on the shelf.
On the subject of accessories, she comes with 8 pairs of hands total (one holding a grenade while the rest mirror each other) and a small rapid-fire Uzi-alike gun, which has lovely details right down to the feathers hanging on a chain.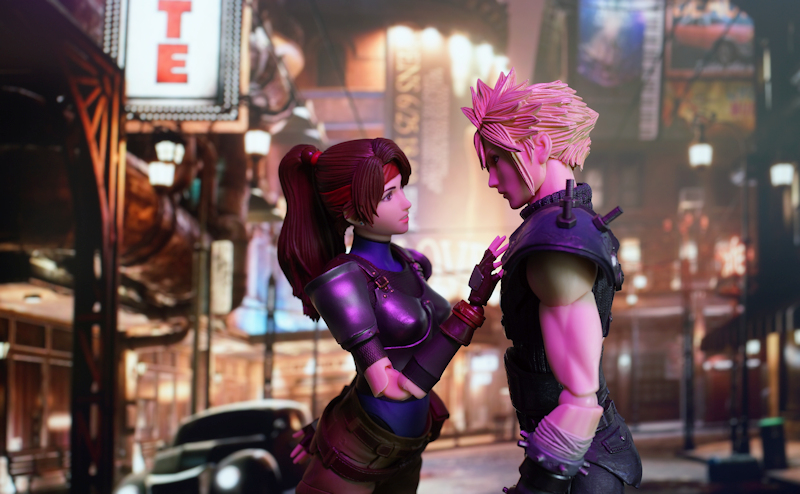 I'm invested into four figures from this line now - all paid for, not review copies - and I think I'm done. I have the trifecta of waifus from Remake, and Jessie is arguably the weakest from a practical and design standpoint. While Aerith's dress limits her movement, it does hide those knees. Tifa's gauntlets mask the elbow issues and her dark stockings mask her knees too. Even Cloud's black outfit hides some the worst of the puffy knee gap syndrome that Jessie's lighter hue doesn't, so she's just not well suited to the Play Arts style, which at this point is starting to show both its age and severe limitations. Figma is doing it better with half the resources, so there's really no excuse here.
These are very expensive figures for what they are, and sadly I've concluded just not worth the money. I'm glad I have a representation of Jessie, I love a lot of things about the figure (despite the negative tone) but that just makes the flaws so much more frustrating.
For those that love the characters, and especially their detailed Remake makeovers, then Play Arts Kai might just be worth your time. For the rest, I have to say the statues have more life and flair to them, and since this series has such limited utility as "action figures", I'd suggest that for display purposes, you're better off looking elsewhere. Such a shame.