Ah, Please Don't Toy With Me Miss Nagatoro, one of my favourite series about immature love blossoming in the most inconvenient ways. The titular tsundere of the series is a particular favourite of mine, not because of how her initial teasing makes her senpai cry, but the fact that she's so taken with his artistic talent that she puts herself in his orbit whether he wants her there or not. Over time of course the two leads do develop feelings for each other, Nagatoro too proud and nervous to admit her true feelings, senpai far too timid. The comedy is derived from the ridiculous situations the two find themselves in, and the awkward baby-steps toward true romance that become so addictive.
So it is that I now own two Nagatoro figures, the first being a 1/6 scale Bellfine figure that can be dressed in a bathing suit or her school clothes (not the easiest transformation) and comes with a wonderful swimming-pool themed base. Hard to get and ridiculously expensive on the after-market, this effort from Our Treasure is a simpler and smaller affair. Featuring our heroine in her "Beach Queen" bikini, the figure was available partially painted/assembled, or complete. Being a talentless type when it comes to painting anime figures, I opted for the latter and as such, the figure comes with Nagatoro's signature tan-lines, additional detail on the nails and subtle wash details.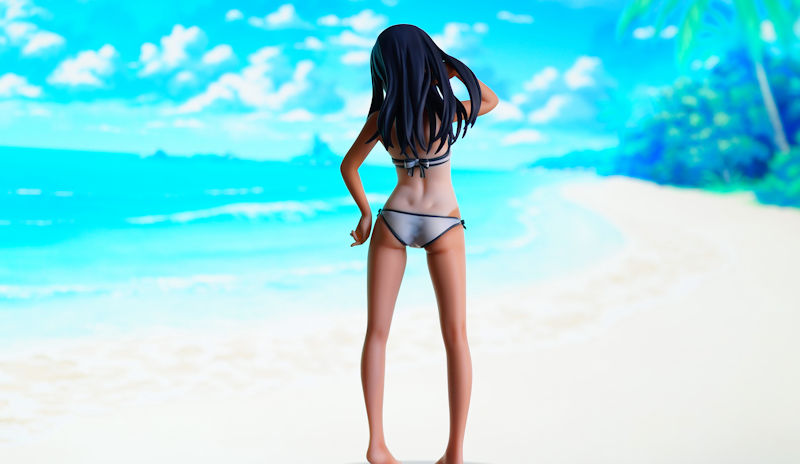 Those trademark tan-lines
The figure retails for £89.00 (depending on currency conversion rates) and were it not for the very reasonable offerings from ABYstyle and Goodsmile's Pop Up Parade line, I'd be more effusive in my endorsement of it. The fact is that the figure is very plain - replace the head and it's a pretty standard bikini figure with a plain white base that makes it rather simple, especially when compared to Bellfine's effort, which might be criticised for going too far in the opposite direction, but does display remarkably well. It could be argued that the cheaper, part assembled figure offers better value, but it also requires more talent.
What I do like about this figure is that it really does look as though Nagatoro just walked off the screen. The sculpt is excellent, with her swimmer's muscles subtly highlighted around her stomach, and not one but two face sculpts to choose from. Personally I prefer the cheeky grin, but that's not to say that the slightly more maidenly blush is any less endearing.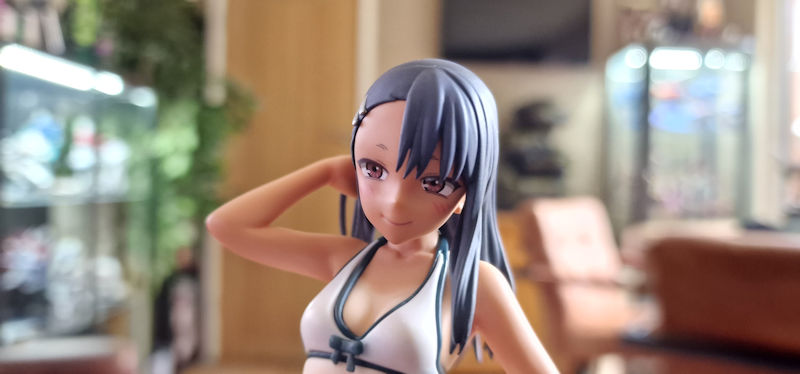 A more maidenly Nagatoro
Ultimately Nagatoro has yet to hit the anime figure zeitgeist that so often ends up in a huge run of figures - just look at Atelier Ryza as an example - and so we have two offerings, of which this is a perfectly good example of a characterful figure that won't take up too much shelf real-estate but convincingly portrays the essence of Nagatoro. Should that be your cup of tea, then this is a good option that's just about worth the money.