Kaiju fans will no doubt be familiar with NECA's superb range of Godzilla figures, and following the release of Godzilla vs. Kong, you can now recreate the cinematic rivalry on your shelf.
This 8" model isn't actually based on the new film – or any existing design, for that matter. Rather, it's an original concept that combines elements both old and new, seemingly using the 1933 original as a template but adding in characteristics from more recent iterations like the 2003 remake or 2016's Skull Island for greater realism.
The end result looks like how you might imagine King Kong in your head without a reference, and is a stellar celebration of the giant gorilla's enduring cultural legacy. The level of detail is remarkable for the price-point – as is to be expected from NECA – putting it head-and-shoulders above the cheaper movie tie-ins and making it an ideal affordable alternative to the eye-wateringly expensive Prime 1 Studio statue.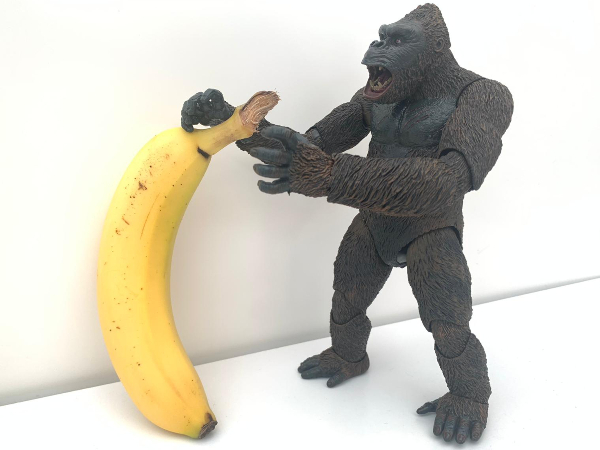 Need Kong to calm down? Try offering him a banana, or just switching back to his default head
The figure is articulated and comes with an alternate head and hands to allow for different posing options, but this Kong is going to have to limber up a bit if he hopes to win any colossal wrestling matches. His joints are quite stiff, and you can't bend them very far without it feeling like an arm or leg is about to snap off.
There are also very few options that allow him to stand up unaided – his ankles rotate at an awkward angle, so it takes a lot of tedious trial and error to manoeuvre his limbs into a pose where both feet are flat on the ground. A slightly crouching stance is the best way to hold the weight of his heavy upper body, but takes an inch or so off his height. The silver lining to this is that, when crouched, this Kong is a near-perfect match for NECA's 6" tall Tokyo S.O.S. Godzilla – a fan-favourite Big G design, if not the best of them all.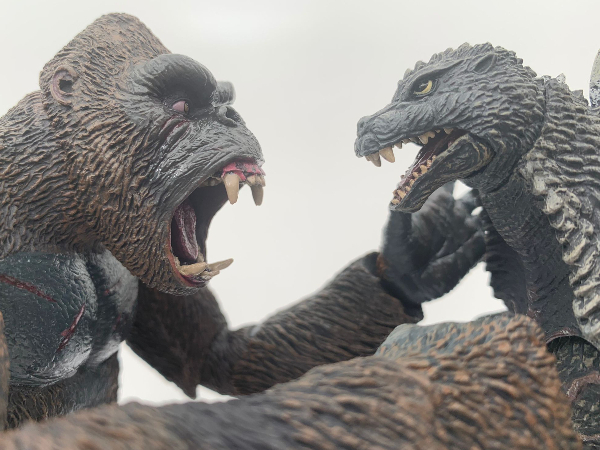 Those brave enough to get up close will notice the little details on Kong's gums, teeth and tongue that make him all the more lifelike
One thing these two figures have in common is that, while they both look great, neither seem to be built for extended re-posing sessions. It's more a case of finding a pose that you like and sticking with it – and while having much smoother joints would've been a bonus, the element of customisation is at least still there.
Articulation issues aside, this is a really impressive model both in design and detail. Opening the box is like seeing Kong emerge from behind the trees for the first time, and the figure is sure to make a fine addition to any kaiju collection – especially if you already have a Godzilla who's in need of a sparring partner.