I'll come clean - I've never played Genshin Impact. As much as I admire the lovely artwork, character designs and worldbuilding, it simply isn't something I have the time to invest in. To that end, I've really no idea who Ganyu is, beyond a clearly mythical creature with black/red horns, pastel blue hair and a wonderful oriental-inspired dress.
Clearly that's enough for me to invest in a figure of her.
I'm slightly more aware of fellow Genshin character Mona, for whom I have a statue (as yet unboxed) and a Figma, which sits in my lounge looking fun. Ganyu however appealed for a number of reasons when she was presented last year, not least of which is that lovely brown leotard/stocking combo layered with fetching dress that billows at the back and parts at the thighs. The red rope details at the back and side are tied together by similarly textured attire at the ankles and that red pattern in her horns. All these bold colours are then softened by the pastel sleeves, skirt and hair (not to mention her pale complexion) that bring it all together - it's an absolutely gorgeous ensemble, and as someone who works in fashion (yeah, little known fact I work with a lot of major fashion houses!) I can honestly say it hits all the right notes to be "iconic".
Not so sure what's going on with that bell though!
I think what really appeals is that there's loads of textured detail - the wash on the paint along the legs in particular just adds a ton of warmth and depth to the piece, and even the gilded swirls that make up the edge of the dress feel just enough and not over-done. As such, it has faint echoes of Deedlit from Lodoss War, and that's no bad thing at all.
The asymmetric nature of the clothes also helps to generate a lot of interest from different angles, the bulk of her dress falling to the right, creating a natural "swirl" around her midriff that's pure magic.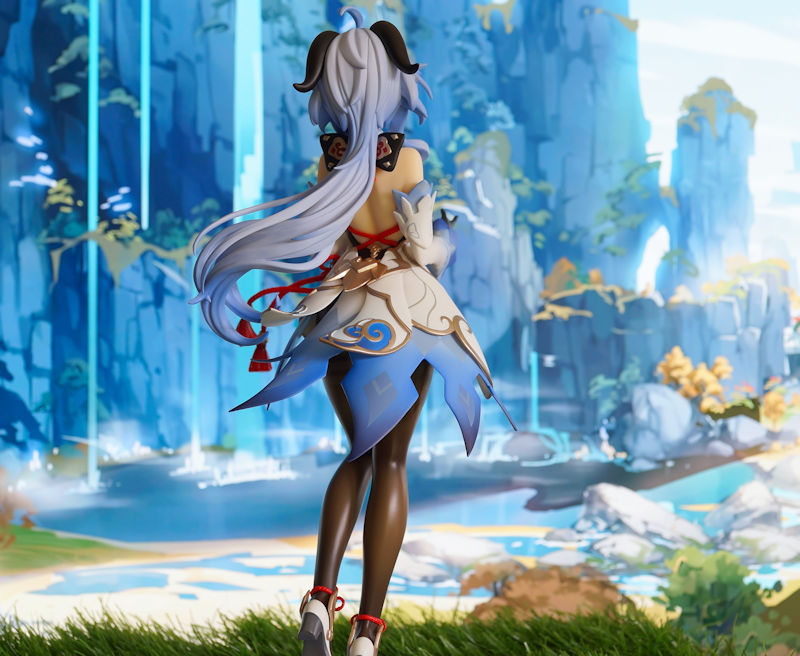 The lovely wash in the paint permeates the figure lending richness and depth to a gorgeous sculpt
In terms of execution, I'd say it's almost perfect. The Where the moulded parts meet they look natural - the hairline is always an obvious one to check for, but anime lends itself to hiding this well. I'm most impressed that there's no seams in her shoulders - if I had to guess, the front of her leotard looks to be separate from her back and shoulders, the sleeves probably hiding the joins for the arms, but I honestly can't see anything that breaks the integrity of the piece at all. Across the figure I've noted only one minor paint glitch on one of the skirt's curls, but that aside it's flawless.
Ganyu was a sell-out from most of the larger online stores, I was lucky enough to find mine on Hobby Search Japan (www.1999.co.jp) but if you shop around you may find one or two still out there.
If you're a fan of the franchise (or like me, the character designs) there's a lot to love here. Even the base, with it's windswept clouds sculpted around Ganyu's feet, is beautifully thought out. I'm a big fan of the figure and hopefully we'll see more just like her in the future.