Future Formula Cyber GPX was a 90's anime that featured advanced cars that race in a league beyond Formula 1. The series was directed by Mitsuo Fukuda (Gundam SEED) and featured some absolutely jaw-dropping car designs from the legendary Shōji Kawamori (Macross, Transformers), the show was very popular for its time, though today it lies as a bit of a forgotten series, given that it was only aired outside of Japan in Italy and the Philippines.
This is a hell of a shame, because it's very sharp indeed, and Kawamori's design talents have created some iconic cars - thankfully Megahouse has seen fit to bring them to life, add some serious polish and even create this new line of liveried cars to scratch the itch for a touch more realism.
By adding sponsor logos across the car, using more realistic colours and adding some premium touches such as clear plastic highlights and metallic paint, they've managed to put together a sumptuous series of shelf-queens for your highly deserving man-cave.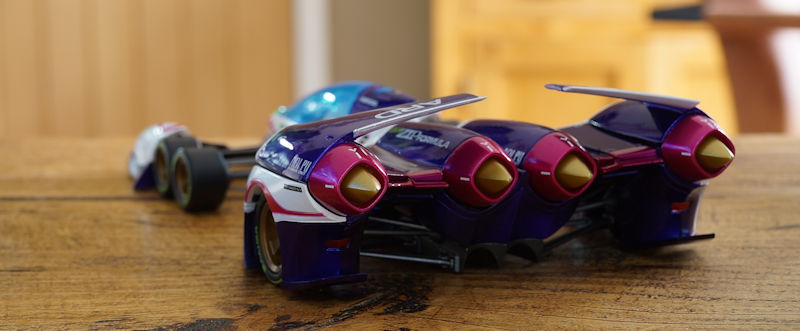 It's just so Japanese, I love it!
That's not all though, because this is a part of the Variable Action line, it's capable of being modified into multiple different variants, be it more boosters, wheel covers, larger front wings or alternative engine configurations, it's really fun to mess with, and you're never left stuck with just the one car for your shelf. The only minor frustration is that you can't show them all off in one go!
Changing the pieces over can be a fiddly affair, and there are no instructions in the box to help you (unless that was just my copy) but even so, I was able to fiddle about with it and get the parts changed without too much hassle. I will say that it's quite a light piece, and there were times when I wish things fitted together a bit more convincingly, but overall it was a trouble-free experience and a lot of fun to just sit and mess with.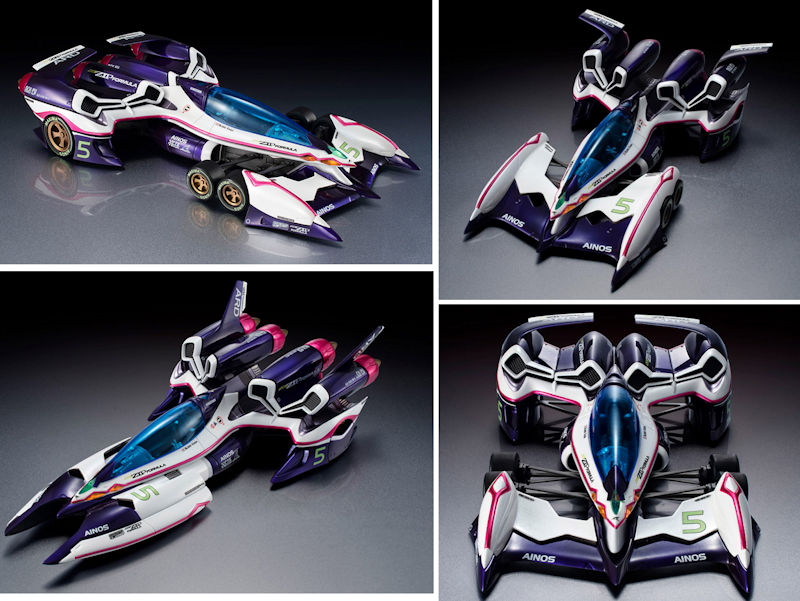 Tinker to your hearts content to create your ultimate racer!
In-hand, the car does feel a lot lighter and more insubstantial than I'd like. Given that I enjoy my Metal Build, Metal Robot Spirit and Fanstoys collectables, I've become used to a certain amount of heft in my premium pieces, but this is a curiously light release. In some senses that's probably appropriate given that, were the car real, no doubt much of the attached stylised bodywork would be carbon-fiber or a similar material. Still, I can't help but pine for that die-cast feel.
While I've been aware of the series for most of my anime-fan lifespan, I've never seen the series. I believe I first saw pictures in Helen McCarthy's columns for the Super Nintendo magazine Super Play, and since then I've always noticed the occasional car from the series pop up from time to time. I like the designs and the idea of the show, but I have no idea how this Ogre AN-21 fits into the lore aside from the fact that it comes from the final OVA, SIN, and that it's not the hero-car of that series. Despite that, I very much appreciate it for the beautiful design elements, 90's future aesthetic and, with this release in particular, the racing details that just appeal in the same unexplainable way that a Martini logo on a Porsche just feels "right".
I purchased my Ogre from HLJ.com, where it was a very reasonable £150, but I've seen stores outside Japan offering the same item for around $240, so make sure you shop around if you're in the market for one of these.