Another Figma review, and this time we're leaving Disney (see our Elsa review here) for the rather more controversial waters around The Rising of the Shield Hero. Causing something of a stir upon release due to the adult themes and current political sensitivities, the show nevertheless gained glowing reviews from those prepared to give it a go, and Raphtalia, who aids protagonist Naofume, even won Crunchyroll's Best Girl of 2020 Award. You love the show or hate it I guess.
All that aside, Raphtalia herself is a beautiful design. a human/raccoon hybrid, she has flowing chestnut hair adorned by two tanuki-ears. She also sports a bushy tail, but the rest is as normal a girl as you're likely to find. Wearing her battle armour (perfect for hiding joints!) she features articulation at the neck, shoulders, elbows, wrists, torso, hips, thighs, knees, ankles and toes, all of which help to make her capable of pulling off a great variety of poses. Though none more cute than just standing with her hands behind her back and smiling!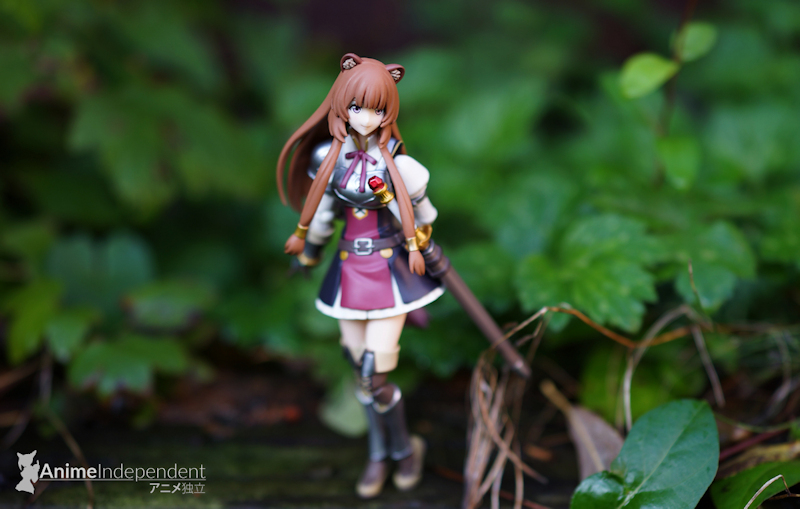 See - simple and kawaii as heck!
Accessories include 2 additional faces (angry and sullen), the golden bracelet given to her by Naofume, a standard and a magical sword, scabbard and a bevvy of hands. Basically all the attention to detail you'd expect from a Goodsmile Figma.
So far as paint and presentation go, it's all extremely sharp. The flesh tones are lovely, with crisp details on the eyes and armour, down to the laces on her thigh-high boots. If you like this design, you'll find it wonderfully realised here, and she joins the Guyver 1 and Guyver II (female) in my main display cabinet that I have behind my desk. It's a competitive space so take that as the highest possible praise I can give an articulated figure.
Changing things around is pretty simple - I do like the fact that Figma provide a spare wrist peg, as they are quite small and fiddly. This is a lovely bit of customer care, so bonus points for this thoughtful inclusion. The bracelets are finicky to swap around, so be careful with those, and the scabbard doesn't accommodate the magical sword due to the clover-like detail in the middle of the blade.
There's only really one major restriction on her movement - the shoulder-guard armour on the right restricts her movement (as it would have done in real-life actually) so she can't always wield her sword in all the poses you might like. She does however have the nifty ability to pull her hips down from her waist to improve the articulation of her legs, which is important as her skirt can limit her leg movement otherwise.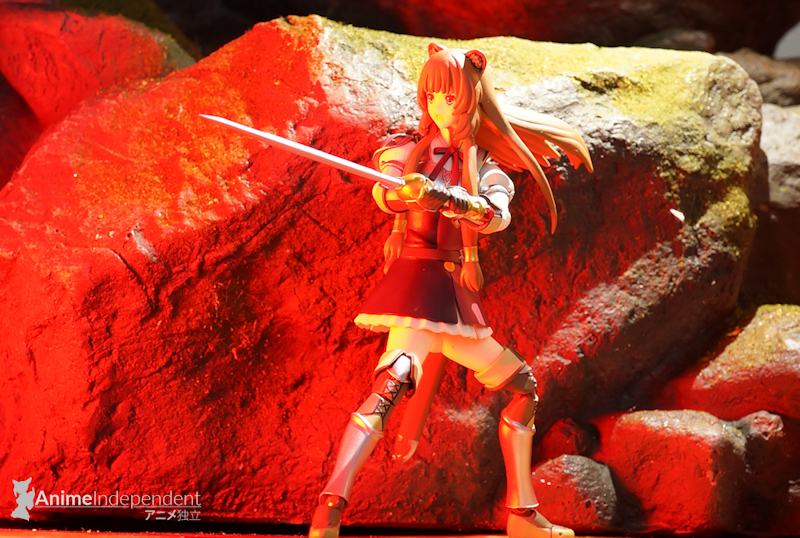 Lowering the legs can allow for much wider stances
What I love about this figure, aside from the gorgeous paint, tight joints and copious accessories is just how much this evokes the character. Raphtalia is such a beacon of hope for Naofume in his darkest moment, and despite all that she has suffered personally, still radiates warmth and compassion. All of this is captured perfectly here in her diminutive plastic form. I derived a great deal of pleasure taking pictures of the figure against a variety of backdrops, far more than I usually get from a sub-£100 action figure at any rate, and I'll have even more fun with her next year when Naofume finally arrives and I can pose them together
Photos supplied by Anime Independent - Full gallery here