I've been a long time fan of the Fate series, more for the art than the anime or games, so honestly I couldn't tell you much about this character beyond describing her appearance. But any character with pink hair and a natty line in bold defensive items & killer armour has my attention, so I dove in with Shielder to see if she was as fun as she looks.
From a little research I do know that Shielder is somewhat unique in the Fate universe, being both human and servant, and that she hails from the Grand Order game available on mobile. Anything more than that and I have no clue.
Sporting pink hair, an ink-colour armour with purple highlights and a HUGE shield, she's quite the presence on the shelf. The armour is beautifully designed, with lots of scuplted detail. The boots are suitably spikey too, and the silhouette is fantastic.
In terms of articulation, I was surprised by how limited the legs are - with the armour length akin to a mini-skirt, I expected pretty much a full range of movement, but the fact that the armour won't budge means sitting positions are out entirely. Curiously the Raphtalia Figma has a waist that can disclocate to allow for a greater range of movement, and it's a shame that couldn't be done with Shielder too. I do like that there's wiggle room on the torso to give her a diva-style standing stance, but overall it's an example of real-world physics utterly breaking a design.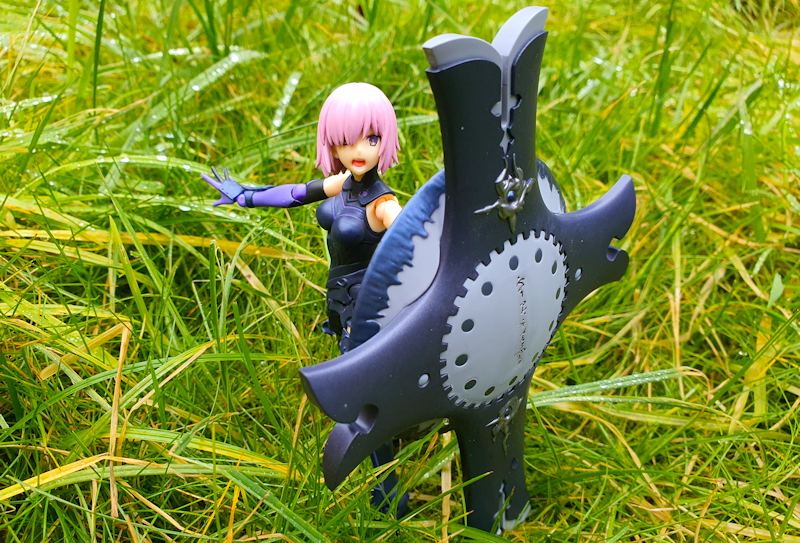 Shielder has one accessory, so best make it count!
The figure also comes with 2 other faces (angry and upset) but I like the default neutral face the most. She's clearly not a smiley character as there's no hint of one in the box. She has a total of 3 pairs of hands, which is limited for a Figma, but two stands - one for the figure and the second for the shield, so that's thorough.
The shield is massive - there's 2 grippy hands, left and right, which have rubbery fingers to grip the handle, but it's a pig to get them in all the same. Once you have them in there, you can rest the base on the ground for stability, but any more than that and you'll need the stand. This does allow for some cool dynamic poses, so experimentation is key.
Ultimately Shielder isn't an outstanding Figma in any practical sense - she's not particularly lavish in terms of details, he accessory count is, well, one really and she has some limitations on even the standard Figma movement. This isn't the figure to advertise the line with, but it's still gorgeous in the way that all Type Moon designs are, I love the inky/purple colour scheme and I've found her a blast to photograph in the recent snow.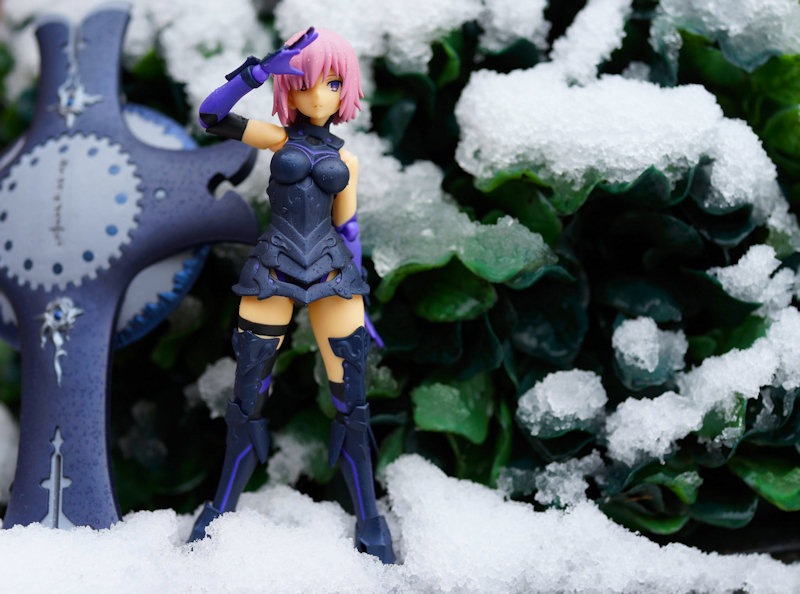 So if you like the character, or just dig cute girls in beautifully sculpted (if not all that painted) armour, then this is a fine choice. I picked her up becuase I liked the muted colour scheme, but for those looking for more flair, then Saber, Jeanne D'Arc or Rider are probably more eye-catching.
But for now, I stand behind Shielder - partly because even at this scale it makes me feel safer, and partly because I just love her colours (very Neptunia!)