Continuing the Darkstalkers releases in Kotobukiya's rather awesome Bishoujo line, Felicia here joins Morrigan (reviewed here) in the horror themed fighting series, perfect for Halloween.
Oddly, Darkstalkers reserves its sexy designs for only two of its leading ladies, with B.B Hood, Lilith and Hsien Ko being pretty modest, but when the designers at Capcom shoot for sexy, they don't hold back. You'll instantly notice that Felicia barely has enough strategically placed fur to cover her buxom figure and I'd certainly classify this as not safe for work (or wives, girlfriends who aren't into the hobby, normals... you get the idea). Her rear isn't covered at all, so if you have the in-laws coming over, I'd really suggest keeping her back to the wall.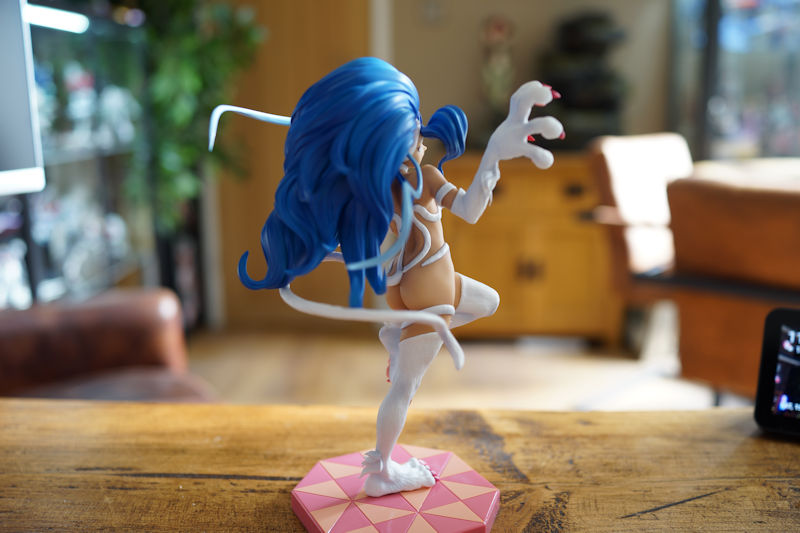 Not much left to the imagination...
But for the more enlightened and appreciative Capcom afficionado, there's much to love here. Let's start with the sheer weight of the figure - all that hair is solid plastic, and blimey does it add some serious heft to the piece. All of the flyaway strands are an absolute joy in person, there's just so much life to her.
The pose is suitably feline (you can imagine she's chasing a giant ball of yarn) with oversized paws extended, one leg lifted in a playful run, head cocked slightly to one side... Bishoujo figures often exude energy, but Felicia is so full life that she practically jumps out on the shelf. Facial details are incredibly sharp, the eyes and mouth are absolutely perfect. I had thought that the recent Mai Shiranui had arguably the best facial expression of the recent releases, but this one has it beat.
Speaking of Mai, I was delighted to see that the skin-tone on Felicia has a pleasingly dusky, matte finish. In fact, she's positively tanned, and it really suits the figure by creating a pleasing contrast between her skin and the white fur.
The paintwork is very sharp - there's a nice wash over the flesh and a few highlights in the fur, but for the most part, the figure lets the natural light bring out the sculpted detail. I was a little surprised there weren't more highlights in the hair - Morrigan has a lovely fade - but aside from two tendrils of lighter blue hair, the bulk of it is a solid dark blue colour.
Sculpting is superb - the fur has loads of finely crafted detail, the blood-red claws and pink pads of her hands/feet are incredibly well realised. It's fair to say that once you get past the lewd elements inherent in the design, it's a stunning piece of work, especially at (on import) well under £100.
The base is a two-tone tiled floor, which is smart but not as interesting as Morrigan's stand. I'm also slightly disappointed that they don't connect, as side-by-side Felicia and Morrigan really bring out the best in each other. The colours of each character are surprisingly complimentary in their contrasts, especially the pale skin-tones of Morrigan's vampiric seductress next to Felicia's healthier tan.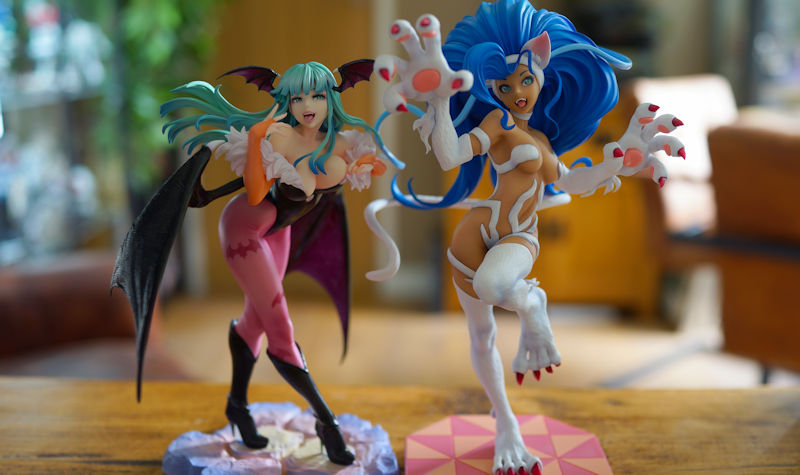 They look amazing together!
If you have Morrigan, then Felicia is an essential purchase. Together they're a stunning pair of character figures that capture the innate personalities of each, and honestly if you're going to have one sexy anime figure, you might as well go for broke and get two.