YuYu Hakusho was a big deal when it launched in 1990 - a huge hit at the time, with supernatural powers, spikey-haired heroes and hardcore action, it received a slew of animated adaptations (including two feature films). It may not have been easy to get hold of in the UK back then, but you certainly knew about it. It was eventually released by MVM Entertainment in the UK and is available to watch on Crunchyroll should you fancy some occult action.
Hiei is one of the main characters of the franchise, also known as "Flying Shadow", he's one of the fastest fighters, but also the shortest. There are a number of "firsts" for an ABYstyle Studio figure here, so let's dive right in.
We should start with the sculpt - it's fantastic and contains a number of inspired elements. The translucent dragon wrapped around Hiei's arm is the manifestation of the dragon tattoo that usually graces his right arm, and it takes him a while during the series to gain full control of it. Here you see it unleashed, an entirely purple, translucent and beautifully sculpted energy dragon. And thanks to the design, there's seemingly nothing holding it in place. It's a lovely touch.
Hiei himself is also a bit of a treat. Usually, the character design features a bandana to cover his third eye, but here's fully revealed (behind his spikey frontal mop of hair) lending a further element of the supernatural.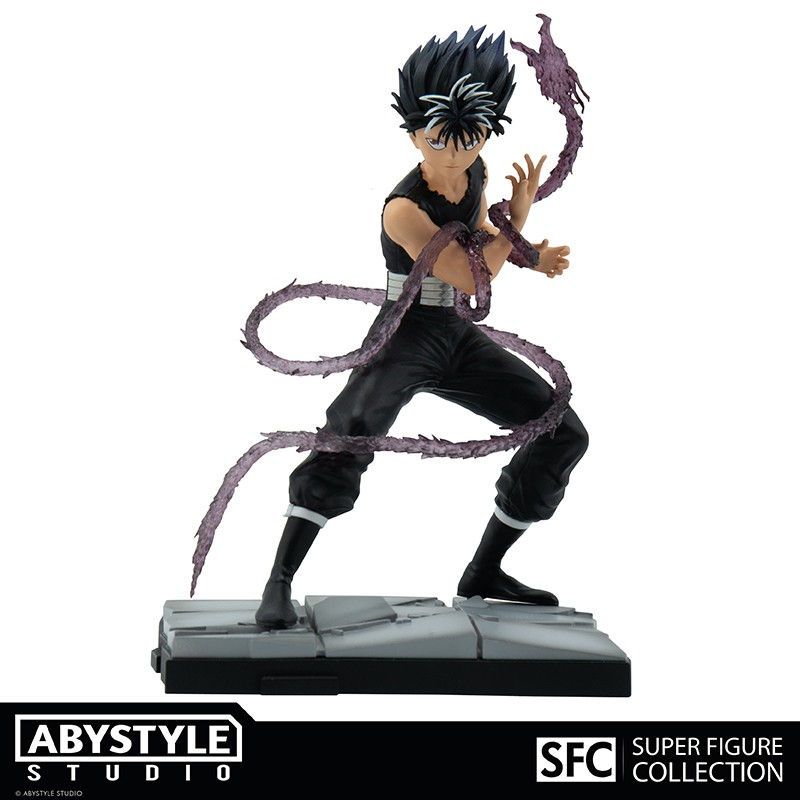 Hiei's outfit is true to the series - it never really changed throughout the run - which is a basic black vest and trousers combo that highlight the fact he started out as something of a villain.
In terms of paint, the skin tone is good, there's a nice wash to the hair and then... yes, there's paint on the base! Let's get to that shall we?
So, throughout my ABYstyle reviews, I've been quite complimentary about the matt/gloss combo of the black plastic bases. It was a skilful way to make the most out of a single mould and maintain a texture that's usually absent at this price point. However, in a bit of a first, we have a fully painted and really rather excellent malformed floor for Hiei to stand on, and that's incredibly impressive. As much as I like the traditional bases, this new approach is really very much appreciated and really elevates it well above its peers.
The mix of painted base, translucent effects and sharp sculpt have marked Hiei out as one of my absolute favourites from this company. I may not know much about the series itself, but you get such a sense of power and presence here that it's hard to ignore. It absolutely jumps out on the shelf, especially if you have lighting rigged up in your cabinet (as I do) to bring out the best of this supernatural energy effect.