Once again we return to the world of Death Note for ABYstyle Studio's latest release, featuring Light Yagami's genius nemesis, L. The figure joins Ryuk (standard and glow in the dark variants), Light and Misa Amane figures that, taken together, form an excellent collection for Death Note fans.
The chair is an excellent accessory given that L, taken on his own, is basically a guy in a white top and jeans, leaving him relatively plain in terms of dress. That said, even here the sculpt captures L's gaunt frame, with both top and jeans hanging off him with plenty of creased detail and dry-brushing to capture both texture and fabric grain - the jeans in particular look spectacular.
Skin-tone is very light, giving a Tim Burton-esque aesthetic to the character. The sunken eyes and blank expression also do a solid job in capturing the spirit of the thoughtful, if distant, detective from the show. The signature mop of black hair is a solid black without highlights, but the semi-gloss allows the light to add depth and shine without artificial help.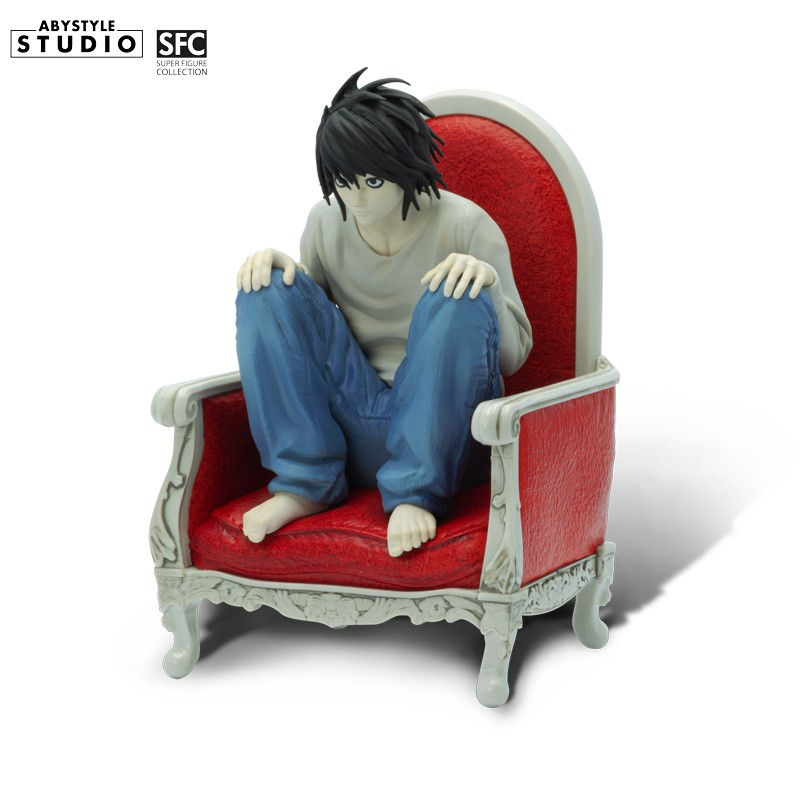 The King of shabby detectives!
I was particularly impressed by the sculpting of the hands and feet - there's real attention to detail with the knuckles and shape of the fingers/toes. It makes him even creepier quite honestly.
The chair itself is a mixture of weathered cream wood, with lovely wear on the paint and lots of ornate carving applied, and a royal-red leather cushioning, replete with aged cracks and texture. The seat is bulging where L's weight would apply pressure, bringing it all together perfectly. Perched and leaning intently forward on his throne, L looks every inch the King of dishevelled anime detectives, perhaps only Columbo giving him a run for his money in popular culture!
Ultimately, this is a must if you've already been collecting ABYstyle Studio's excellent Death Note figures. The fact that they're all based on earlier illustrations rather than their later anime appearance gives them all a unique quality that feels somehow as close as we can get to the original artist's intent in three dimensions. While Misa and Ryuk will always be the more flamboyant characters, it's the simpler nature of the smartly-dressed Light and the shabby-but-brilliant L that bring it all together.
I'm always impressed by the way in which ABYstyle Studio always seem to know exactly how to get the most out of the budget for each figure - be it Misa's fabric tights or Ryuk's glow-in-the-dark feature - and in this case they've married a simple character design to the perfect accessory to pull off another stunning figure for what seems like a ludicrously small investment.

ABYstyle Studio kindly supplied the figure for review.