Well, here's an oddity, albeit a rather iconic one. Fresh from the fan-favourite Assassination Classroom comes this chunky rendition of the unpredictable Koro-Sensei. Dressed in his tutoring robe with shirt, tie and mortar-board hat, he's the very picture of academic excellence.
Kuro is, of course, a big yellow alien with tentacles, weird hands and a happy smile that belies his mystique. Being an alien invader that ate a big chunk of the moon (reflected in the crescent moon emblem on his tie) he plans to do the same to the Earth unless his high school class can learn enough skills to assassinate him within a year. Even reading that back it sounds bonkers.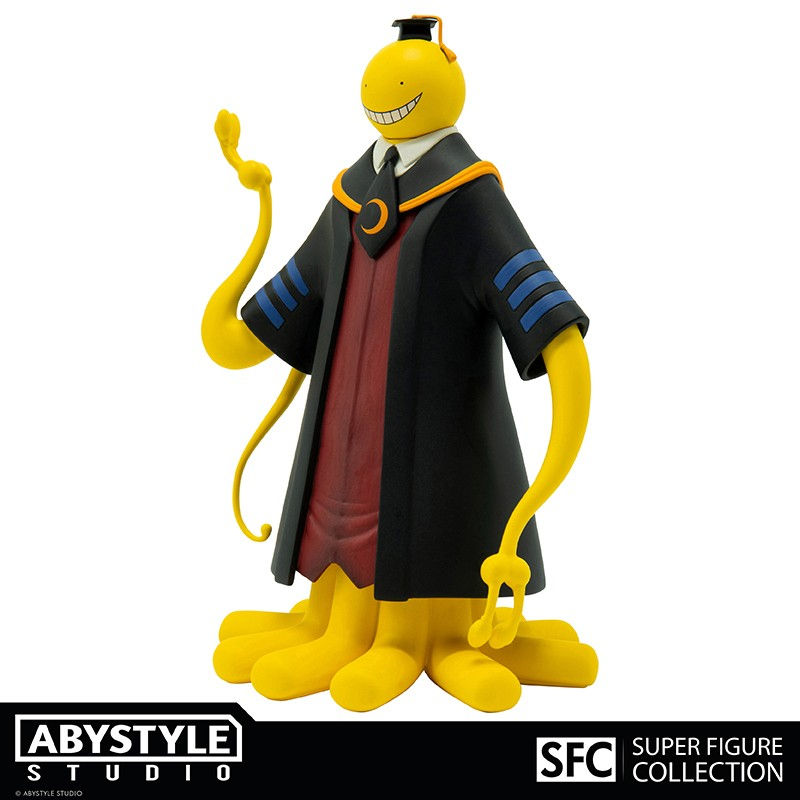 The figure itself is very dense, and that additional heft certainly lends a feeling of quality in-hand. The design itself is very simple - basically a smiley face on stilts in a teacher's outfit - and because of this you'll either be a fan of the series and love it, or scratch your head wondering what is this happy educational octopus doing here?
This is really a hard one to judge objectively, as it's not a show I've actually watched, and as such the figure doesn't really speak to me in terms of character. It's certainly a striking design though, if a bit creepy with those pinprick eyes and gormless grin, lacking any real expression while simultaneously exuding a sense of malice. It wouldn't look all that out of place in Kubrick's A Clockwork Orange!
What I can say is the figure is solid, colourful and, from what I've researched, a perfectly accurate rendition of the character. There isn't much in the way of paint wash to add depth, as there is with most of ABYstyle Studio's releases, but in this case it feels like a deliberate stylistic choice to keep everything in flat colours. I'm pretty much okay with it. Where paint is applied, it's sharp and, on the tutorial gown especially, a nice contrast to the matte black.
I can also say it really stands out on a shelf. There's really nothing else like it, and even though I offer these figures out as prizes, I can really see a fan of the series loving this, and for the rest, it's an unusual and striking piece of Japanese oddness.