ABYstyle Studio return to the My Hero Academia well with their take on Great Explosion Murder God Dynamight (best hero name ever!) Katsuki Bakugo. As one of the major protagonists of the series, it's fitting that he's included in their series, alongside Izuki, Tsuyu, Shoto and All Might.
First of all, the pose is fantastic, absolutely full of life and spitting fire from his grenade gauntlets in a flash of semi-clear plastic that looks great when it catches the light. His colour scheme, consisting of mostly black with orange highlights, is broken up by steel knee-pads, a C-collar and his green belts to provide a pretty striking and appealing colour palette.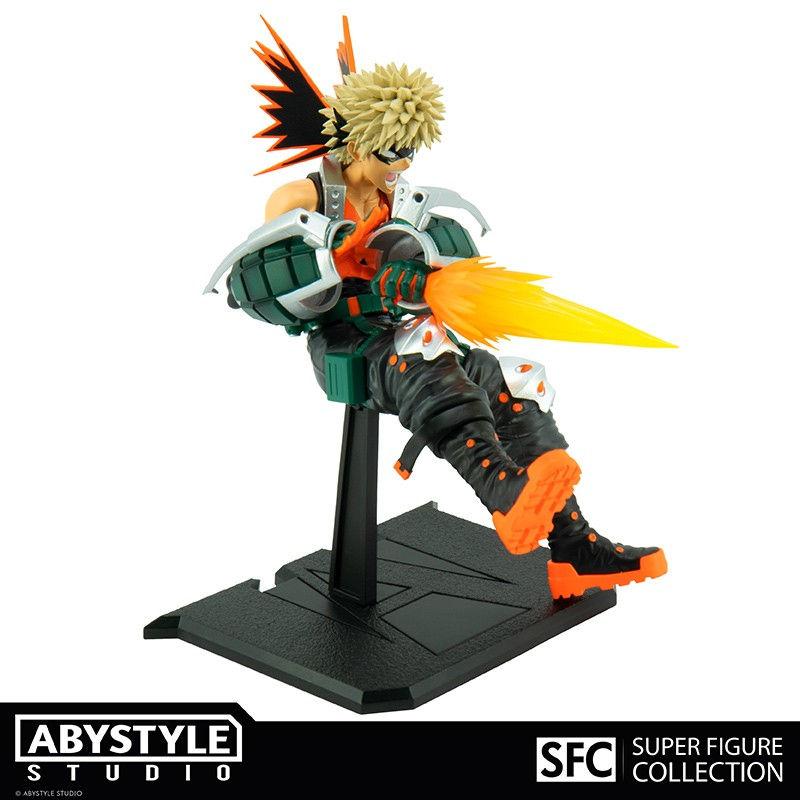 BOOM!
As has become usual for ABYstyle, the figure is blessed with some sharp paint application, especially the straight orange lines on his boots. On the whole figure there was only one slight marring of paint on his orange waist strap, which is amazing for this price point (though perfection is always worth striving for!).
In particular I was impressed by the hair. Usually you can easily spot the join line where two plastic parts are connected, and this is usually in the hairline for most figures. However I was hard-pressed to see any connecting parts here, thanks mostly to the incredible array of spikes that make up Bakugo's shocked mane. I love the explosion effect headgear too.
The base is another solid effort, the now signature matte and shiny black plastic used to create the "A" plate which holds our hero in position. If I were being ultra picky I might prefer a transparent arm for a more subtle "in air" look, but we're dealing with a budget of under £30 here and I'm already confused as to how a figure like this is possible at the price point.
I was interested to note that this is actually the second figure the studio has created for the character, with the original in a static "A" stance. I'm pleased to see that things have moved into a more dynamic and visually interesting style, and I hope they keep this up. There's nothing necessarily wrong with keeping things simple, but there's no doubt that, between the two, this one really looks more than its money.
Overall it's a no-brainer for fans of the series - this is a sharp, dynamic and beautifully painted figure that looks great on a shelf.