Very few anime fans would fail to recognise the face of Izuku Midoriya, central protagonist of the super-popular My Hero Academia shonen series that's taken the West by storm. The young man born without a "quirk" (super power) in a world where such abilities are now commonplace makes him somewhat reminiscent of Marvel's Steve Rogers/Captain America, who, like Izuku, gains powers from a higher power when his inherent goodness is recognised and rewarded. In Izuku's case it's an inheretence of powers from the world's greatest hero, All Might.
In contrast to the last ABYstyle Studio figure I reviewed, the sinister Hisoka from Hunter x Hunter, Izuku has a pose full of youthful energy, catching him mid-leap and crackling with translucent energy effects. Decked out in his classic uniform, replete with chunky boots, pouches and his metal face mask, it's a vibrant looking sculpt from the French studio
The details are fun and plentiful - the green elements of the suit feature a mesh sculpt that adds a real level of presence to the the figure, and I love how the bunny-eared mask hangs off his back, with enough depth to show the hollow eyeholes. It's a great little touch. The green highlights in the wonderfully tousled hair bring it to life, working well with the painted/tampo elements such as the silver on his mask and belt buckle, his facial freckles and even the impressively chunky sculpt of the boots.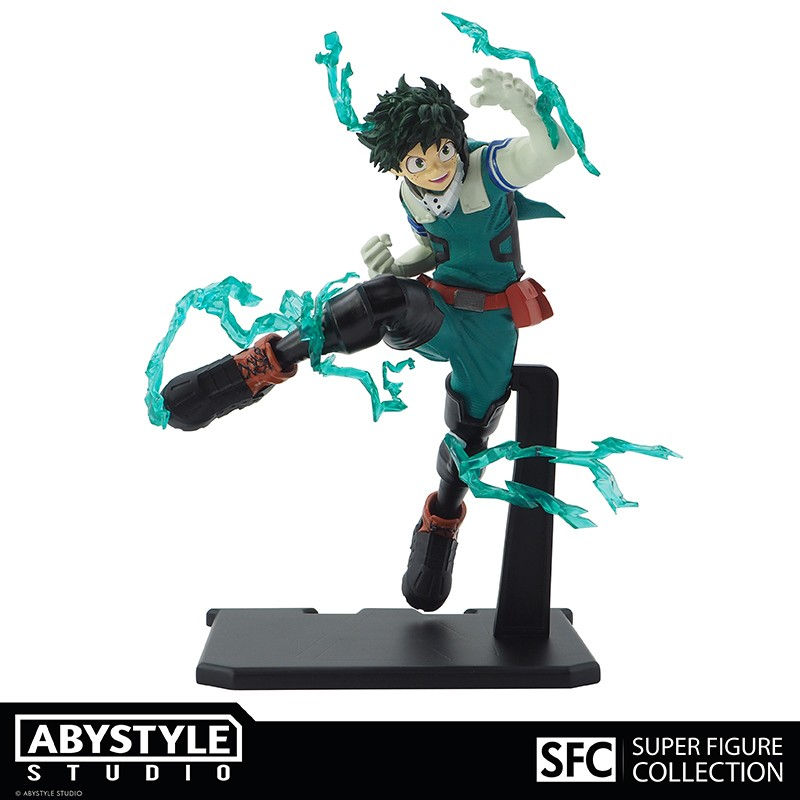 What makes the figure stand out from previous entries into the line are those translucent special effects, which really pop when on a lit shelf or near enough a window to catch the light. Arcing across his arms and legs, it makes the figure feel like you're getting something extra for that perpetually low asking price.
The base retains the signature matte and gloss black plastic, this time shaped into an "U" and "A" to represent the series main locale, UA High School. It's always a pleasure to see how a little thought can elevate an unpainted plastic base!
All in, this is probably my favourite of the figures I've reviewed from ABYstyle Studio so far. It's a great representation of a popular character with lots of added details, a cracking sculpt and some wonderful effects parts which just leave it crackling with energy to make it a real stand out on your shelf.
This figure was supplied by ABYstyle Studio