So firstly, let me share the fact that I've never seen Hunter x Hunter, so there's really no nostalgia or fanboy glasses colouring this review. I do love clowns, so that might factor in, as Hisoka here is dressed as a harlequin, resplendent with card house decals on his top and a Joker in his hand.
A little bit of research confirms what I suspected (and what the sculpt conveys very well). All clowns are evil, and this one is no exception.
Described as a sociopathic killer, Hisoka Morow comes dressed in his 2011 anime adaptation outfit, a matching pale aqua-blue two-piece top and trousers affair, with matching pink ringlets on the arms, ankles and neck. The yellow sweater tied across the hips adds a splash of yellow, and the curly purple shoes match the club and spade decals on the front of the v-neck jacket. Overall I'd say it's really an outfit that only works in animation, as it's really quite awful, but on the character, with that face... it works.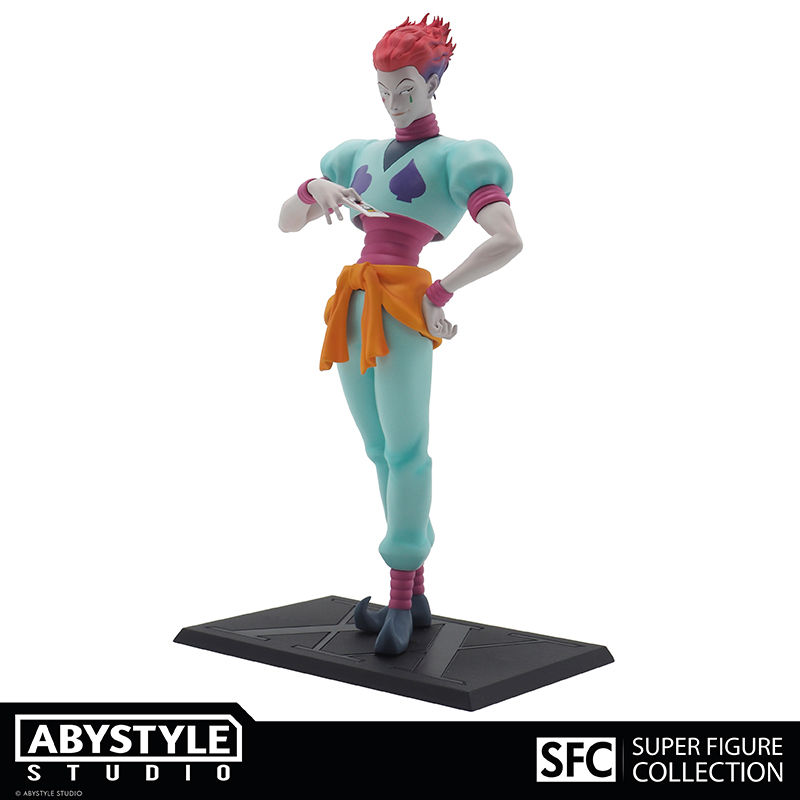 On that subject, I do love the face sculpt. it's a smug and superior smile that screams "antagonist", and I'm really rather fond of it. Had I not read the character biography on Hunterpedia, I'd still have picked up on his evil leanings, superior sensibilities and psychotic nature, all captured very nicely by ABYstyle Studio's sculpting team. The paint apps provide arch eyebrows, a little lipstick for a highlighted smile, star and teardrop details and a two-tone haircut that must be hell for his hairdresser.
The painted accents are subtle here. The wash on the clothing brings out the detail, which is limited to wrinkles in the fabric given that the design is, overall, quite flat and bereft of detail. This matches the animation of course, but compared to say, Naruto or Kakashi, the lack of additional pouches and details render this figure a simpler, sleeker outline with less to really polish. That's less a nit-pick and more a commentary on the character design, but there's no doubting the screen accuracy or the shelf presence such a sneering clown brings to the table.
Once again, the figure comes with the two-tone black stand I've learned to really appreciate from this line, adorned in this instance with two stylised crosses from the series logo.
In all, this is certainly one of ABYstyle Studio's more subtle pieces - from the haughty pose to the unique palette, it certainly stands out. I know I bang on about the price, but it's a lot of figure for £29.99, so I can heartily recommend it for fans of the series and those that love a killer clown. And who doesn't?
This figure was supplied by ABYstyle Studio