Following hot on the heels of their Hiei figure, ABYstyle Studio return with the hero of the series, Spirit Detective Yusuke Urameshi.
Yusuke has a very iconic look, his green tinted quiff combed to perfection in this mid-attack pose. Once again, we're eschewing the stoic pose and going for something with more life and motion implied - the open-mouthed expression, lowered head and crouch perfectly convey his channeling of spirit energy into his "Spirit Gun" attack.
The battle damage on his trousers is similarly evocative of his "brawler" personality, with a rough and tumble look that suits him to a T.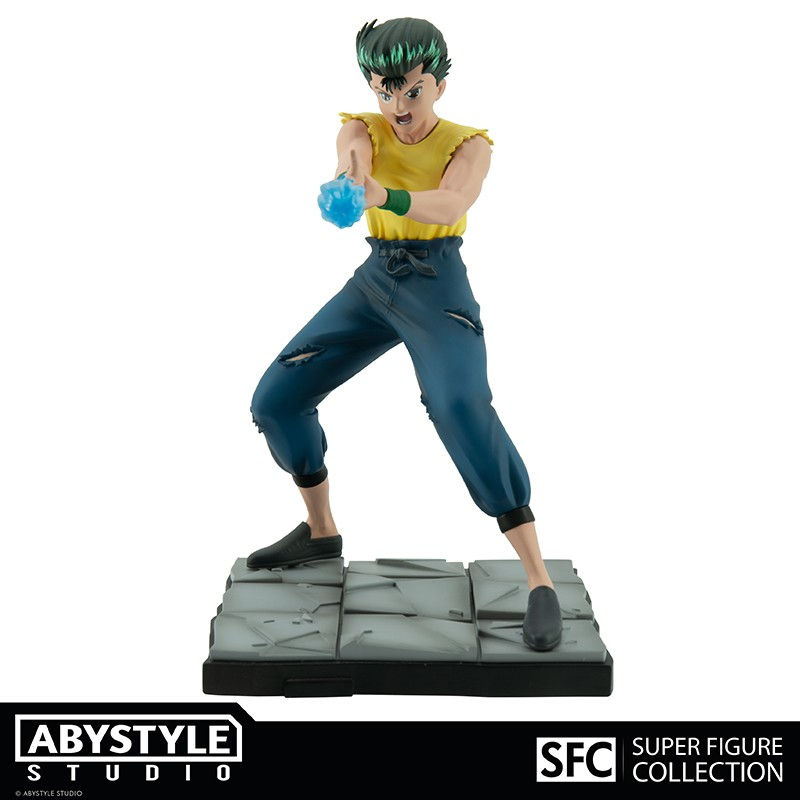 There's some lovely sculpt work where you might least expect it - the shirt and shoes have some lovely fabric texture to them. His face and muscles have terrific definition, making it look very sharp indeed. I love the depth of the mouth, which adds an excellent feeling of depth to the overall figure.
The Spirit Gun effect is cast in translucent plastic, matching the spiritual effect of the Hiei figures. Obviously being a smaller and simpler attack it lacks the "oomf" of his teammate, but set up your lighting correctly and it really pops.
While the colour palette is simple, the wash on the figure brings out lots of sculpted detail, and the flashes of green in the hair imply an emerald sheen pretty convincingly.
Lastly, let's look at that base - like Hiei, the figure stands on broken paving, which just brings the same next-level energy to the figure's presence.
Ending the year on a high, ABYstyle Studio have created a quality sculpt with great paint and a premium base that any Yu Yu Hakusho fan should be very, very happy with.