I often recount the tale of how I first became fascinated by Japan in the mid-90's Aged 13, I stumbled onto a copy of Ranma 1/2 in my local comic shop and became absolutely spellbound by all the cultural differences that lay within - school clubs, onsens, martial arts, formal marriage - almost everything about it was distinctly different to the world I knew, and I was adamant that one day I would visit this strange land and experience it for myself. It may have taken a few years, but pre-Covid I spent nearly a decade visiting Japan for at least a month every year, visiting publishers, animation studios and games developers, all the while finding something new and magical to make each trip worthwhile.
Author Abby Denson clearly shares this love for Japan - working as a writer for Amazing Spider-Man Family and Disney Adventures, her energetic take on the country is perfect for a younger audience, and as a lot of us oldies have kids now, that makes this book an exciting prospect.
The book is separated into 15 main headings, with each containing a number of sub-chapters dealing with the "cool things" that can be found within each. So for example, under "High Tech" you'll fine Gashapon machines, toilets and video games, while the more traditional aspects such as "Shrines" discusses Torii gates, Buddhist Statues and Ema Prayer Plaques. The book uses photographs and simplified drawings to illustrate the varied topics, and these are peppered with almost sticky-note descriptions containing key facts.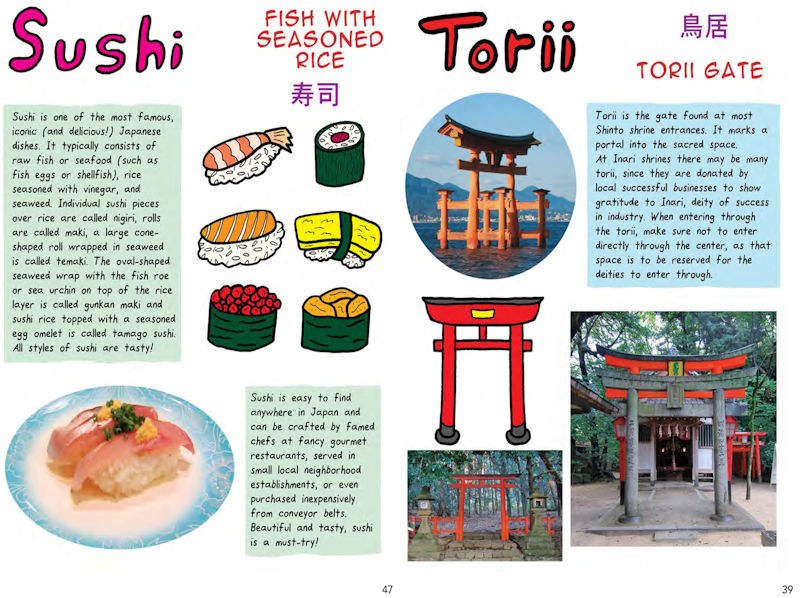 The book is both colourful and appealing, concisely relaying the key elements of each item.
One of the fun things about experiencing Japan through someone else's eyes is the items you might have missed on your own travels, or discovering new facts about things you'd already uncovered. For example, Abby discusses Makunouchi Bento, which were first used as snacks between acts at plays in the Edo period, a form of Bento I've not come across on my own trips. I like the fact that, while it is clearly aimed at children, we adults can learn a little too. I'm minded to use the book as a base for my daughter's first trip, asking her to select items she'd like to see, and then having her create a similar scrapbook to show what she discovered while in the country - in fact, pages toward the back of the book have been put aside for just this purpose. For now, the book is sitting in Thea's nursery ready for the day it'll be needed.
As a parent, I can see the book has much to commend it - the friendly style, clear explanations and enthusiasm make it a great start to any young-persons engagement with Japanese culture, and is highly recommended for any child who may be about to take the trip abroad.