Rumiko Takahashi has a lot to answer for - had I not been wandering around Oxford at the age of 13 after visiting my Mum in hospital, I would never have happened across the issues of Ranma 1/2, one of Takahashi's other hit series, staring at me in a comic shop. This was the book that ignited my passion for Japanese storytelling, humour and culture, ultimately leading to a fanzine that became this very website 25 years ago.
Good grief, I'm old. When did that happen?
I never much cared for her other wacky comdies, in particular Urusei Yatsura (which was being produced alongside this series in fact), as I found the lecherous protagonist Ataru to pretty unlikeable. However Maison Ikkoku was a manga I could relate to. Focusing on the titular residence replete with oddball tenants, the book is a down-to-Earth comedy which is utterly charming and full of fun character moments that serve to frustrate our "Ronin" Yusaku Godai in his quest to win the heart of Maison Ikkoku's manager, Kyoko Otonashi. The gentle nature of the romance is diamatrically opposed to Urusei Yatsura's slapstick silliness, but it's really a credit to the author that she could write two beloved classics at the same time.
Running from 1980 to 1987, it's the direct forebear of the aforementioned Ranma 1/2, which itself debuted in August 1987 (and lasting until 1996). You can certainly see some similarities in situational comedy, in particular the ice-skating in volume 2 in which Godai promises to protect his heart's desire without being able to actually stand up on skates, a joke recycled for an early Ranma chapter. With Ikkoku's comedy being more grounded, there's a lot more room for detailed character work, and the slightly elevated age of the cast give the book a more sophisticated feel overall. This aspect is likely the reason I find Maison Ikkoku even more appealing than I did at the time, being ever-so-slightly more mature myself these days.
The artwork is also absolutely gorgeous, Rumiko Takahashi's signature style radiating warmth and heart on every page. The use of tone is masterful, especially on clothing where rich, textured patterns are plentiful. The attention to detail is what makes the book so engrossing, and every panel could be directed by a master fim-maker. It's little wonder that she is (deservedly) one of the richest women in Japan. The talent displayed on each and every page is palpable.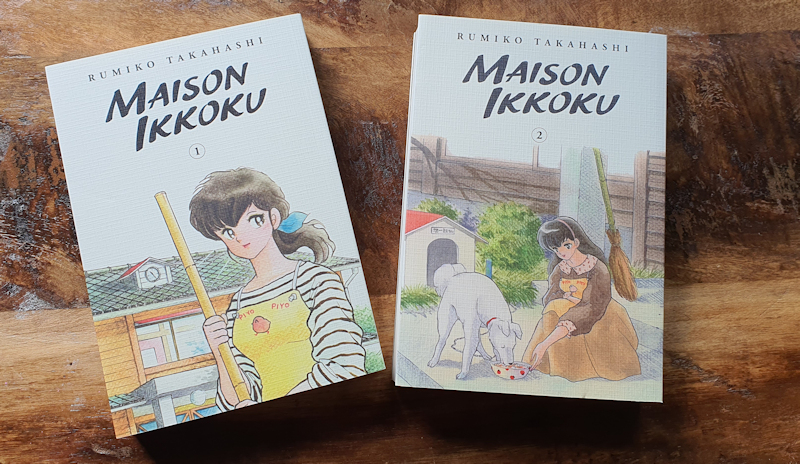 The big draw of returning to the series is the new presentation. The Signature range from Viz gives special attention to the presentation of a book, often combining volumes to create fewer, more impressive books for your shelf. The beautiful thick, textured card on each cover, with artwork in colour from Rumiko Takahashi, is lovely. The spines are simple, just italicised, embossed text in black and that signature Viz logo in red at the bottom. It looks very classy and feels good in your hand.
There's a deliberate lack of any spoilers here because, honestly, if you've been lucky enough to miss out on this gem until now, you deserve to experience every moment with fresh eyes. Know only this; Maison Ikkoku has 25 million copies in circulation and is widely considered the author's best (if not most popular) work. Don't you owe it to yourself to read it?