Meg's Monster is a pixel-art retro-RPG featuring a young girl lost in a land of monsters. It's certainly received a lot of plaudits since release (we were kindly offered a review copy after launch) and even though it's not a game actively marketed at our anime crowd, it has enough inspiration from classic JRPG's (and I'd argue some of Lucasarts better puzzle games) to make interesting enough to dive into.
You start as your older self investigating a decayed laboratory in which your mother used to work. Via flashback, we see how Meg was transported to a monster infested world and met Roy, the monster who would become her protector as the story progresses.
I confess that, upon meeting Roy, I found his "dudebro" speech pattern to be highly irritating. Including Earth slang also didn't sit right in a world where monsters rarely met humans and didn't devour them on sight, but I gritted my teeth and allowed the story to wash over me and it gradually became less annoying.
Roy's buddy Golan notices that when Meg cries, it has an effect on the world around them, and the pair decide to smuggle her off-world, putting them in conflict with the monster council. The 6 hour(ish) playtime is a good length for this kind of nostalgic trip - the characters have room to be fleshed out and it doesn't overstay its welcome, even if the fights towards the end seem to linger a little too long.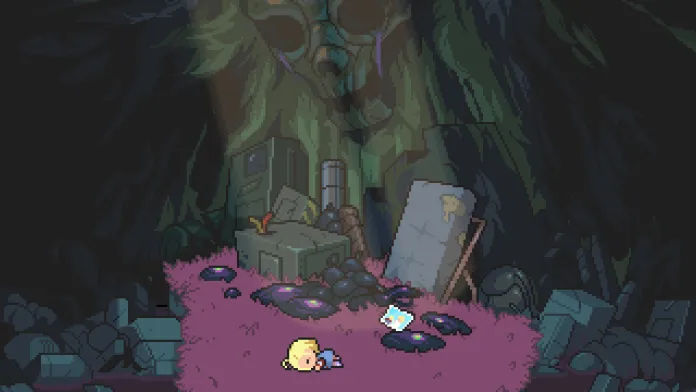 The pixel art is well crafted and imaginative
There are some fun mechanics - with Meg convincing Roy to play with her, toys are added to his house, and these can later be used in battle. It's a nice little touch that adds a much-needed air of uniqueness to a market currently crowded with retro-RPG fare vying for your attention.
The music is also worthy of note, from the opening scene with the large red star in the sky and throughout, it's a lovely accompaniment to the gameplay. I'm not sure I'd buy the soundtrack, but I appreciated the care and attention that went into it.
What really stands out in the game is the character beats - everyone has a purpose with interactions that are lively and entertaining. Much like Monsters Inc, which I'm sure was an influence here, it's all about the players and less about the game. It's certainly a sign of excellent writing that, even with the California "dude" dialogue, you can get emotionally invested in this little girl and those who seek to protect her.
I can heartily recommend Meg's Monster as a perfect bit-sized snack (much like Meg herself I suppose). I can't imagine a better game for a long flight, you could certainly beat the whole thing before you land and feel immensely satisfied for the experience.