Fairy Tail is of course based on the popular shounen manga/anime of the same name, and is the first game of the series to be released in the West - however, there have been other games that haven't made it over here prior to this outing, and subsequently we're dropped into the story's timeline with little explanation of who anyone is or what's ultimately going on. Erk. (Fans of the series will be fine though!)
The game begins with your team of adventurers fighting one of the renowned masters, known as Hades. Seeking to discover the ultimate magic, he's out to destroy our heroes, and you're plunged into a boss-battle wherein the game (very helpfully) takes you through the combat system and suggests the best tactics to use against your foe.
Once the battle is over, the team return to their island, only for an event to force the entire team into stasis and awaken seven years later - their guild is now forgotten and in debt, and your job as the player is to build Fairy Tail back up to its prestigious position as the number one guild, beginning in the pretty town of Magnolia.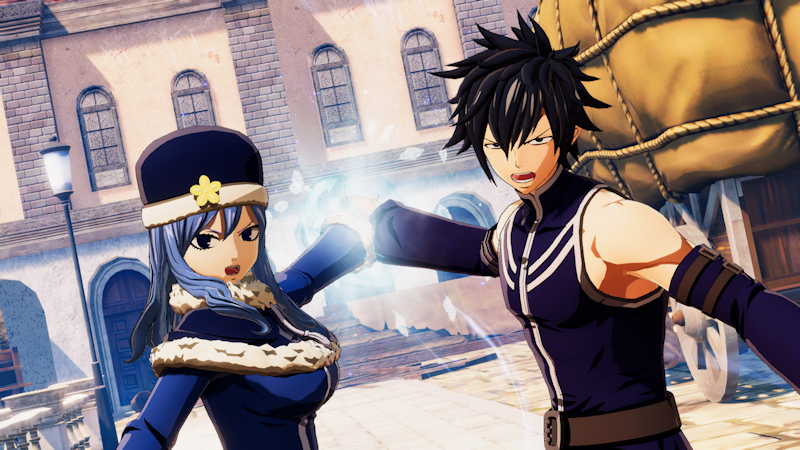 Your team is made up of a motley crew of attractive protagonists, male and female, who wield a variety of skills for you to take advantage of.
Starting out in an old den, the Guild must take on jobs posted on a board in a bid to level up, increase their rank and advance the plot. Once here, the game falls into a mission-based formula that allows you to pick your crew and choose what you wish to attempt in what order, offering bite-sized chunks of gaming with everything centrally organised. It's a solid and well-used mechanic for organising your missions, and it works well here.
As the game progresses you'll be able to upgrade your den, which in turn offers better missions and rewards (or even level up the fighters you leave behind as well!). By undertaking missions, building up your surroundings and levelling up everyone in your guild, you'll be able to pay off your debts, climb the rankings and become the number one guild again - you may even save the world along the way!
When undertaking a mission, you can roam around an area populated by items, enemies (which you can avoid, attack or occasionly be ambushed by) and people of interest. You'll want to fight as many monsters as possible to level up and increase your attacking power, and in all you'll be grinding, upgrading and advancing in no time.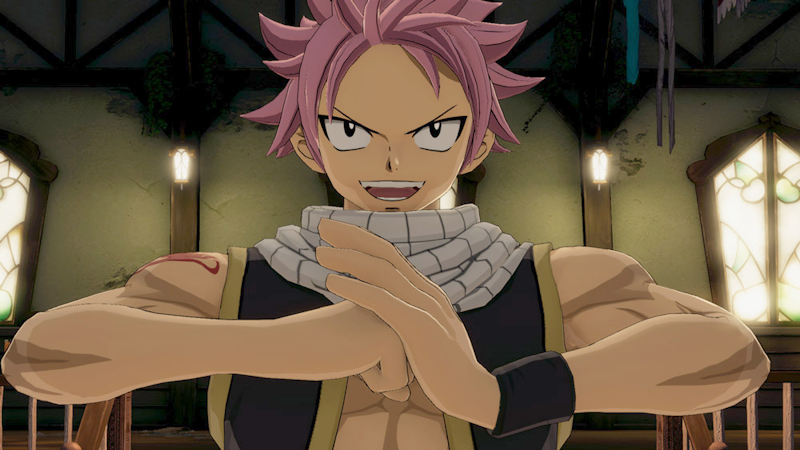 Cut scenes use the in-game models, and when they look this good, why not?
Battles are quite fun too, as the game takes a traditional turn-based approach. Your attacks not only vary in power, but in coverage too - with your enemies arranged in a grid, you must select not necessarily the most powerful attack, but the one with the widest range to deliver simultaneous blows to multiple foes. Some monsters are more susceptible (or even impervious!) to certain spells, so you'll need to take all that into account when creating your strategy. Finally, you can chain your attacks if you time everything right, creating spectacular damage multipliers.
Quests are generally of the gathering or fighting variety, but there's some nuance here and the battles are engaging enough that grinding isn't too painful. It's really the nature of the beast in games such as this, and you either like it or you don't. This is certainly one of the less odious examples I've played in recent times, so that's a big plus.
Gust, the developers, are also responsible for the Atelier games, and even if you've only ever seen screenshots, you'll know they make attractive games. The world of Fairy Tail as depicted here is quite delightful - everything has that anime polish, with solid models, smooth animations and gorgeous light effects. The game looks great on Switch whether you're on the go or plugged into the TV. There are very minor glitches when the screen gets busy, but it's hardly noticeable and 99% of the time you'll be marvelling at just how pretty it all is.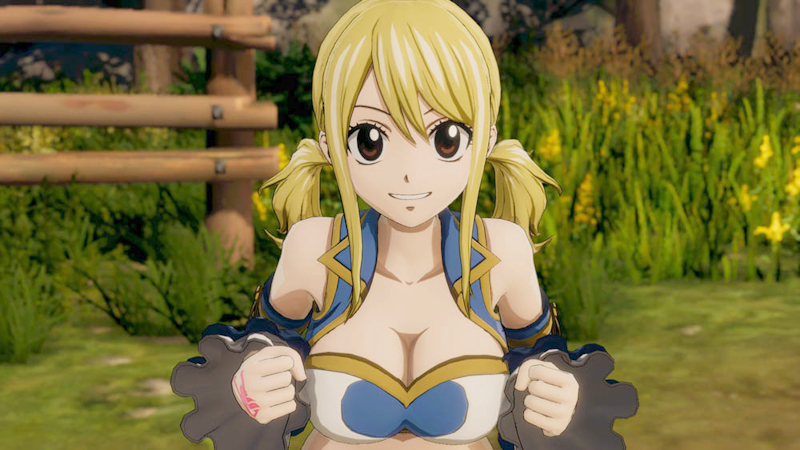 Whether you're familiar with the team or meeting them for the first time, they're an engaging, entertaining group.
The main story covers many of the arcs in the series (Tenerou Island, Grand Magis Games and Tartarus), so fans will get to replay those scenarios and encounter their favourite baddies. For non-FT fans, it's all still engaging, with the game initially hitting the reset button anyway, it's all there to discover and have fun with.
This is fine an example of an anime JRPG as I can think of, with an engaging control system, nuanced gameplay and entertaining characters. It may even create some new Fairy Tail fans, but if you were wondering how the Switch version would hold up against the PS4, worry not - it's a solid port with no meaningful differences.
View The Trailer: