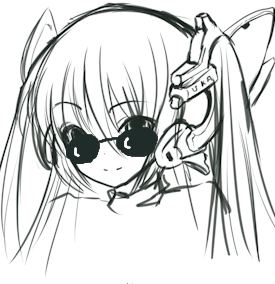 Author: Guest
---
Guest hasn't written a profile yet. That's ruddy mysterious...
Wolfs Rain Vol.6
Distributor
Beez
Certificate
15
Price
£19.99
Date
25 Jun 2006
Seeing as the previous DVD was a tad disappointing I was hoping for something of epic proportions in this volume - happily the majority of the episodes here delivered. With plenty of action, plot development and the re-introduction of mad bloke Darcia, this is definitely a vast improvement from the last few episodes.

We join the four wolves as they attempt to cross a vast landscape of ice and snow to get to Jaguara's Keep and stop her before she tries to open the gate to paradise. However, as has happened several times in the series, the group come under attack.
In the meantime, Blue and Cher arrive in Lost City searching for both the flower girl Cheza and Cher's erstwhile husband, Hubb. Wolf hunter Quent also manages to get into the city, where the inhabitants seem a little unaware and uninterested of events going on around them. As the wolves arrive they are unknowingly heading into a trap. Hige begins to act a little crazy and paranoid as he starts to have memories of the city from his past. Could he have been there before?

Considering the build up to the wolves and everyone else getting to Jaguara and her Keep, the events around it seem to become rushed, with a lot of interesting information on the backgrounds of the characters being crammed into what seems like a five minute sequence, including Hige's sudden lapse in mental stability.

There are plenty of twists and turns to enjoy during the five episodes, where we find out what really happened to Quent's family and his village, as well as the secret behind Hige's collar. Finally this series begins to deliver what it seemingly set out to do at the start. It looks as though paradise may finally be within the grasp of the wolf pack and we can finally find all the answers, but not without some death and destruction... and Darcia first.

The only down side is, as mentioned previously, some of the plot developments seem a little rushed - the series seems to go from one extreme to the other in a split second. However I do think that this is a minor disappointment when looking at the DVD as whole.

Also the fact I began watching this thinking it was the last DVD since there are usually 26 episodes...and I was watching episodes 22-26...(when there is still one more to come) left me a little shocked at how it ended, as the last few anime series I have watched have also ended very abruptly with little or no tying together of plot lines. Having said that, with one more DVD to go I'm on edge of my seat as to what's going to happen next. Will Darcia go nuts? Will Kiba ever become a true emo? I guess I'll just have to keep pondering until the last instalment.
---
Extras:
---
7
Back on form and much improved, although there is some rushed plot development.
blog comments powered by
Latest Reviews: