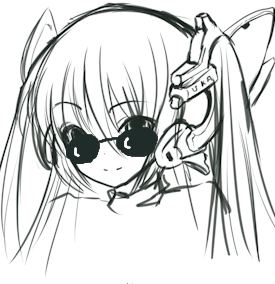 Author: Andy Hanley
---
Andy hasn't written a profile yet. That's ruddy mysterious...
Samurai Champloo Vol. 7
Distributor
MVM
Certificate
15
Price
£19.99
Date
20 Dec 2006
So, here we are, finally at the climatic seventh volume of Samurai Champloo. If your sole interest is in historically accurate anime, then look away... Now. This final volume of the samurai show with attitude brings us to the end of our unlikely trio's search for the Samurai who smells of sunflowers, which is a guarantee of an emotional rollercoaster if ever I heard one.

It has to be said that Champloo's three-part finish to the story of Fuu, Jin and Mugen doesn't disappoint on this count, proving itself more than willing to toy with your emotions time and again. Not that that's anything to complain about - It's been a while since the climax to an anime left me holding my breath or gripping the sofa quite as often as Champloo succeeded in doing. Quite simply, it gets almost everything right, from the pace of the storytelling through to all but perfecting the blend of emotion and action. Speaking of which, if fight sequences are your thing then this volume of Samurai Champloo is a real treat - With the rogue duo facing some of their most formidable opponents of all, the action is quite often breath-taking in both looks and speed, making a treat for eyes and brain alike. In fact, the whole show really is gorgeous to watch, and colourfully inventive throughout.

Having said all that, the gushing praise from me has to end at some point, at which juncture I have to say that some aspects of the show's finale disappointed me - I would go into my reasoning in a little more detail, but if you're reading this review then you probably don't want me to give away the ending, do you? It just didn't sit right with me is all I can say. Nevertheless, those particular aspects which didn't work for me are, of course, my own personal opinion, and to be honest even that didn't take much of the sheen from what is otherwise a superb ending to an absolutely top-notch anime, and one that should be in any discerning fan's collection.

Aside from that, there's little else for me to say - Samurai Champloo is almost without fail a brilliant show from beginning to end, and well worthy of any shelf space you decide to set aside for it.

---
Extras:
The main extras on offer here are a set of short but sweet art galleries, a rather cool collection of eye catches from the show (which have definite desktop wallpaper potential if you take a screen grab of them), and a very short trailer for the US-released PlayStation 2 Samurai Champloo game. That aside, this disc offers you a choice of an English language DTS soundtrack, alongside both 5.1 and 2.0 Japanese Dolby Digital offerings. Finally, English subtitles are provided, along with subtitling for signs.
---
8
A breath-taking end to an anime well worthy of superlatives aplenty.
blog comments powered by
Latest Reviews: