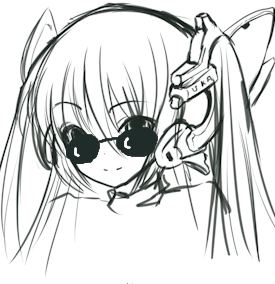 Author: Andy Hanley
---
Andy hasn't written a profile yet. That's ruddy mysterious...
Samurai Champloo Vol. 6
Distributor
MVM
Certificate
12
Price
£19.99
Date
25 Sep 2006
Volume six of Samurai Champloo brings us to the penultimate disc of what has been an excellent series thus far, as we draw towards a close in this unlikely trio's search for the mysterious Samurai who smells of sunflowers.

As with the rest of the series, the three episodes included in this volume are more or less stand-alone stories, with the journey of Fuu, Mugen and Jin largely taking a back seat to the scrapes in which the trio find themselves. In many series this could prove to be a source of frustration, but not Samurai Champloo, with each episode being supremely well crafted and blessed with some great characters aside from our well-rounded main heroes to bring each individual story to life.

Volume six kicks off with a resumption of the cliff-hanger (or should I say bridge-hanger?!) left over from volume five, Elegy of Entrapment, which in all honesty is by far the strongest of the stories found on this disc. From then on, things take in turn a psychedelic and bizarre then altogether more humorous twist in the remaining two stories of the volume. While these other two episodes were a long way from being poor, they weren't particularly my cup of tea either, making this the weakest volume of the series as things stand in my opinion. Of course, that's purely my subjective thoughts, so your mileage may vary.

Despite my slight reservations about the particular episodes on show here, Samurai Champloo remains a joy to watch. The show never gets bogged down in its own self-importance, and revels in its occasional mixing of ancient Japanese culture with far more modern influences, interlinking past and present with uncanny success. Add in to that the sheer energy of each episode from start to finish, coupled with brief yet often breathtaking (and bloody) fight sequences, and you really are on to a winner.

If I'm honest, the animation in the episodes included in volume five of the show don't look quite up to the standard of earlier stories, but never enough so to detract from what you're watching – Indeed Cosmic Collisions, episode twenty-two, is all but a master class in atmospheric colouring to imbue the story with the required feeling of depressed detachment. Audio and voice acting in general is also excellent, with even the English dub doing a pretty good job when it comes to capturing the main character's personalities.

With only three episodes on offer in this volume of the series, you might be hoping for plenty of extras to make up for the episode shortfall compared to the four episodes in each of the previous volumes, but sadly this isn't the case. Although having a DTS soundtrack for the Japanese audio mix is a nice touch, extras are all but non-existent here, consisting simply of a very small handful of uninspiring bits of concept art, showcasing minor characters in the episodes included on the disc.

From reading this review, you might be left with the impression that I wasn't all that enamoured with what I saw here, but that really wouldn't be fair on the show – I'd prefer to put it that Samurai Champloo has set the bar so high in its first twenty episodes that these three could never hope to reach those same dizzy heights. With only a few episodes and one DVD left to go to close the series, it's pretty clear that episodes twenty-two and twenty-three are a light-hearted diversion from what will no doubt be the serious business of the series finale. With that in mind then, Samurai Champloo remains something of a must-see, this volume included.
---
Extras:
English Dolby Digital 5.1 audio, Japanese DTS 5.1 and Dolby Digital 2.0 audio, English subtitles (including sign-only), concept art, trailers.
---
7
– Some of the series' weakest stories so far, but still a thoroughly enjoyable show to watch.
blog comments powered by