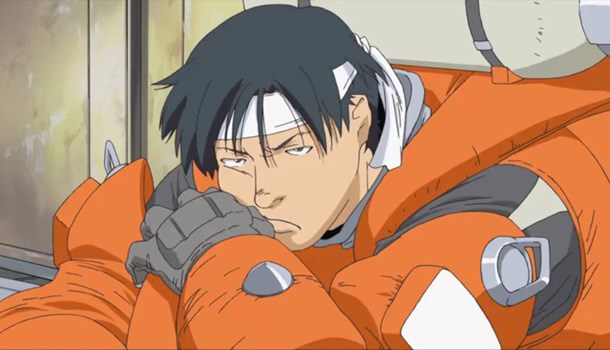 Planetes Vol.5&6
Written by Ross Locksley on 08 Apr 2006
Distributor Beez • Certificate 12 • Price £19.99
---
So another Beez series comes to a close, and unlike Witch Hunter Robin, Planetes is a series where we've really come to know the cast intimately. Or so we may have thought.

The final volumes of Planetes really didn't play out how I was expecting them to – with subtle plot threads woven from earlier episodes, its quite a shock to the system to see such world-changing events played out, with a terrorist cel hijacking the interstellar Von Braun and each of the numerous cast members making life-altering decisions, the series never fails to surprise or even shock. This was made all the more poignant as cast members I'd grown rather fond of made some very bad choices, and it's always the bit players that suffer in these things…

The closing chapters do struggle a little with their narrative and pacing, with a lot of exposition in places and some choppy editing, but the strength of the characterisation keeps you interested, which is testament to the skill employed to create such a believable universe and likeable characters. However, there were a couple of moments where I'd just wished they'd got on with it, and its sad to say that the series handled the stand alone episodes with more finesse than the action packed latter episode arcs.

That said, the discs are immensely enjoyable, and the ending to the series is full of pathos, hope and reflection, as each of the cast move on to the next stage of their lives. If you've followed the series thus far, then you'll enjoy more of the same mature and layered storytelling that made previous discs so good.

One thing I've never made much of is the music, but rest assured that the series delivers some really nice orchestral, Enya style incidental pieces in the more emotional scenes, and they really do a lot to set the mood in some key scenes. In a series where human interaction is the key focus, some of the final, dramatic moments are heightened immeasurably by the series score, and subsequently it deserves a mention here.

In terms of extras, the final 3 episodes have back to back commentary from the Japanese cast and crew, and they get progressively more drunk and entertaining. For once, the commentary is exceptional – they answer letters from fans, discuss the nature of the Planetes world and reveal loads of background information and subtleties that were fascinating – especially the revelation that the intro for every other episode was different. I'd never spotted it, but it's all true – subtle but worth a second look!
9
A suitable finale to Beez's most mature release to date. Bravo.

About Ross Locksley
---
Ross founded the UK Anime Network waaay back in 1995 and works in and around the anime world in his spare time.
---