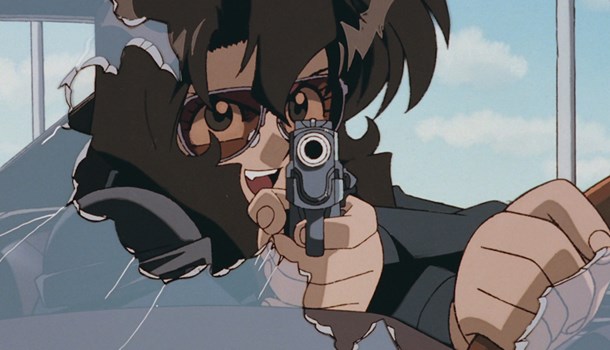 Gunsmith Cats
Written by Ross Locksley on 01 Jan 2004
Distributor ADV • Certificate 12 • Price £19.99
---
ADV have released Gunsmith Cats on DVD, so VHS is going to be harder to find, but should still be available.

Being a bit of a fan of the original manga, I was looking forward to seeing just how faithful the anime adaptation would be. I have to say that I wasn't disappointed.

Every detail is incredibly realistic, with the guns, cars and grenades looking and sounding exactly as they should. (Many of the sound effects were taken from their real life counterparts, including the engine noise for Rally's Shelby Cobra GT 500!).

The intro deserves a special mention here. It's a cracking seventies style intro, featuring pop art style scenes and the girls silhouettes as cats (sexy! ). The music is typical seventies cop show music ( how else would you describe it, apart from jazz?) which suits it down to the ground and gets you in the mood for some nice American style legal action.

The plot in a nutshell: A cop in the ATF (Alcohol, Tobacco and Firearms bureau) gives the cats an ultimatum: Help us with the case or be arrested for illegal possession of firearms (Rally ) and explosive substances (May ). Rally ends up trying to catch an illegal firearms trafficker in the act, leading to violence and mayhem in the form of good stunts and big guns.

The animation is smooth and crisp, with Sonodas' original character designs adapting very well to the screen, retaining the same 'feel' and style as the original manga, even though a lot of detail is lost in translation.

The DVD edition contains nothing that wasn't available on VHS, which is disappointing. There's the same making of documentary that was available on the first tape, and the opening animation without the text overlay (its instrumental, so this feature is pointless). There's also the original trailers, which, again, is the opening credits. All in, there's really nothing new here, except the convenience of having all three tapes on a space saving VHS...
8
Solid action, fans of the manga will lap it up.

About Ross Locksley
---
Ross founded the UK Anime Network waaay back in 1995 and works in and around the anime world in his spare time.
---