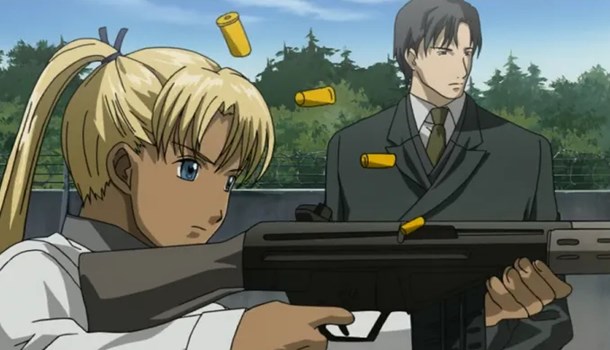 Gunslinger Girl Vol. 3
Written by Ross Locksley on 12 Jul 2006
Distributor MVM • Certificate 12 • Price £19.99
---
Shortly after watching this, I heard Bruce Springsteen's Human Touch. It clarified in my mind what makes Gunslinger Girl work so well as a series – its humanity.

The final volume of Gunslinger Girl doesn't go out with a bang. It's fair to say that action junkies could be mildly disappointed with the subdued and poignant ending, but if they are, they've missed the point.

The series develops the characters with such deftness of touch that you forget the girls are trained killers. They are, in the end, just children, no matter what conditioning they are put through in an attempt to counter this "flaw". Those trainers that understand and sympathise with their charges are invariably those who have the most to lose, and the central relationship between Henrietta and Jose isn't defined so much by their own actions, but the actions of those around them.

Nowhere is this more evident than episodes 10 and 11 on this disc. When a Fratello and her handler are found dead in a park, there's more than meets the eye, and the questions raised by the subsequent investigation about the maturity of these cyborgs and their relationships with humans leaves a deep scar that resonates in the final episode.

That said, the series' central message is a bit muddled – although never shying away from the "conditioning is abuse" message, there is no definitive result of the agencies actions. Instead Gunslinger Girl ends on a bittersweet note that feels as though only half the story has been told.

To this end, there are a number of unresolved issues at the end of the series that are really quite irritating. We get to see the blonde bomb-making freelancer who deals with the terrorists in a few episodes, but her story doesn't go anywhere. In episode 12 she even helps out the Fratello, so whose side is she on? And given that Jose's attitude seems to change toward Henrietta by the final episode, we're not given any conclusion. Perhaps the answers lie in the manga.

Gunslinger Girl remains an excellent series despite the narrative flaws. It's sharp, well paced and lovingly directed by Asaka Morio. The production as a whole is up to Madhouse Studio's usual high standards, and the soundtrack is to die for. If you enjoyed Noir and want a meaningful look at the undercover world of shady government agencies, add this to your list.

Extras include commentaries by the Voice Actors and the Director, as well as the usual trailers.
8
Touching and melancholy, but never anything less than fascinating to watch.

About Ross Locksley
---
Ross founded the UK Anime Network waaay back in 1995 and works in and around the anime world in his spare time.
---