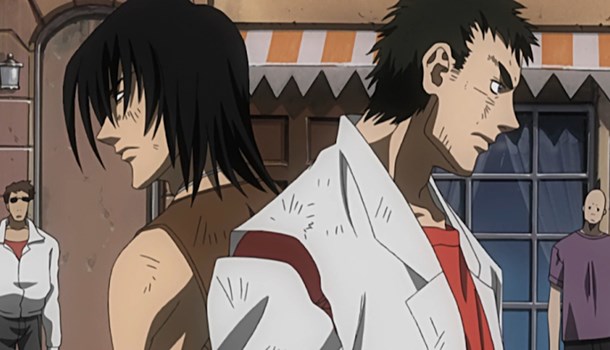 Gungrave Vol. 4
Written by Ross Locksley on 17 Oct 2005
Distributor MVM • Certificate 15 • Price £19.99
---
This is it - volume 4 of the enthralling anime gangster series, and things are about to go very badly wrong in the Millenion organisation. Harry's lust for power, Brandon's fateful decisions and THAT showdown, all in one explosive volume.

It's scary to think how much time has passed since the first volume - almost a decade within the organisation, and Harry has risen to the top in spectacular fashion, taking Brandon with him, now the head of his own hit squad, and yet still Harry needs more - his ultimate quest for total dominance is frighteningly efficient, and the subtleties of this anime are in full flourish here. Loyalties shift, operations change and we see a criminal organisation on the cusp of a vicious power struggle, and it's mesmerising to watch.

The animation itself has never looked more beautiful than in this volume - the vibrant colours, incredible direction and detailed designs light up the screen, drawing you into it's world in a way I've seen few other anime manage. Gungrave succeeds in being mature without the need for excessive gore (see Gantz for it's polar opposite) and despite the lack of action in this volume, it is by far the best of the four so far.

Once Harry's inevitable betrayal (the best scene in the series to date) is conducted, other characters come to the fore, with Big Daddy himself making a noble last ditch effort to salvage his dreams from the clutches of a madman, and the top brass at Millenion are played like chess pieces, providing some riveting viewing. All of this is framed by a surprise revelation from Brandon, which is strangely touching and chilling at the same time.

If you've been daft enough to pass this series up so far, shame on you - this really is top flight stuff, and if there's an anime to better it this year, I haven't seen it.
10
Human frailties laid bare in what is, for me, the best series of 2005.

About Ross Locksley
---
Ross founded the UK Anime Network waaay back in 1995 and works in and around the anime world in his spare time.
---