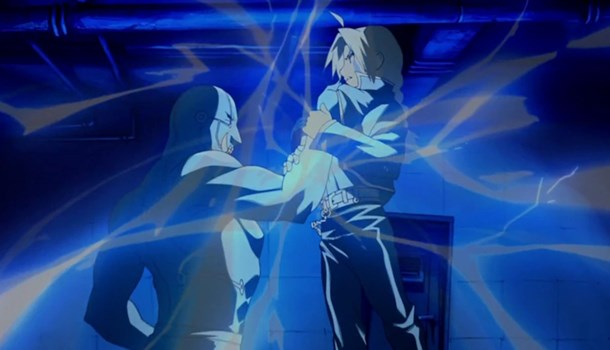 Fullmetal Alchemist Vol.7
Written by B. M. on 25 Sep 2006
Distributor MVM • Certificate 15 • Price £19.99
---
There's a certain charm about watching an anime series that on the one hand doesn't take itself seriously, and yet on the other, manages to throw in some truly emotional moments that knock you for six. Fullmetal Alchemist is one of those series!

It's easy to look at FMA and judge it as just a simple show but in actual fact it's full of surprises, and when they come, it makes you sit back and appreciate just how clever it actually is. Volume 7 has several moments like these that brought a giant smile to my face, as well as the odd tear (yeah ok, I admit it!).

The first episode follows Hughes as he continues his investigation into the events surrounding Lab 5. What he discovers puts him in a bit of a tough spot and promises to change things forever. To go into any more detail would spoil the episode but rest assured that this opener doesn't pull its punches one little bit and really sets the tone for things to come.

Our follow up sees Ed, Al and Winry making a brief stop in Rush Valley, where automail workshops line the streets and Winry's excitement is *just a little* evident. She's only popped in and out briefly throughout the series and it's nice to finally see her a bit more regularly in recent volumes. In this episode we're treated to a few glimpses of her own struggle with trying to figure out how her relationship fits in with Ed and Al's relationship to each other. As well as the usual comedy antics the three of them engage in, this is a thoroughly heartfelt story and Winry's character really shines through.

In the final two episodes, one of Ed and Al's worst fears catches up to them in the form of their old sensei, Izumi, who has found out about their attempt at human transmutation. A few harsh words and several damn good kickings later, she drags them back to her home town for…well, more harsh words and kickings! These two episodes flash back and forth, showing us how Ed and Al came to be under the wing of Izumi who clearly possess incredible alchemic abilities (a bit like Yoda but looks a hell of a lot better and doesn't have a stick). For someone who's only been on-screen for 20 minutes, her character leaps out at you and it's to the writers' credit.

During their "re-education", Izumi dumps them on Yock Island, where they remember why they wanted to use alchemy in the first place and how it fits in with the ciiiircle of liiiife (yeah, thanks Elton…). The story ends on quite an intriguing cliff-hanger too; as a strange boy, with a cheeky yet slightly psychotic looking grin, emerges from the woods.

The soul-warming vibe just oozes out of volume 7 from every which way and the various flashback episodes really help put a human face to Alphonse that we rarely see. There were a couple of minor technical niggles that I noticed in the form of subtitles appearing and then disappearing before having a chance to read them. But those instances were few and far between.

Overall, volume 7 is a superbly enjoyable edition to the series and it helps to firmly cement FMA as one of the best of its kind.
---
Extras:
The same extras are present as in previous volumes; Opening/closing credits and some production art stills.
---
9
It's all about the characters.
---