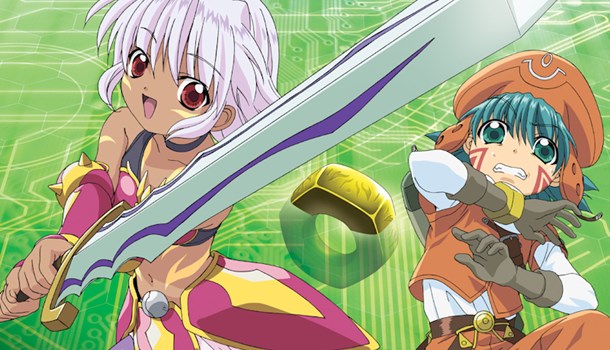 Dot Hack// Legend of the Twilight 1
Written by Ross Locksley on 28 Jul 2006
Distributor Beez • Certificate PG • Price £19.99
---
As an avid fan of the manga, I've been chomping at the bit to watch the animated version of Shugo and Rena's online adventures. And as translations from page to screen go, this is about as accurate as it gets…

The cute, almost chibi cast look fantastic on the screen, colourful and cute as a button. The World (the generic term for the online gaming environment)itself has never looked better, as the first volume introduces us to the locations familiar from the manga, with enough of a twist to bring something new to the table. Unlike Fruits Basket, which almost used the manga as an animation storyboard, Legend of the Twilight has played with events and introductions enough to make this something new, but familiar.

If there are any detriments to the series so far, it's that the series lightens the mood maybe a little too much – it feels very much like it was aimed at young teens, and as such I felt a little alienated. The music is twee, everything is pastel shaded, and the characters are almost too adorable, if that's possible. That said, I'm 27 and this isn't really aimed at me!

As a 3 volume series, I expect things to hot up very quickly in volume 2, beyond the niceties of the introductions, and give us a little of the urgency so prevalent in the manga.

The dub is acceptable, but I found myself switching to the subtitles fairly early on. Balmung in particular sounds a lot more authoritative, and there's something about English-dubs of cute Japanese characters that never sits right somehow.

For fans of the .Hack franchise, this should be right up your alley – it's a light-hearted journey through a World that has seen many dark times, and the element of fun is what shines through. Younger viewers will love this, whilst those of us in the older demographic may find it a bit too sugary-sweet after a while.

Extras are solid if not exciting – an 8 page booklet adds some real value to the package, there's the usual clean opening/closing animation and some liner notes, which are interesting.
7
Fun and light-hearted romp. Don't expect anything too dramatic, just enjoy the ride.

About Ross Locksley
---
Ross founded the UK Anime Network waaay back in 1995 and works in and around the anime world in his spare time.
---