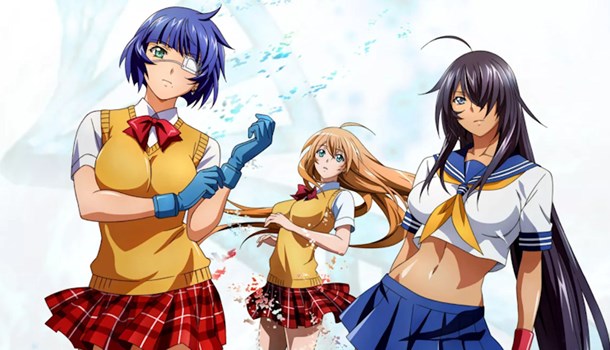 Battle Vixens 3-4
Written by B. M. on 03 Sep 2006
Distributor MVM • Certificate 18 • Price £19.99
---
When I was given volumes 3-4 of Ikki Tousen (Battle Vixens) to review, I wondered how I was going to write this up. Not having seen the first seven episodes, I had no idea about any of the characters or the story development so far.

Yeah…five minutes into volume 3 I realised that totally wasn't a problem.

The story, the characters and in fact, the entire series can be summed up in three words; breasts, bounce and panties. There are several other things that try to pad out these basic themes but in the end, it all points back to the jiggly scenes. The episodes, which are cunningly entitled 'Eight', 'Nine' etc, continue the events of a bunch of high school students who posses the reincarnated souls of ancient Japanese warriors. These students are seemingly bound by their fate to re-enact the events of their legendary alter-egos unless they can find a way to break away from their destiny. That almost sounds quite clever doesn't it? Actually, it's all just a big excuse for semi naked teenage girls to fight, flash their panties and have most of their clothes inexplicably ripped off. If there was some semblance of a plot, the point of it was pretty much lost on me. I guess that doesn't matter though because the story isn't going to be the main reason you'd want to watch this show.

Ikki Tousen is so ludicrous to the point that it's perfectly normal for one of our main characters to fondle the breasts of a complete stranger for absolutely no reason – a bit like a handshake! I don't know, maybe it makes sense in a way. I mean why shake someone's hand in greeting when you can grab their enormous breasts instead?

If you hadn't already guessed, Ikki Tousen is fan service on a golden pedestal. If this kind of thing flicks your switch then you'll probably find quite a few laughs in here (among other things). For all the rubbish that this show has, I did have a genuine laugh out loud moment when Koukin goes to get some food for our starving heroin, Hakufu Sonsaku. While Koukin is off at the local fast food joint (Wac Donalds), Hakufu is approached by a stranger who offers her some melons to feast on. How do you write innuendo like that?

I might have been able to recommend Ikki Tousen in some small way (really small) because it is just funny - even if you're laughing at it rather than with it. But the comedy value is totally out-stripped by scenes of intense bloody violence and suggested rape, the latter of which is delivered with zero intelligence or consideration. To make matters worse, each episode is surrounded by music that sounds like it's been dragged from a dark vault of the Pet Shop Boys' rejects.

Stay away unless you love fan service. There's really very little else to say.
---
Extras:
On the Features front, Vol. 3 comes with a Promo video (which actually looks better than the series itself), Art gallery, and some rather amusing Outtakes. Vol. 4 has the same but you're also treated to a "Photo Shoot" with real Japanese girls throwing kicks, punches and panty shots (can you see a theme emerging here?).
---
3
You have to really like fan service to get anything from Ikki Tousen because there's nothing else to like.
---