Pre-orders are now live for Bandai Namco's upcoming anime-styled Scarlet Nexus game, which lands on June 25th.
The game features a dual-storyline with either energetic recruit Yuito Sumeragi who hails from a political family, or Kasane Randall, a mysterious scout whose power and skill has granted her great notoriety in the Other Supperssion Force.
Pre-order bonuses include items and costumes, and the game comes in standard edition and deluxe flavours.The Deluxe Edition (digital only) includes:
Digital Deluxe Edition:
SCARLET NEXUS game, a Digital Art Book, the Original Soundtrack, Special Battle Attire Set -Red-, Cosmetic "The Other" and SAS Plug-in
Guardians Edition:
SCARLET NEXUS game, 3 Art Prints, a hardcover Art Book, OSF Sticker, a steel book and all the digital items from the Deluxe Edition.
You can pre-order directly with Bandai Namco here.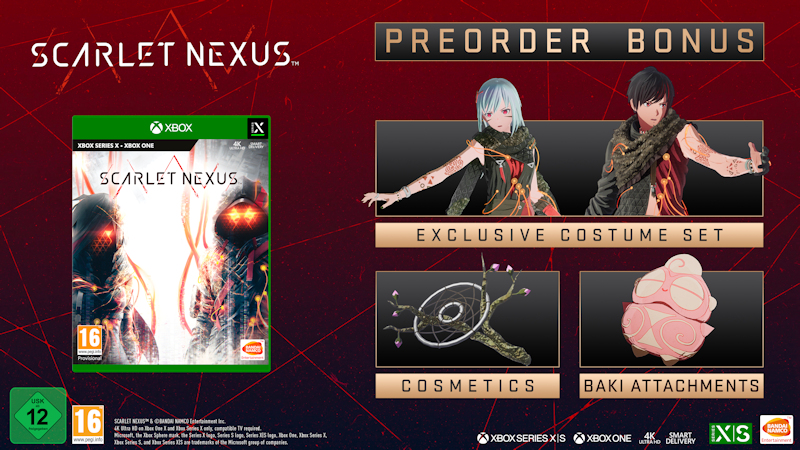 The game is available on all Xbox platforoms, PS4, PS5 and PC.
Visit the official website here.
Synopsis:
In the far distant future, a psionic hormone was discovered in the human brain, granting people extra-sensory powers and changed the world as we knew it.
As humanity entered this new era, deranged mutants known as Others began to descend from the sky with a hunger for human brains. Highly resistant to conventional attack methods, extreme measures needed to be taken to battle the overwhelming threat and preserve humanity.
Those with acute extra-sensory abilities, known as psionics, were our only chance to fight the onslaught from above.
Since then, psionics have been scouted for their talents and recruited to the Other Suppression Force (OSF), humanity's last line of defense.
Scarlet Nexus - Kasane Trailer:
The game is also set to recieve an anime courtesy of Sunrise animation, which will premiere globally in Summer of this year. Multi-media franchises are nothing new these days, but the anime looks promising.
Scarlet Nexus Anime Opening: