The programme of the 34th Leeds International Film Festival was launched on Friday, 16 October.

The festival will run from 3 to 19 November 2020 and is set to include both screenings in venues in Leeds and an online event accessible throughout the UK. Some of the programme is playing only in these venues, some is playing only online, and some will be available both in venues and online.
One animated feature from Japan, Liz and the Blue Bird (Rizu to aoi tori) (subbed trailer), has been selected. It is set to play at City Varieties Music Hall on 7 November at 10:00 am and 8 November at 1:45 pm.
The festival website does not state whether either screening will be in Japanese with English subtitles or dubbed into English. The festival guide states that the screenings are in "Japanese with subtitles & English" but does not specify which of the two screenings will be in which language.

Liz and the Blue Bird will only be available to see at the City Varieties. Tickets cost £9.00 full price, £7.50 for certain concessions, or from £5.00 when bought together with tickets for other features as part of a pass.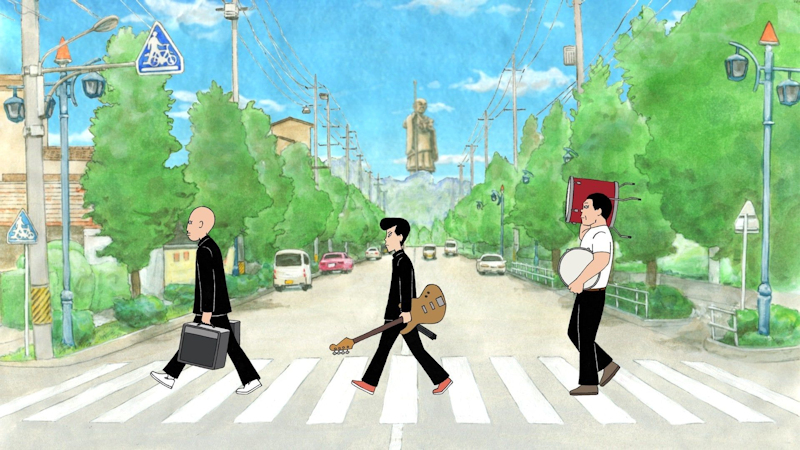 The feature ON-GAKU: Our Sound (Ongaku) appeared on the website on 16 October, when the programme was originally launched, and was set to play at City Varieties Music Hall on 8 November at 4:45 pm and 11 November at 4:30 pm. The website did not specify a language version, but the guide states that the screenings were to be in Japanese with English subtitles, and no English dub of the film has yet been announced. However, the page has now been taken down, so it appears that the screenings have been cancelled, until further notice otherwise.
In addition, according to the complete list of the festival's short film selection, announced on Wednesday, 7 October, two partly Japanese shorts with animation have been selected.
Japanese creative duo TOCHKA's part-animated music video for British music artist Onoe Caponoe's "The Message" (a Japanese production according to LIFF, but a Dutch–UK–Japanese co-production according to Ottawa International Animation Festival) is competing in the Leeds Music Video Competition, which will only be available online.
Whether the Music Video Competition will be free to view or what the price for it will be has not yet been confirmed.

OIAF described the video's plot as:
One is left behind on a planet burned out by climate change, and another one is moving to other planets by spaceship.
Though LIFF identifies it as only a US production, according to Festival Stop Motion Montréal, Encounters Film Festival and OIAF, Patrick Smith's Beyond Noh (Biyondo nō) (trailer) is a US–Japanese co-production. It is competing in the World Animation Competition, which is divided in into three programmes (which one it will be played in is not currently stated on the website or in the guide):
Tickets for each of the theatrical screenings of these programmes cost £5.00 for everyone, and they will also be available to watch online throughout the UK for £3.00 per programme.

According to OIAF:
Beyond Noh rhythmically animates 3,475 individual masks from all over the world, beginning with the distinctive masks of the Japanese Noh theater and continuing on a cultural journey through ritual, utility, deviance, and politics.
No other Japanese productions have been announced for this year's festival. Animated shorts from Hong Kong and South Korea, a webtoon-based animated feature from South Korea, and a live-action video game adaptation from Taiwan have been selected.


With thanks to Jordan Scott