PQube have announced the release of the Otome (girls romance) Visual Novel hit, Bu$tafellows, will land in the UK this summer. Released digitally (Steam, Nintendo Switch) and with a physical Nintendo Switch Standard and Collector's Edition Box available in the UK through Funstock UK.
Synopsis:
Romance, mystery, dangerous relationships, and the power to leap back in time and into the bodies of others, BUSTAFELLOWS follows our heroine, a young and independent journalist, as she becomes embroiled in a thrilling plot about love and murder.
Using your notepad to record clues and key pieces of information, solve critical puzzles and navigate complex relationships as you journey into this sizzling interactive mystery. Experience love, loss, fear and fortune as you strive to save the life of your friends.
As an otome, a genre known for its female leads and multiple romantic options, you control your own destiny in BUSTAFELLOWS.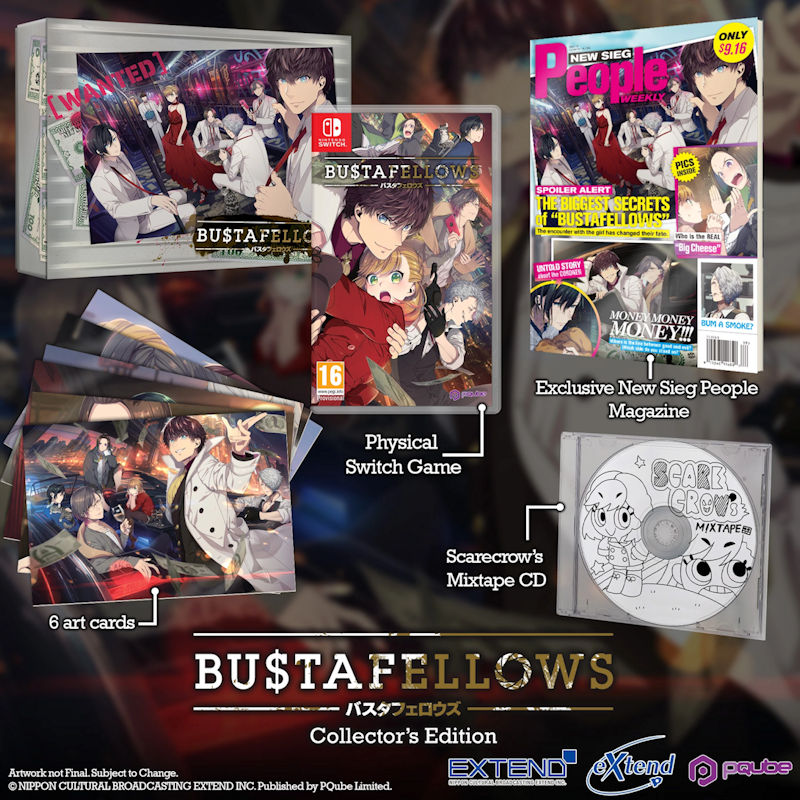 Special Edition comes with:
New Sieg People Magazine
An abridged version of the 'New Sieg People Weekly' magazine, as featured in the original Japanese Deluxe edition. Featuring original sketches, unique art and character profiles, the magazine has been localised to English and offers an intimate behind the scenes glimpse at the development of BUSTAFELLOWS and its captivating cast of characters.
Scarecrow Mixtape
Scarecrow's Mixtape CD features 27 tracks from the BUSTAFELLOWS soundtrack. Recorded in Scarecrow's secret studio, the mix includes 'Novalis', 'Come and Get Me', and many more. The main Theme 'Novalis' is interpreted by Kaito Ishikawa who voices Adam Krylov.
6 Art Cards
With stunning character and environmental art from renowned artist Sumeragi Kohaku, the BUSTAFELLOWS Collectors Edition includes 6 unique and dynamic art cards featuring the whole cast. These exclusive art cards were not part of the Japanese Deluxe edition.
Trailer: